If you're diving deep into SEO professionally, sooner or later you'll find yourself needing a paid tool to make your life easier. And chances are, SEMrush will be on your radar to consider.
In fact, it was one of the first tools I personally invested in.
Up until then, my approach to SEO was way more hands-on, relying on free applications and a hefty amount of elbow grease.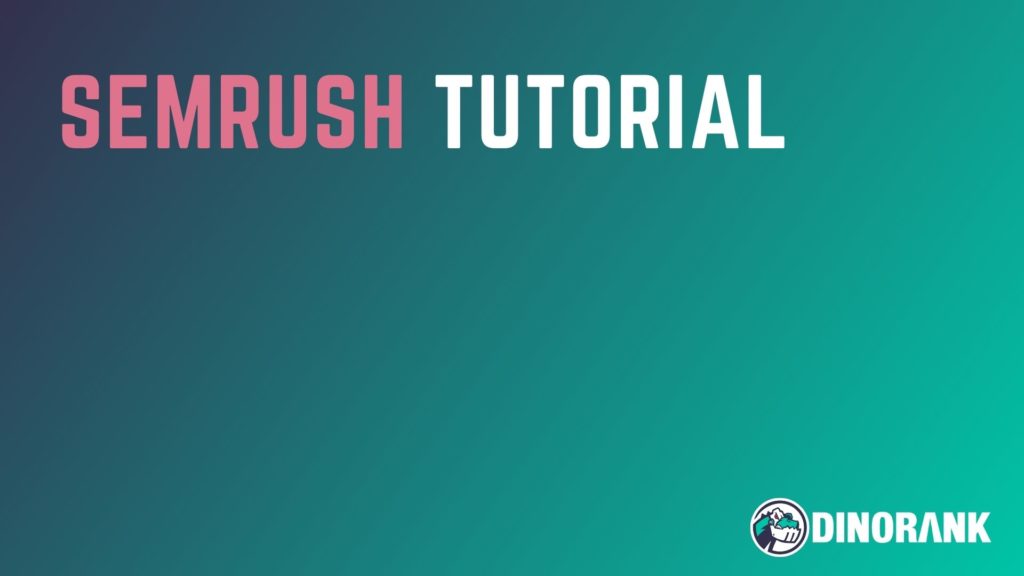 I can tell you, the shift was game-changing. The amount of time I began to save and the results I achieved soared dramatically.
Since then, I've evolved a lot as an SEO professional. And so has SEMrush.
That's why I thought it'd be a good idea to whip up an updated guide on this stellar digital marketing tool, giving you a fresh look at what it has in store for you today.
I won't sugarcoat it – this tutorial is a deep dive, but I genuinely believe it's worth a chunk of your time.
Especially if you're keen on mastering how to use SEMrush and tapping into all the features it rolls out.
So, enough chit-chat, let's dive in.
What is SEMrush and What's It For?
SEMrush is an all-encompassing online tool geared towards digital marketing pros.
Now, I could simply label it as an SEO tool, zeroing in on competitor analysis, audits, backlinks, and keyword insights, among other features.
But that would be selling it short. Way short.
SEMrush, in reality, spans nearly every facet of digital marketing. From organic search optimization to paid advertising, touching on social media and content marketing, and so much more.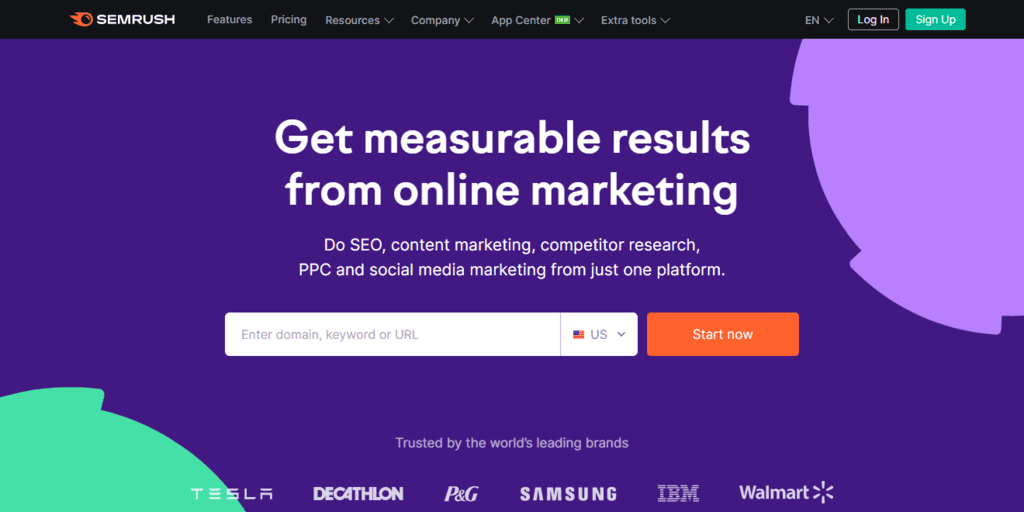 Therefore, SEMrush is more than just a tool; it's a whole ecosystem of SEO and marketing features, and it's deeply committed to its community.
Two of the most compelling examples of this commitment are its blog, packed with timely and practical content, and the SEMrush Academy, where they offer free digital marketing courses taught by leading SEO experts.
José Facchin (former Country Manager of SEMrush), Antonio López (from 'El Blog del SEO' and his successor in the role), and Brian Dean (founder of Backlinko) are among the experts sharing content on this platform.
In essence, SEMrush is far more than just a basic SEO tool, and that's why I want to dive deeper into it in this post. My goal is for you to truly understand its capabilities and tap into its full potential.
SEMrush Pricing
SEMrush isn't a budget tool. Let me get that straight from the outset.
Because of that, you need to be certain if the price tag is worth it for your digital strategy.
The most basic plan is called 'Pro,' which might clue you in that it's not for everyone. It's priced at $119.95 per month and comes with its fair share of limitations, as you'll discover throughout this tutorial.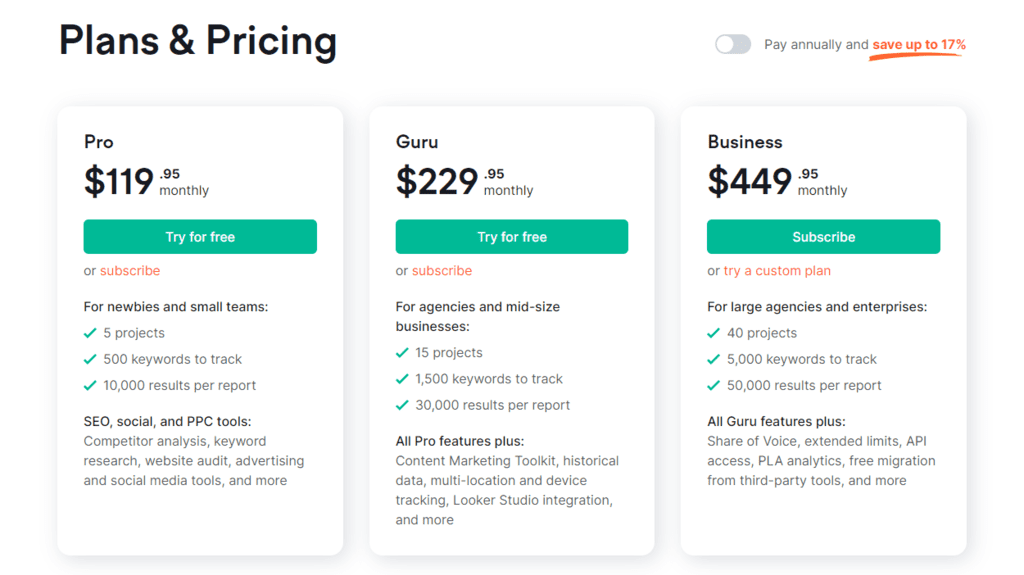 In addition to the Pro plan, there are two higher-tier options: Guru and Business.
These plans provide added features, but they don't encompass every tool SEMrush has to offer.
There are add-ons that you need to purchase separately, such as the local pack, trend analysis, or the agency growth kit. So, as you can see, the costs can start to rack up.
It's true that if you pay annually, you can save a decent chunk of change. Even so, I believe it's a price that requires some serious consideration before committing.
Especially when you factor in its limitations and the fact that there are other options out there today, like DinoRANK, which are much more affordable and come with a comprehensive set of features.
Can You Use Semrush for Free?
The silver lining is, yes, you can. There are two distinct ways to use Semrush without shelling out a penny.
The first method involves signing up for any of their plans and canceling it within 7 days.
You'll need to provide your card details, but you won't be charged upfront.
However, a word to the wise: if you don't want to be billed, make sure you cancel your Semrush subscription during this trial period. If you forget, once the trial concludes, you'll be on the hook for a full month's payment.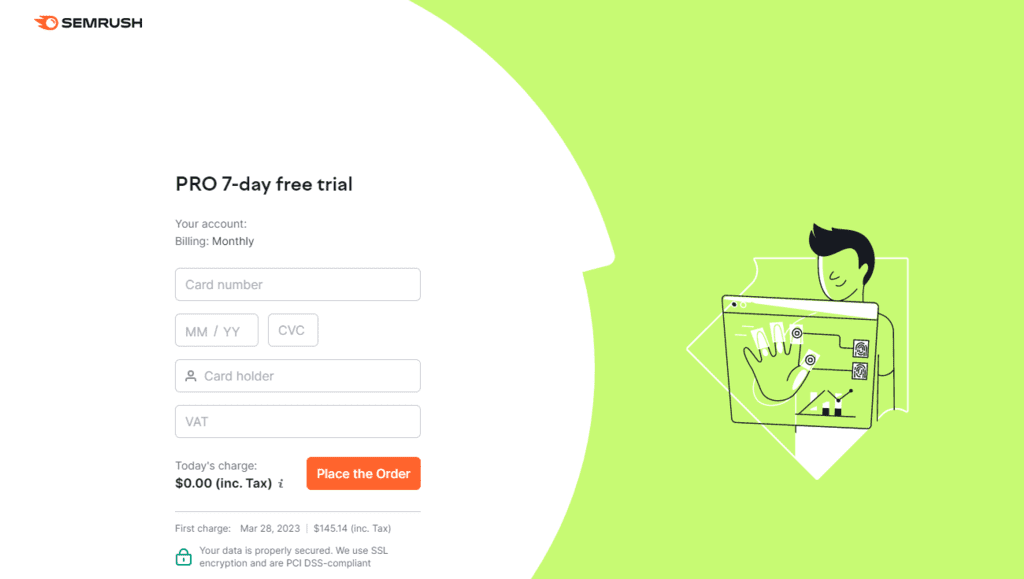 The other route is to set up a free account. All you'll need is an email address and a password.
With the free Semrush account, you can tap into many of its features, though they come with quite a few restrictions.
Differences between the Free Version and the Paid Version
Here are the most significant limitations of a free Semrush account:
You can only set up 1 project.
You're limited to tracking a maximum of 10 keywords in your project.
Up to 10 searches per day for keywords or domain analysis.
Only the top 10 results are displayed in lists of keywords, backlinks, and the like.
Up to 10 total credits for content ideas or on-page SEO improvements.
Just a single website audit, for a maximum of 100 URLs.
How Does Semrush Work?
Semrush has a clear goal: to assist you in enhancing your business's digital marketing from various angles.
Therefore, a crucial part of the tool is the management of your own domains.
By doing this, you can register your web projects and track their progress, as well as identify new opportunities to boost your outcomes.
Additionally, beyond just your own websites, Semrush allows you to analyze any domain you set your sights on.
The tool provides you with comprehensive reports on how your competitors are performing, all thanks to the vast amount of data they've gathered in their databases.
Semrush boasts a vast database filled with information on millions of keywords and web domains, which they consistently keep up-to-date.

This historical data comes from various data providers, as well as their own unique crawling, analysis, and learning algorithms. These enrich the data, culminating in one of the largest information repositories available today in such tools.
Using Semrush, we can:
Get insights into the traffic and ranking data of any domain.
Analyze our competitors' backlinks.
Conduct keyword research.
Perform audits on our website.
Enhance our local SEO.
Discover our competitors' advertising campaigns and plan our own.
Manage our social media presence.
Generate ideas for new content on our site.
But these are just a few of the things we can accomplish.
Up next, we'll delve deeper into how Semrush operates and explore everything this robust SEO suite has in store for us, from the basics to the most advanced features. Let's maximize what this renowned tool has to offer.
Are you with me?
Set Up Your Projects in Semrush
One of the main reasons for investing in a premium SEO tool is to track your own websites.
In this regard, Semrush offers a dashboard where you can add the projects you're working on, allowing you to monitor the outcomes of your positioning and marketing efforts.
Unlike other tools, such as DinoRANK, where you can manage an unlimited number of projects, Semrush has some significant restrictions in this area.

The free plan only allows you to set up one domain, and the most basic paid plan expands it to a maximum of five.

This is a major limitation you'll need to consider if you have numerous websites you want to monitor.
The project dashboard is split into two distinct sections.
In the upper area, you can add your competitors' domains. This gives you a quick overview of their relevance and progress.
On the other hand, in the lower section, all the projects we've set up are displayed, along with their key metrics.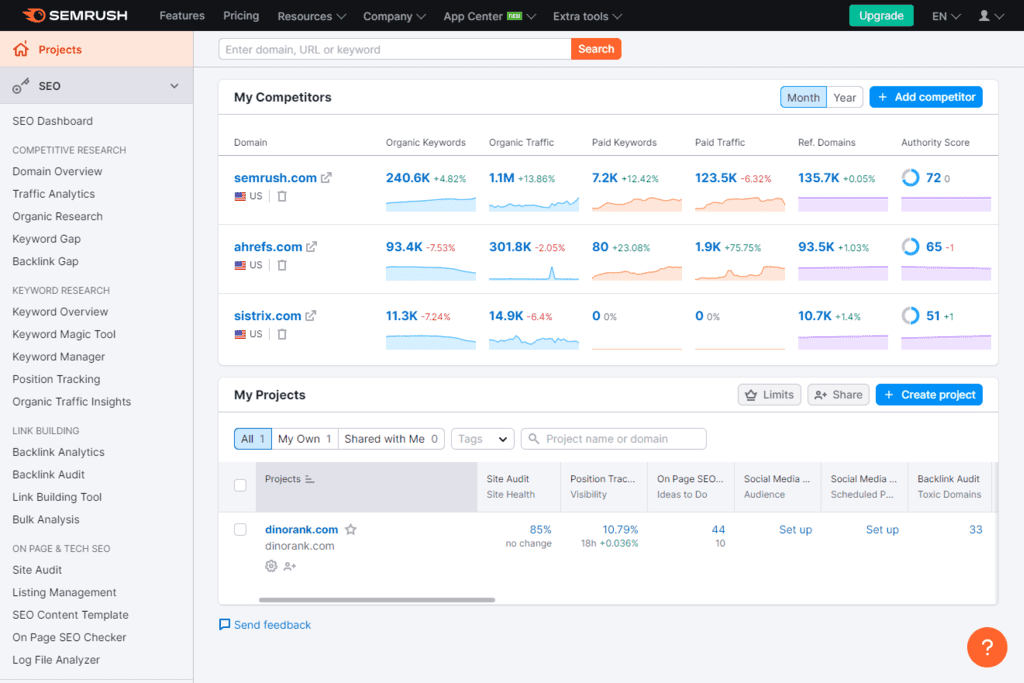 To obtain most of these metrics, we'll need to set them up beforehand.
It's really straightforward. Just click on the link that says "Setup," and it will display the relevant options. You can even instruct Semrush to send you periodic emails to keep you informed of changes.
If you want a more detailed view of each project, simply click on its name, and you'll see a dashboard with all the gathered information about it.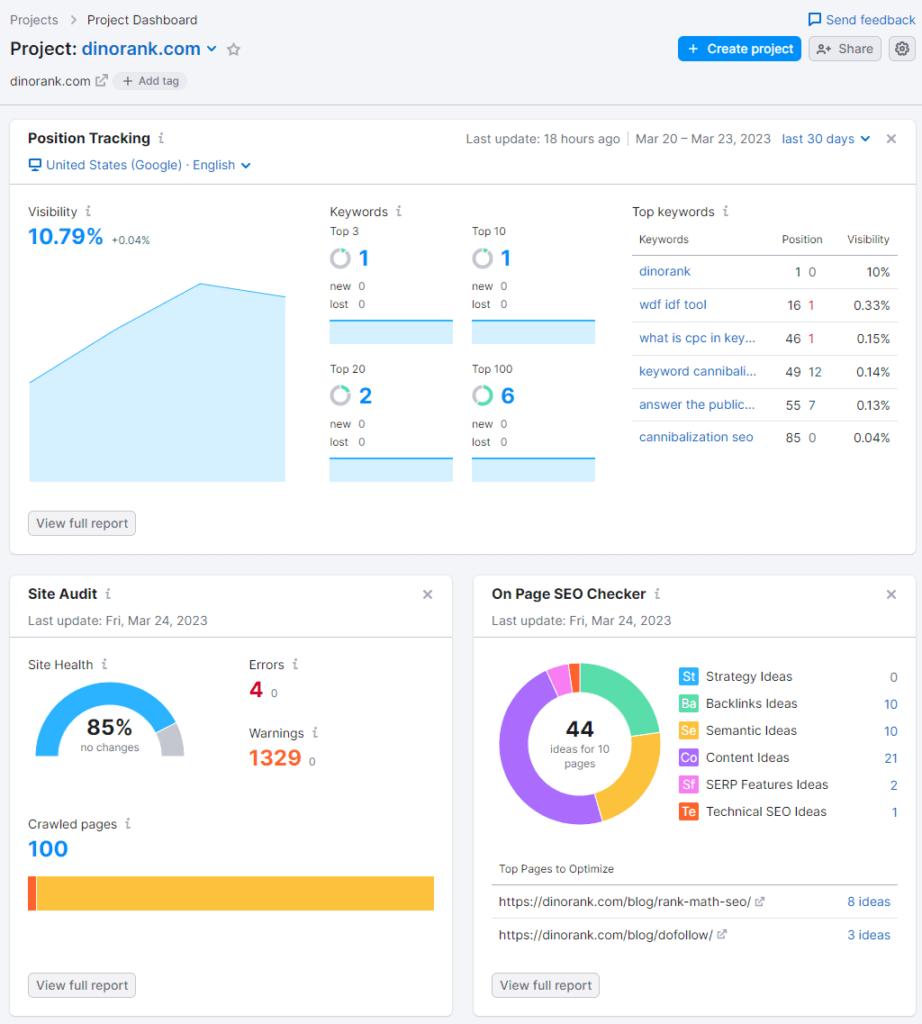 This dashboard consists of several widgets that provide insights into your website from various angles.
As I mentioned earlier, you'll need to set up some of these widgets to use them. You can do it from here as well.
Specifically, the data you can view from this dashboard includes:
Position Tracking: Monitor your keywords across different devices and locations.
Site Audit: An overview of your website's health, including the number of issues and warnings you should address.
On Page SEO Checker: A set of suggestions that could boost your site's rankings.
Backlink Audit: A snapshot of the quality of your backlinks.
Organic Traffic Insights: A summary of organic traffic, integrating data from Google Search Console and Google Analytics.
Link Building Tool: Potential links you could earn.
PPC Keyword Tool: Keywords for your marketing campaigns.
Social Media Tracker: Insights into your competitors on social platforms.
Social Media Poster: Scheduled posts for your social channels.
Content Analyzer: Overview of your content audits, integrating data from Google Search Console and Google Analytics.
Domain Analysis: A quick glance at your website's key metrics.
Traffic Analytics: Insight into your site's traffic based on Semrush data and Google Analytics.
Organic Keywords: Tracking your keyword performance, including terms where you're gaining or losing ground.
Backlink Analysis: Track the number of domains pointing to your site over time.
Top Viewed Pages: Your best-performing pages, as per Google Analytics data.
Google Search Console Performance: A summarized view of your Google Search Console data.
As you can see, all this information is just a summary of the data available in various sections of the tool.
In fact, each widget contains links that allow you to navigate to the corresponding section and delve deeper into the data.
SEO Analysis with Semrush
Now that you know how to set up your projects in Semrush, let's move on to what matters most: SEO.
For this, the tool offers a slew of features that allow us to deeply analyze a domain, whether it's ours or a competitor's.
Let's go through how to use them step by step
SEO Dashboard
Through this dashboard, we get a quick view of all our websites.
To be honest, I don't see much more use to it than the project dashboard. Its content is essentially the same, but focused solely on those widgets that are more closely related to SEO.
In any case, through this panel, you can get a general idea of how your projects are progressing and, from here, easily navigate to the sections you are interested in analyzing in depth.
In both the project panel and the SEO panel, you can hide those widgets that you don't use so they don't bother you.

You just have to click on the X in the top right corner to close them.

The widgets that you are not viewing will be listed at the bottom of the screen, in the 'Hidden Widgets' section, so you can enable them again whenever you wish.
This panel, then, is simply a kind of dashboard that provides access to other much more specific SEO functions to improve your positioning, which I will explain in detail in the following sections.
Competitor Research
Studying the evolution of our website is very important. In fact, it's absolutely necessary if we want to improve our results. However, observing what other pages are doing can be just as, if not more, useful.
Knowing what others are doing gives us a multitude of ideas to apply to our pages or to create new projects.
That's why this is probably one of the sections you'll use most often as a Semrush user.
Let's take a look at all its functionalities.
Domain Overview
We're facing one of the most important tabs in Semrush. Get used to it because you're going to spend many hours examining it.
Every time you want to analyze a domain, this will be the screen you'll see first.
And it's not by chance. The information it provides is truly impressive, and with a quick glance, we can already grasp the most relevant aspects of the website we're analyzing.
Although I said website, we can also input just a URL or a subdomain and carry out its individual analysis.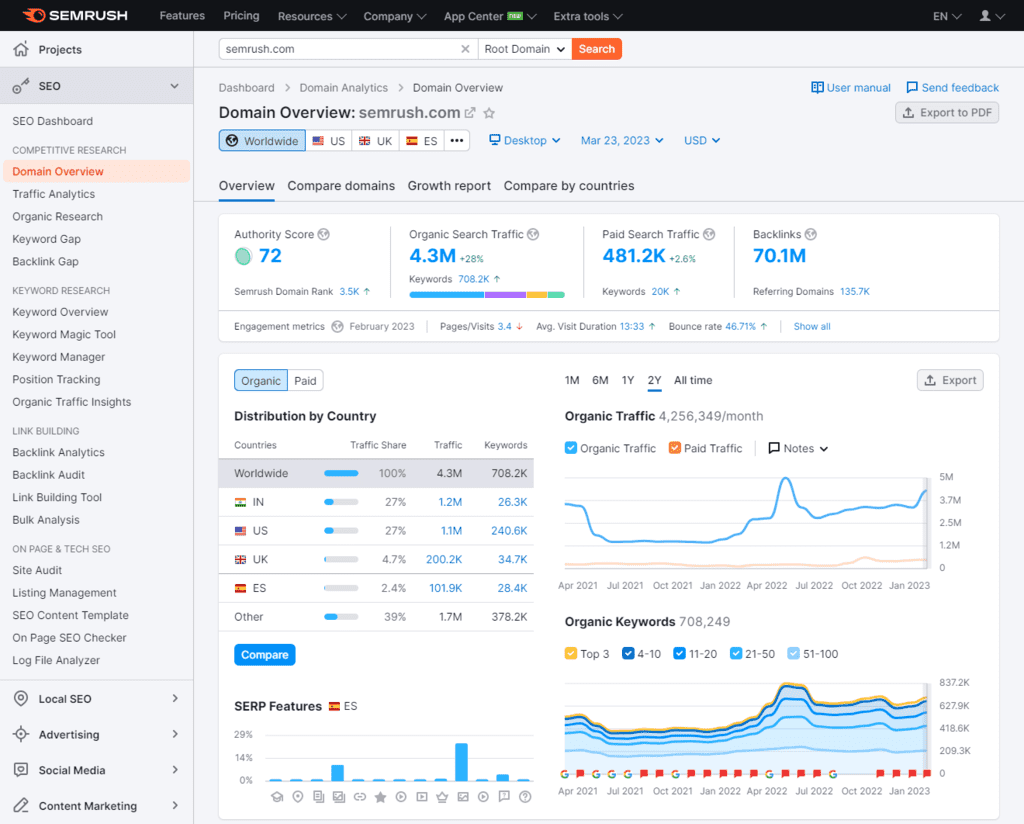 This way, the domain overview is composed of different sections that provide us with a summary of the main data about a domain, subdomain, or URL. From here, we can navigate to other sections within Semrush where this information is expanded.
At the top, you can choose the data to display. It allows you to select the country, switch between desktop and mobile versions, and even load historical data from a specific date.
Next, following a section with the compilation of the most important website metrics, you get an overview of the traffic and the positioned keywords, both for organic and paid results.
Right below that, you have a more detailed breakdown of the organic research, including the top traffic keywords, the distribution of positions in the SERPs, or the brand traffic (searches for your domain name on Google) that you've achieved.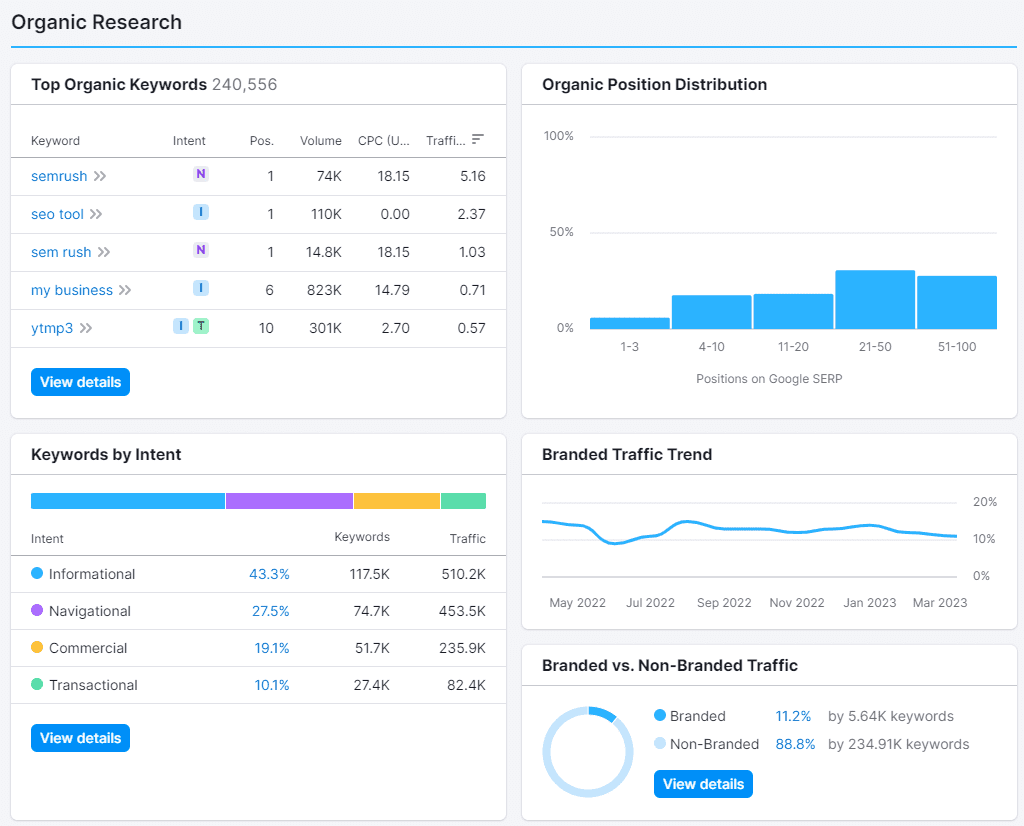 It's also worth highlighting the analysis of your main competitors, with a graphical representation of the relevance of each of them.

Similarly to the organic research, we have the advertising research, with data about the most important keywords and insights about the competition, along with examples of ads.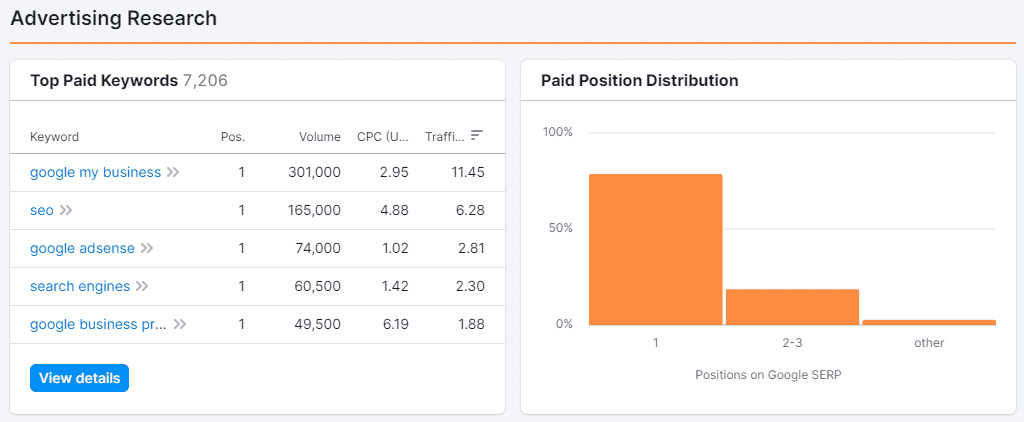 Finally, the screen provides us with information about backlinks, their types, referring domains, and target pages.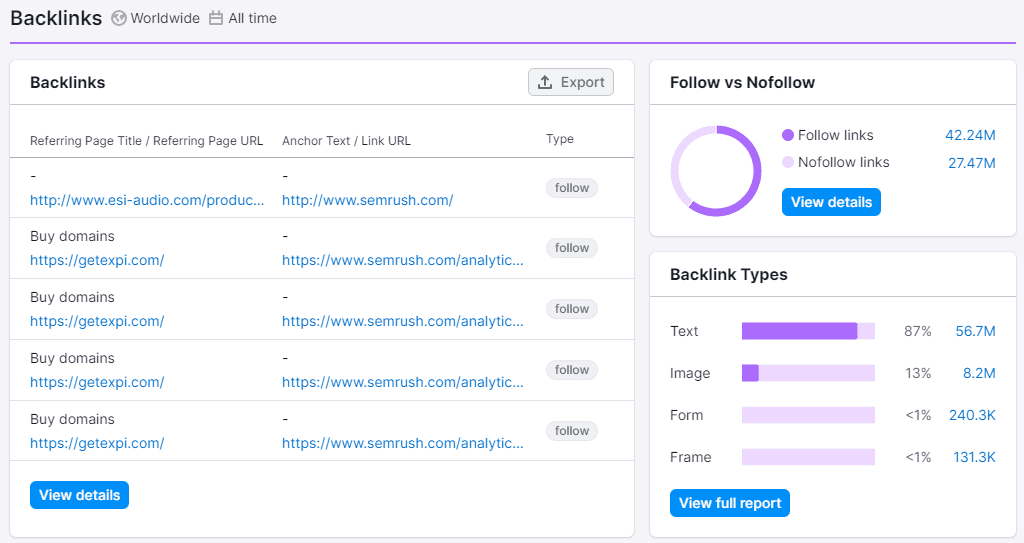 But that's not all. The top section of the domain overview screen has these three additional tabs:
Domain Comparison: You can compare your domain with up to 4 competitors to identify improvement opportunities.
Growth: Contrast your domain's data for two different time periods and analyze its evolution.
Country Comparison: Check your domain's metrics in different countries simultaneously to evaluate where it's performing best.
The downside is that these comparisons are only available starting from the Guru plan.
Traffic Analytics
In this section, you have all the information related to a domain's traffic.
It's similar to the data you get from Google Analytics (visits, pageviews, bounce rate, etc.), but the advantage here is that you can access data for any domain, not just your own.
You might notice that the results displayed by Semrush for visits and traffic are somewhat different from those in Google Analytics.

This is because Semrush calculates this data based on its own algorithms that consider domain keywords, their positions in SERPs, and other factors, instead of actual clicks on a website.

Therefore, you should always regard these metrics as an approximation and a reflection of a website's trend, rather than an exact and real value.
From the Semrush traffic analysis screen, I'd highlight two main functions.
The first is the ability to compare data from up to 5 domains side by side. This is very useful when you want to assess a website's growth in comparison to its competitors.
The second is the section called 'Traffic Journey.' It's a graphical representation of the main external sources sending traffic to our domain and the most significant destinations to which our website redirects traffic.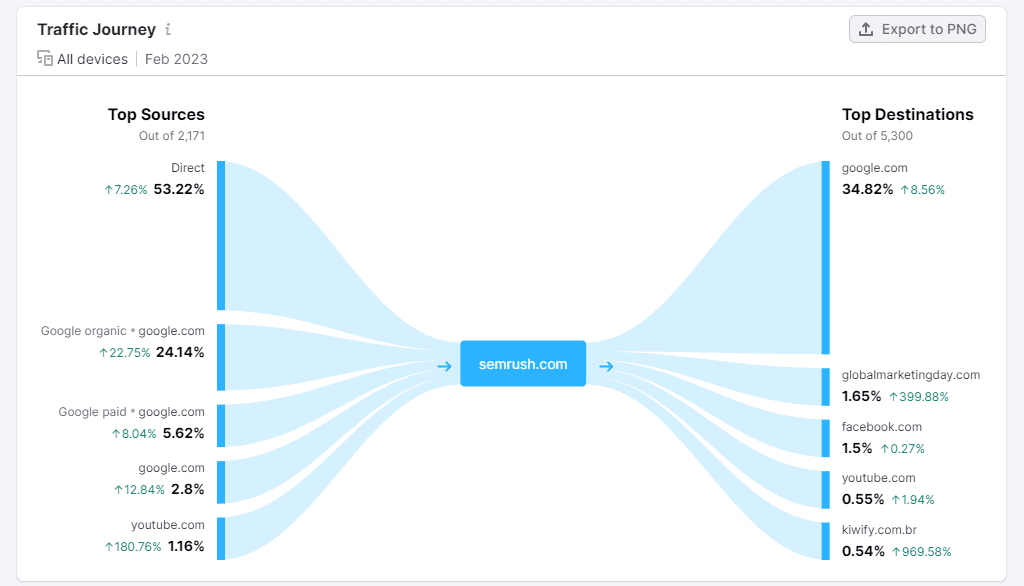 I find this feature very insightful for getting to know our audience and their behavior.
Organic Research
The organic research panel provides comprehensive information about the keywords for which a domain, page, or subdomain is ranking in Google's organic search.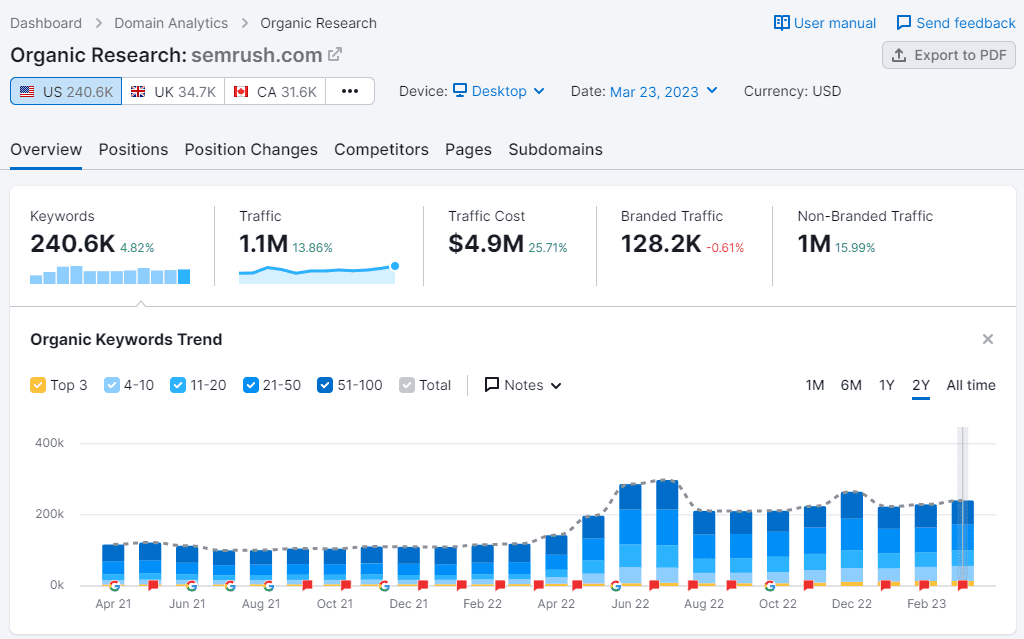 While the overview has its merits, in my opinion, the real value of this section lies in the data tables, accessible through the tabs at the top.
In the Positions table, you'll find all the keywords for which the domain in question is ranked.
If the domain is yours, you can find ideas here to enhance your articles and curate content. For instance, you can add missing keywords to your texts, introduce semantic variety, or improve your headers with keywords that can potentially drive more traffic.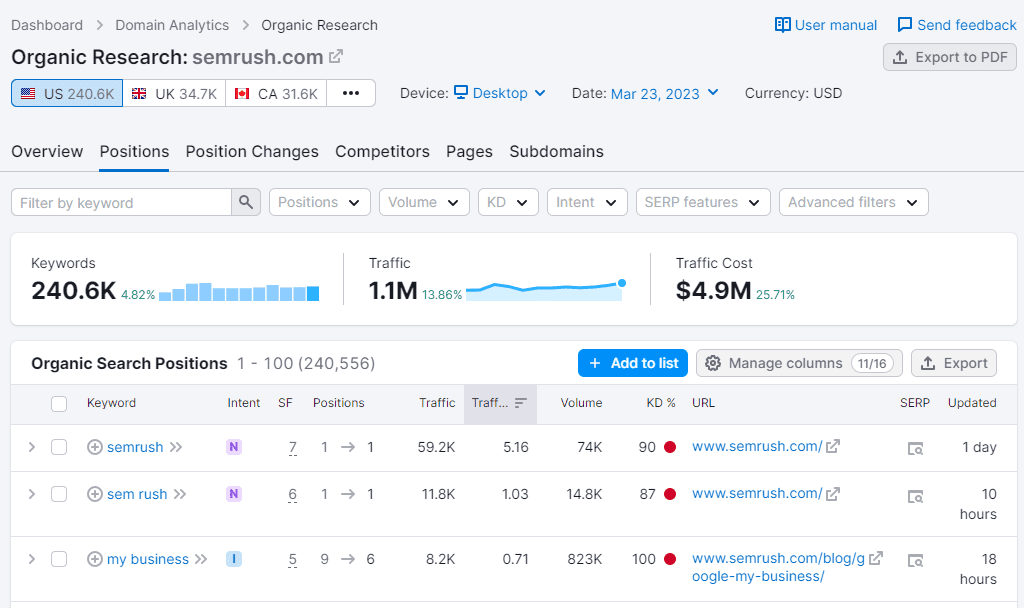 Now, if you're analyzing a competitor's domain, this table, with its advanced filters, becomes your great ally.
Beyond offering ideas to enhance your posts with new keywords, it can aid you in identifying fresh content to grow your website. Particularly, long-tail content that's easier to rank for.
For instance, you can filter the list for searches with more than 5 words, where the traffic is less than 200, and the keyword difficulty is labeled as 'very easy.' This way, you'll generate a substantial amount of ideas for creating content that's likely to yield results quickly.
The Keyword Difficulty is a number from 1 to 100 that indicates the estimated difficulty of surpassing the competition within the top twenty positions of the SERPs
On the other hand, in the 'Position Changes' table, you will see the keywords for which a domain has gained or lost visibility.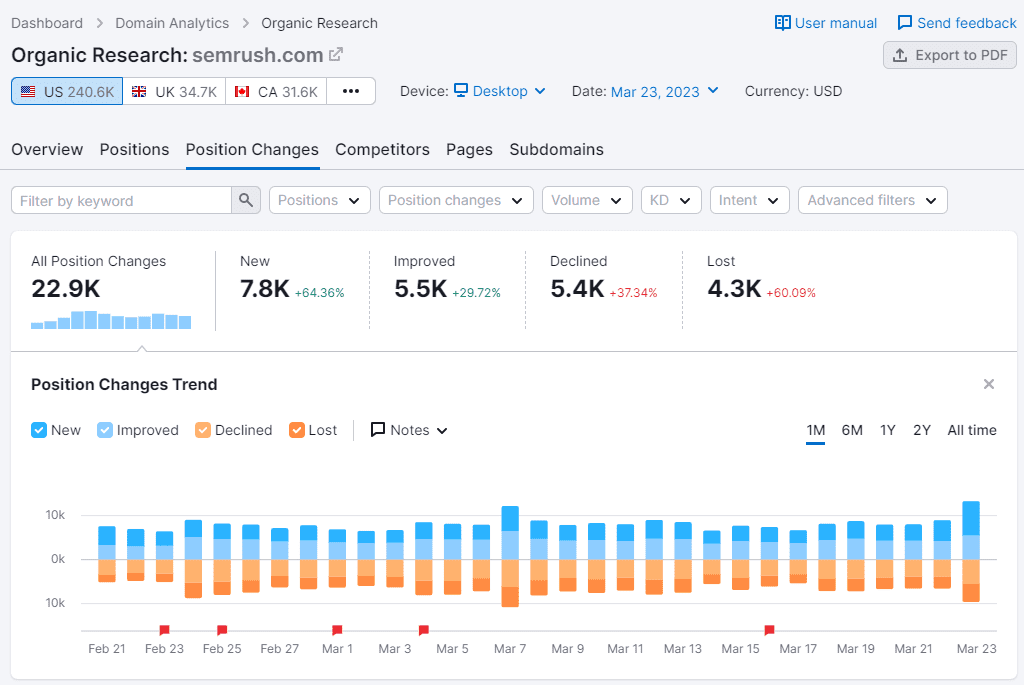 Once again, if it's your own website, it can give you ideas about where you need to improve your content. If it's your competitors' domain, it can indicate the terms where they might be struggling, offering you an opportunity.
The other two noteworthy tables are 'Competitors' and 'Pages.'
The first one, once again, can be used as a source of inspiration from your competitors.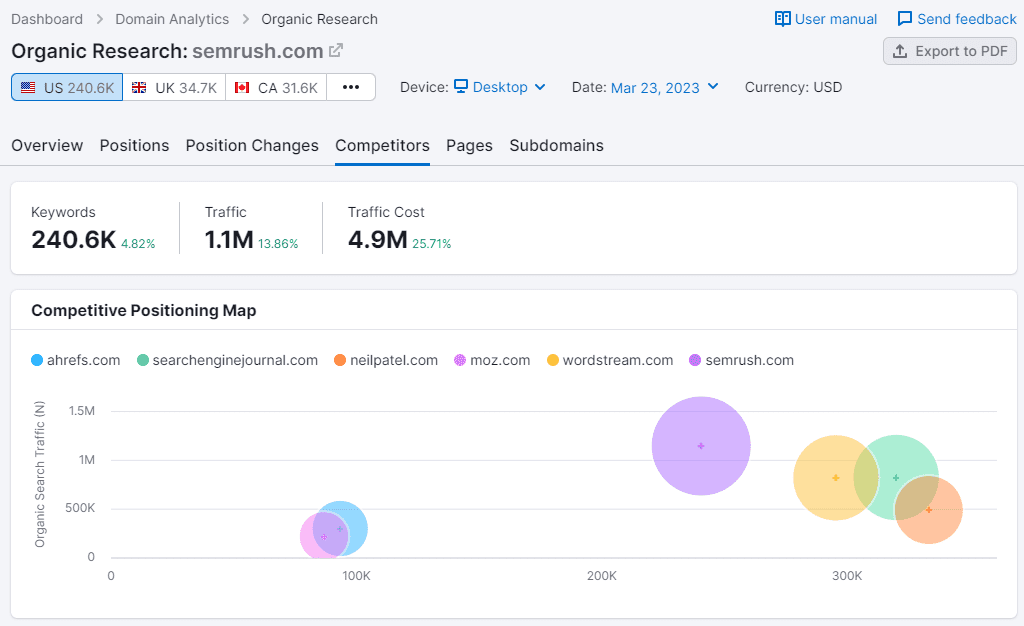 The second one, on the other hand, can give us insights on how to improve a specific article with keywords that weren't directly present in its content.
Keyword Gap
Semrush's 'Keyword Gap' section offers a functionality that can save us hours of analysis when we're searching for content ideas for a website.
You just need to enter your domain along with up to 4 other domains, and the tool will show you the common keywords among them.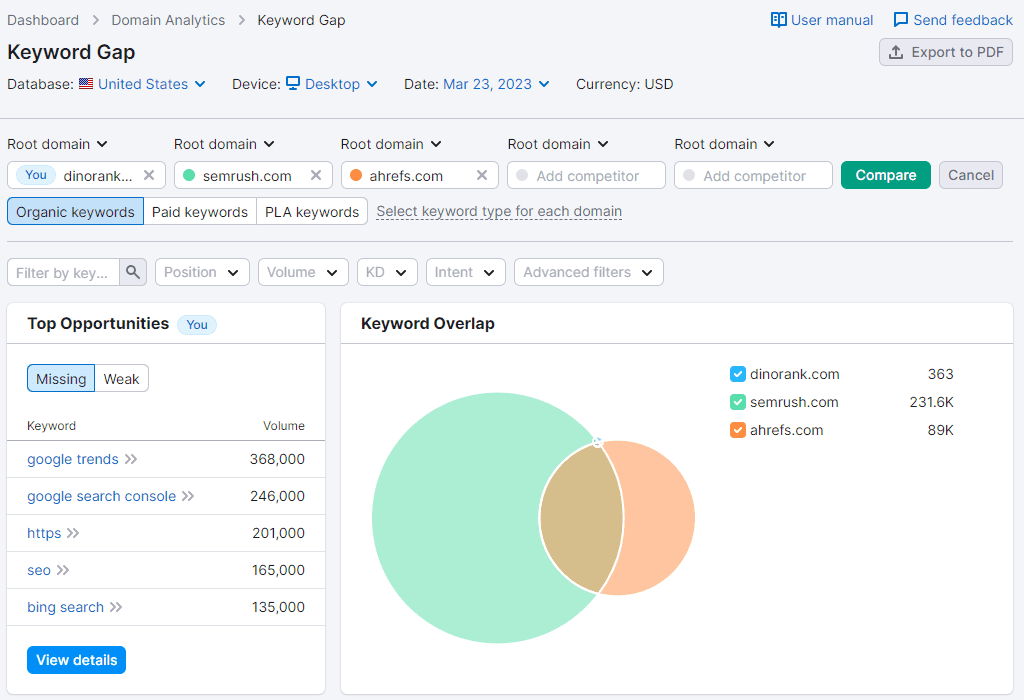 This way, you can uncover a significant number of keywords for which your competition is ranking, and you might not have even considered them until now.
Moreover, the analysis includes organic, paid, or PLA (Product Listing Ads) keywords.
I find this feature to be a fantastic tool for discovering opportunities based on successful strategies.
If it worked for your competitors, why wouldn't it work for you?
Backlink Gap
This Semrush tool is quite similar to the previous one, but it focuses on backlinks instead of keywords.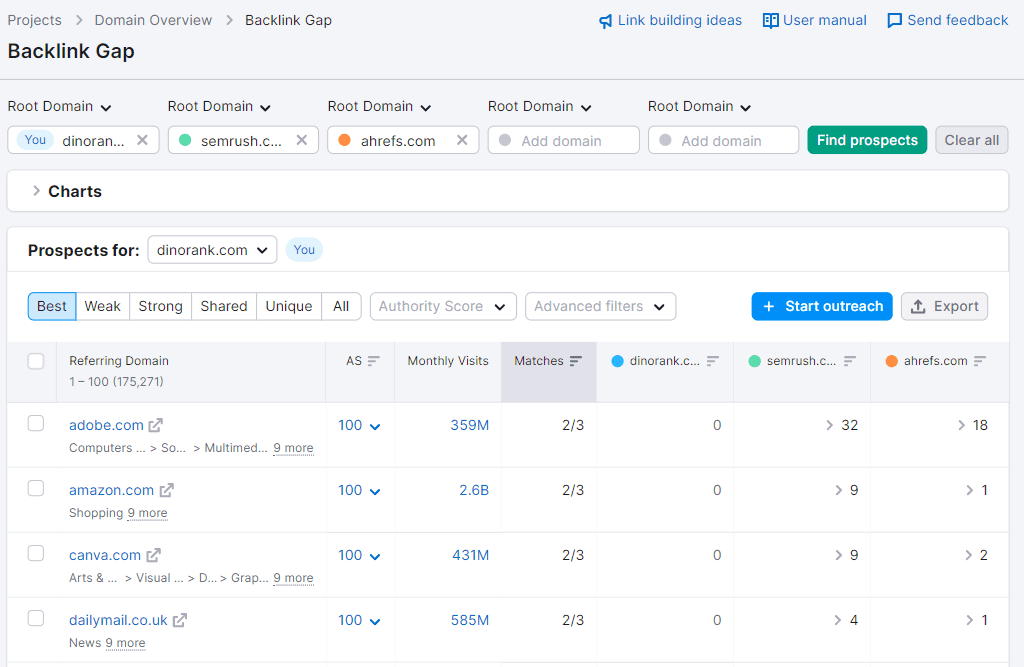 We'll quickly know which domains are linking to our competitors but not to us.
This way, we can enhance our link-building strategy by including those backlinks that are working best for our competitors.
Keyword Research
If there's one thing we SEOs know for sure, it's that we can't just start writing whatever comes to mind.
If we want our pages to get visits, we need to write about topics that people are actually searching for.
That's why conducting thorough keyword research is crucial, both at the beginning and throughout the life of a project.
In this section, I'll walk you through all the tools that Semrush provides to assist you in your keyword research efforts. And as you'll see, there are quite a few.
Keyword Overview
This is the main screen to kick off your keyword research.
Just enter a term in the search box, and Semrush will provide you with information about its search volume in different countries, trend, CPC, and difficulty.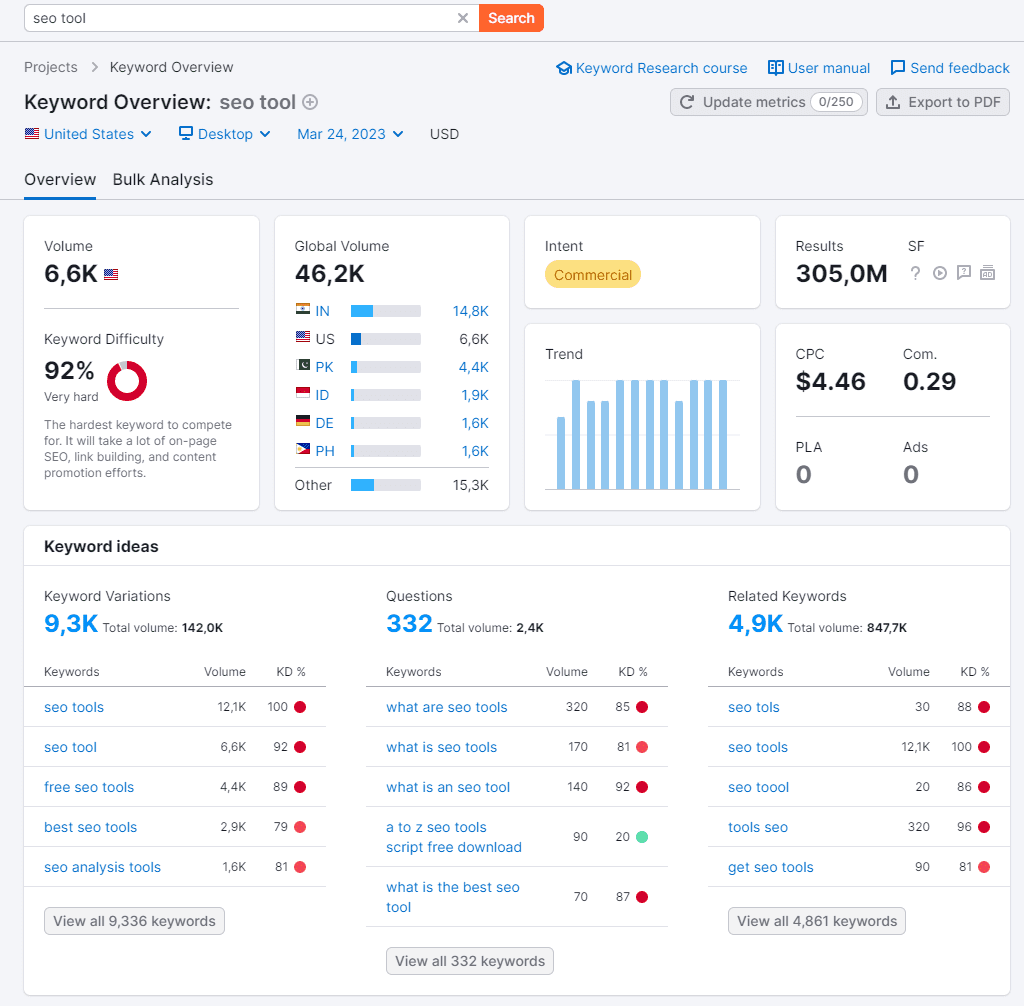 Furthermore, it will provide you with ideas for other related keywords that you can investigate, categorized into 3 groups:
Keyword Variations: These are long-tail keywords derived from the keyword you entered, which you can target to improve your positioning.
Questions: Here, you'll find frequently asked questions related to your keyword. This allows you to create content that perfectly addresses the search intent, attracting users.
Related Keywords: In this section, you'll see semantically related keywords to yours that you can use in your content to enrich it for Google.
Lastly, Semrush displays the Google search results for the keyword you entered. This gives you an idea of the competition and the complexity of ranking for that keyword.
In addition to analyzing a single keyword, you can also do it in bulk. Enter up to 100 terms in the text box, and Semrush will show the most relevant metrics for each of them.
Keyword Magic Tool
Remember the keyword ideas suggested on the previous screen?
Semrush's 'Keyword Magic Tool' allows you to dive much deeper into these recommendations.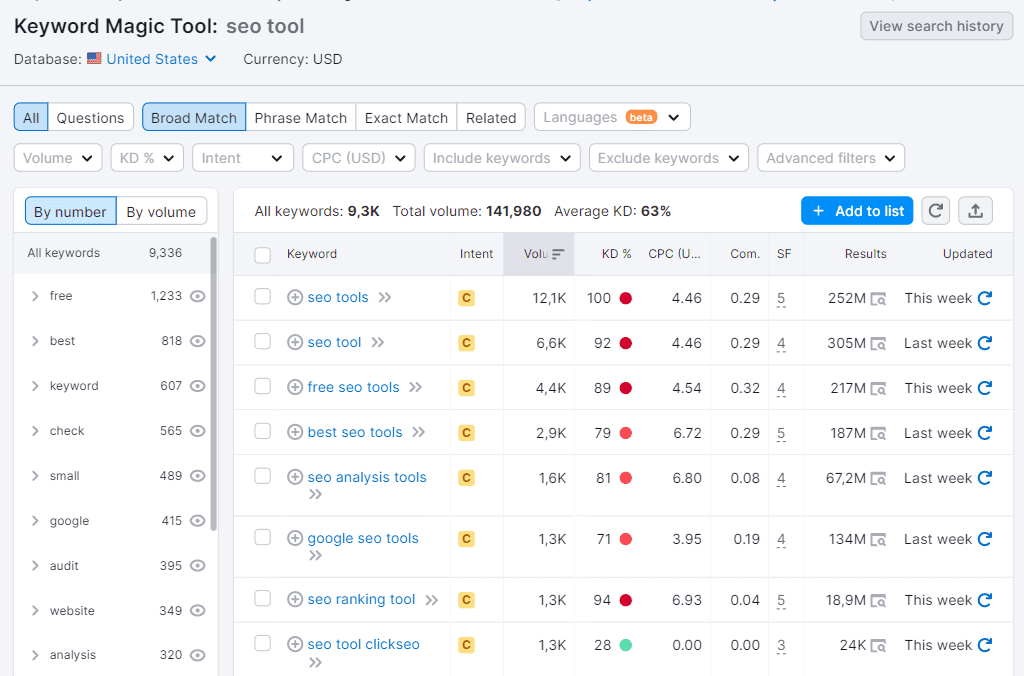 The central section, spanning almost the entire screen, features the table listing all the keywords and their metrics.
The top section and the left-hand side contain the tools to filter the results displayed in the table.
So, the filters at the top allow you to select keywords based on their metrics or characteristics.
For instance, we can display only those results with phrase match (containing the keyword terms in any order), with more than 5 words, and that have search volume.

On the other hand, using the side filter, it displays keywords grouped by individual terms, so we can expand them to find a phrase that interests us.
For instance, we can first select 'best' and then 'free', to see which keywords contain both terms and get ideas for new content.

Keyword Manager
The Keyword Manager is like a Favorites section for keywords. This way, you can keep all the keywords of your interest in one place with their updated metrics.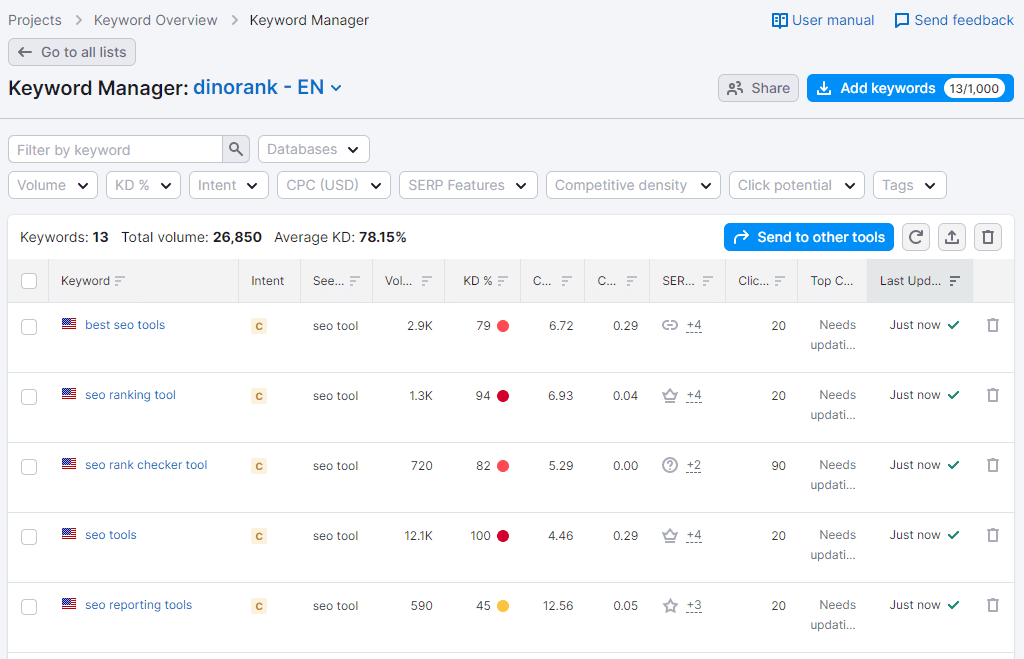 You can create this set of keywords manually or gradually build it up from other sections of Semrush, such as 'Keyword Magic Tool' or 'Organic Research,' as you use them.
Additionally, you have the option to organize your keywords into different lists, add labels to them, export them, or send them to other Semrush tools.
Without a doubt, this utility provides us with excellent management of all the keywords that might be of interest to us.
Position Tracking
We're facing Semrush's position tracking tool, which allows you to monitor how your website's performance changes over time for a set of defined keywords.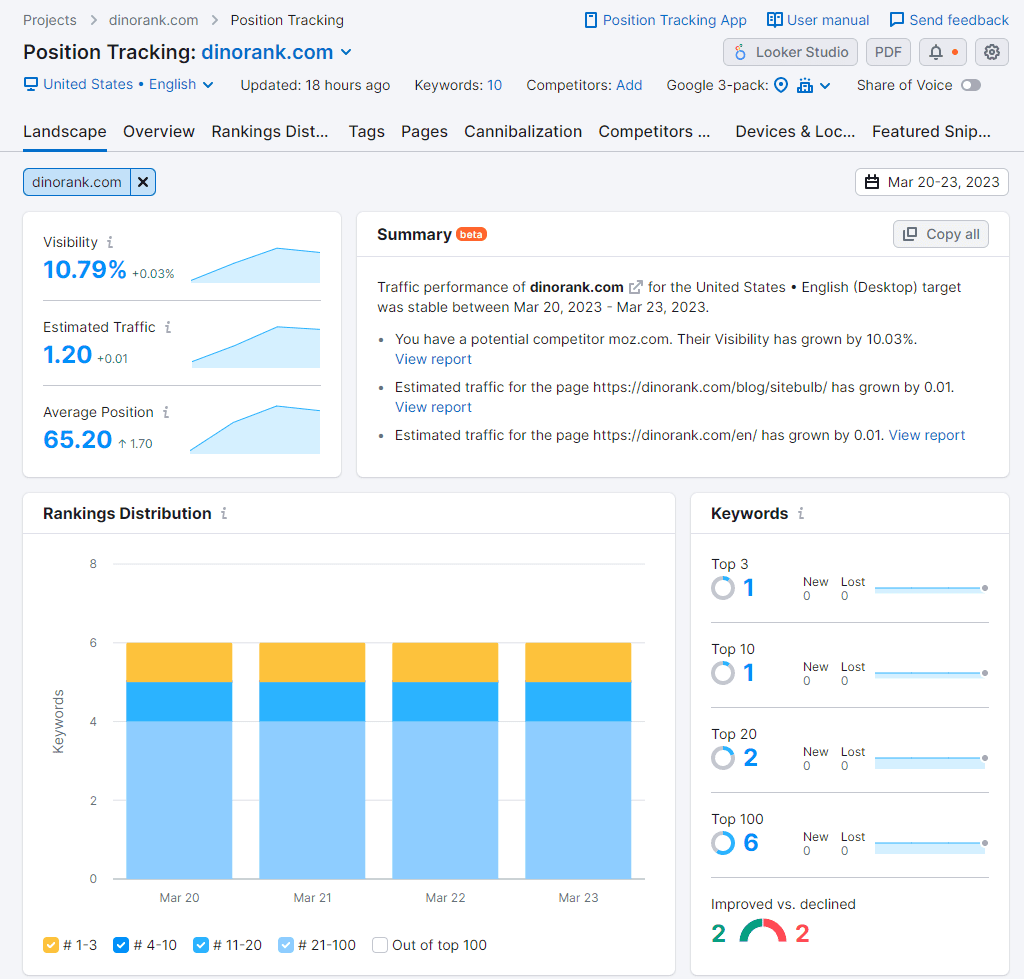 You can also specify your main organic competitors and compare their rankings for the keywords that interest you.
The section is divided into various tabs, each containing valuable information for analyzing your website's trends. Among these tabs, I would highlight the following:
Overview: This provides a table with all your keywords and the recent position changes they've undergone.
Ranking distribution: It shows the keywords in the top 1, top 3, top 10, etc., positions for both your website and the competitors you're monitoring.
Pages: This tab indicates which URLs on your website are ranking for the keywords you're interested in.
Cannibalization: This helps identify URLs on your domain that are ranking for the same keyword. This feature is available only in Guru and Business plans.
However, while Semrush's position tracker is quite powerful, I do see a significant drawback: position tracking is tied to goals, and the creation of goals is quite limited.
In other words, if you want to track the progress of your keywords on both desktop and mobile, you need to set up two separate goals.
And if you're interested in tracking variations across different countries, the number of goals can quickly become overwhelming.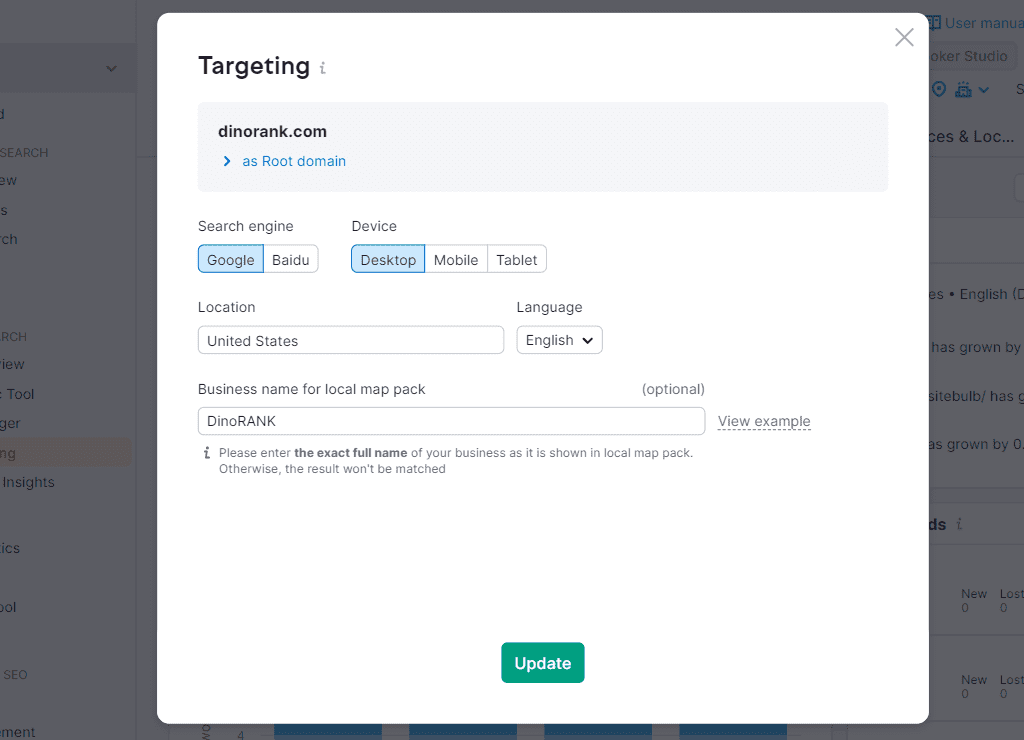 The Semrush Pro plan only allows you to define one goal per project. In the Guru plan, you can create up to 10 goals per project.
So, if you need to track your keywords across different combinations of platforms and countries, you might have to consider the more expensive plans.
Organic Traffic Insights
In this section, we can analyze the combination of data from Google Search Console, Google Analytics, and Semrush.
The panel initially displays a list of the pages on our website along with their GA metrics and the keywords they are ranking for.
From here, we can navigate to each individual URL and see a detailed list of all its keywords, based on Semrush's databases and our GSC account.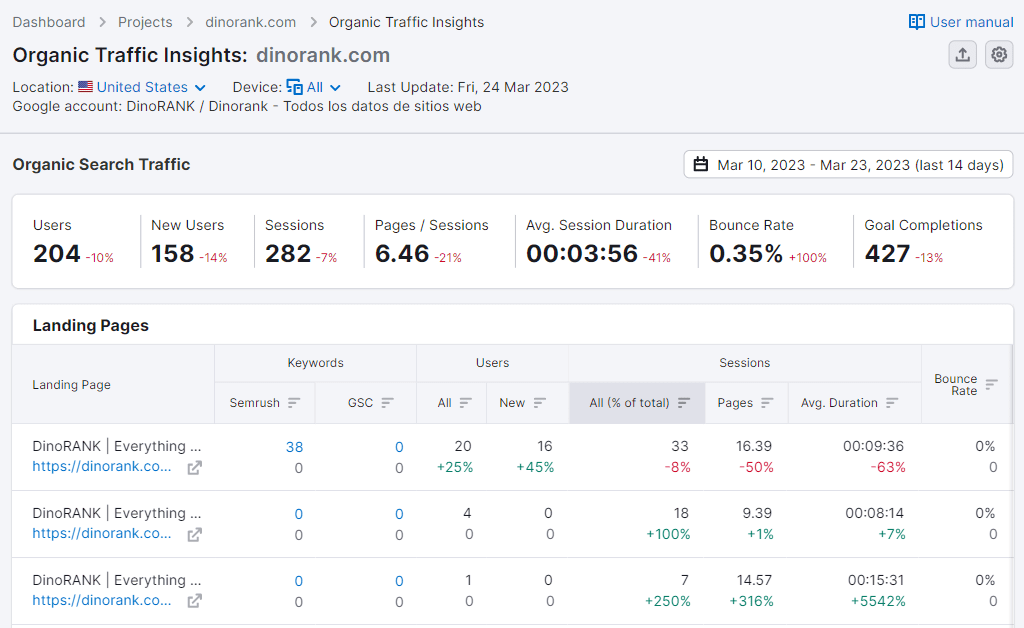 The main objective is to provide us with an easy way to identify those keywords for which we are ranked according to GSC but haven't been identified by Semrush. These can be recognized easily as they carry a green label that says 'New'.
This allows us to incorporate those missing terms onto our page that we're already getting traffic for.
Backlinks Generation
Regardless of what people may say, link building remains a significant part of improving your website's rankings.
However, it's true that it's not just about generating a large number of links, but rather ensuring they are relevant to your specific niche.
That's why taking a look at what your competition is doing can give you clues on how to approach this SEO strategy correctly, which can be quite tedious in itself.
Semrush, as you might expect, offers several functionalities that greatly facilitate this task.
Here's the most relevant information about each of them.
Backlink Analysis
With Semrush, you can analyze the backlink profile of any website. Just enter the domain name (or an individual URL) in the search box, and you'll be taken directly to this panel.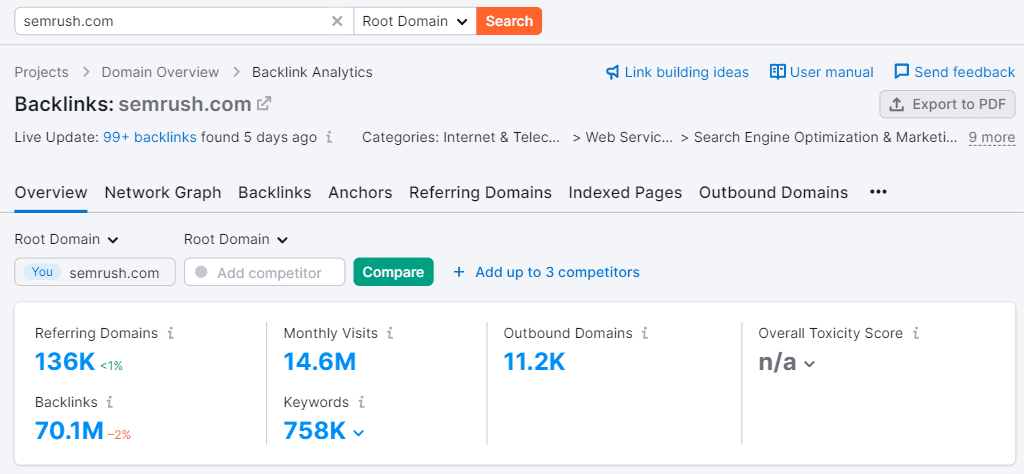 The screen displays a wealth of information about the backlinks of the website in question, similar to what you can find in other similar tools.
I'm talking about data such as the quantity and list of links, referring domains, anchor texts, linked main pages, follow attributes, and more.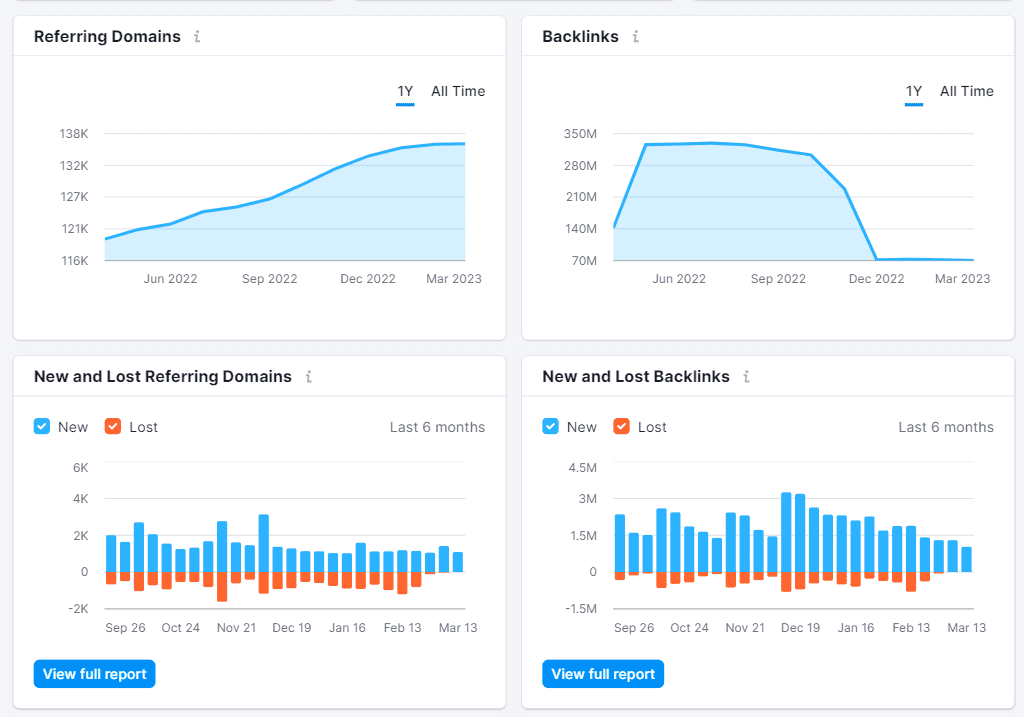 I don't think I'll be telling you anything new if I say that, among all the information on this screen, the one we'll use the most in our work as SEO professionals is found in the 'Backlinks' tab.
These are the data presented in a table format, complete with corresponding filters and export options to Excel or CSV, which are crucial for conducting in-depth analyses.
However, there are two graphs that, at least for me, stand out due to their utility and originality.
The first one is called the Authority Score, which is a metric unique to Semrush that assesses the domain's authority.
Semrush's Authority Score (AS) is a metric unique to Semrush that evaluates the domain from three perspectives: the number and quality of backlinks, its organic traffic, and the naturalness of the link profile.
What's interesting about this assessment is that the tool doesn't just display it, but it visually represents the score so that we can observe where the domain is strongest and where it might be slightly weaker.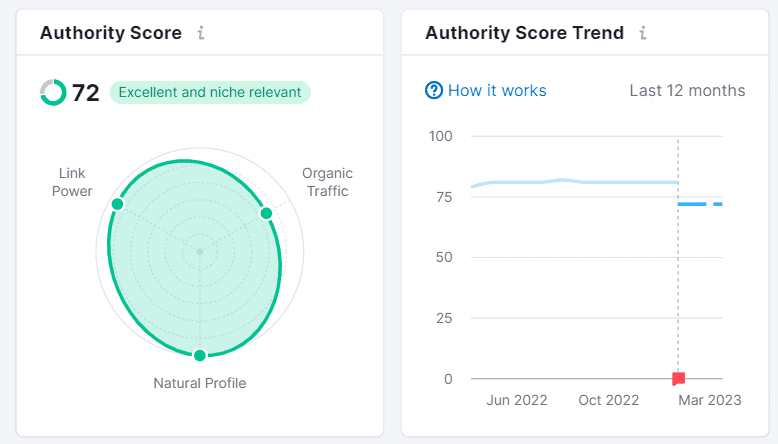 The other graph that catches my attention is the network graph.
This is a simulation of the most important links pointing to the domain we are analyzing, whether directly or through several hops.
By clicking on any point, we can highlight the path of links leading to the domain in question.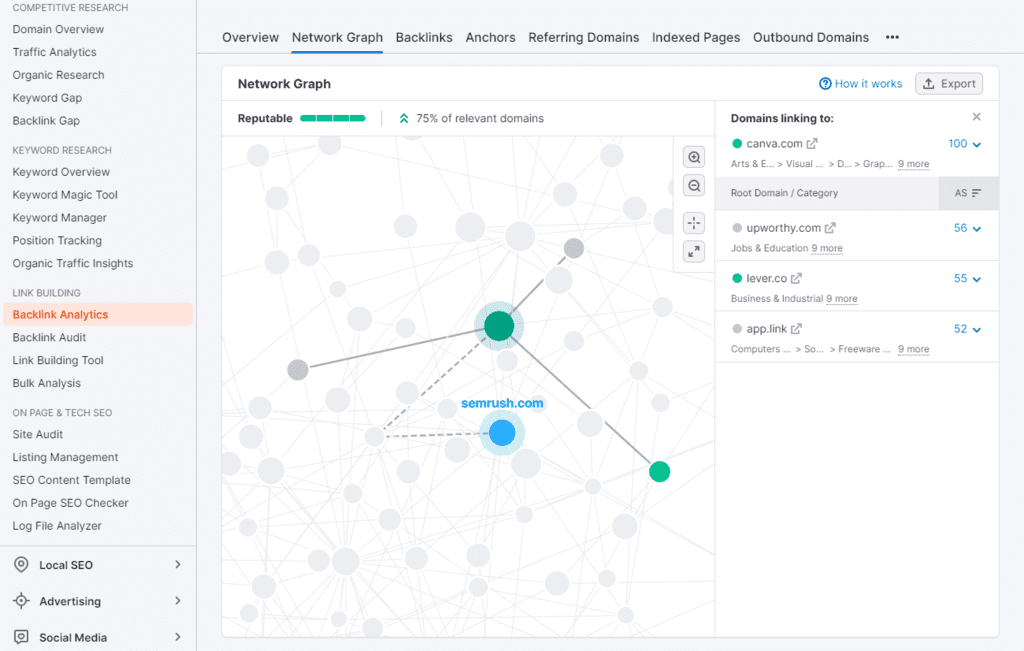 The size of the nodes indicates their authority, and the color signifies whether the domain is relevant to the niche of the analyzed domain (green), irrelevant (gray), or potentially harmful (red).
The graph provides a comprehensive view of the link profile of a domain, including not only direct backlinks but also those in second and third layers (2-tier, 3-tier).
Moreover, it helps us identify link-building opportunities related to a specific niche that could enhance the strength of a particular website.
Backlink Audit
This feature streamlines the monitoring of backlinks for your projects.
Here, you get comprehensive information about all your external links, along with their key attributes and their evolution (new backlinks, lost or broken links).
However, the most intriguing aspect of this section is that it conducts an assessment of all your backlinks, flagging those that are toxic or potentially so.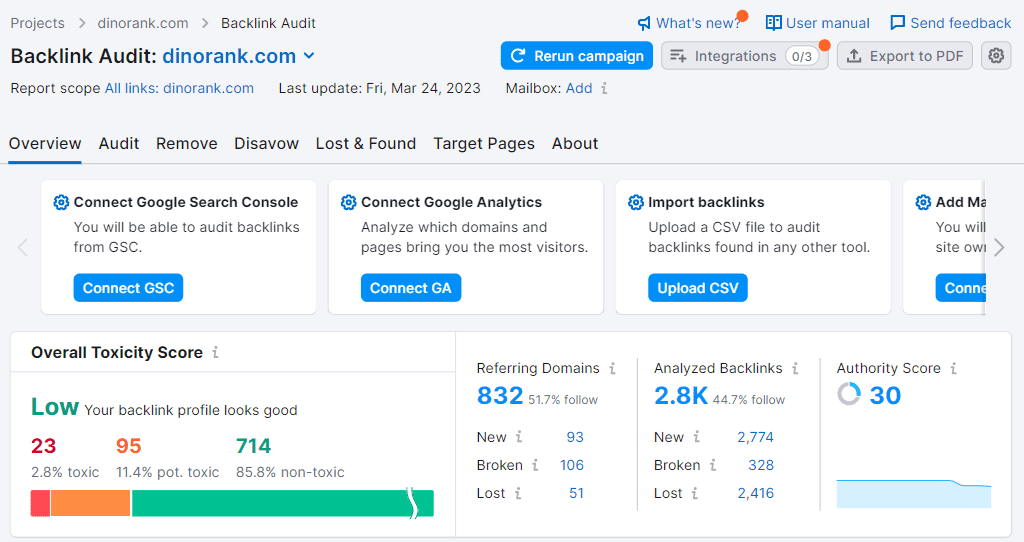 In other words, Semrush clearly indicates which links could be harmful to your website.
And it gives you the option to remove them.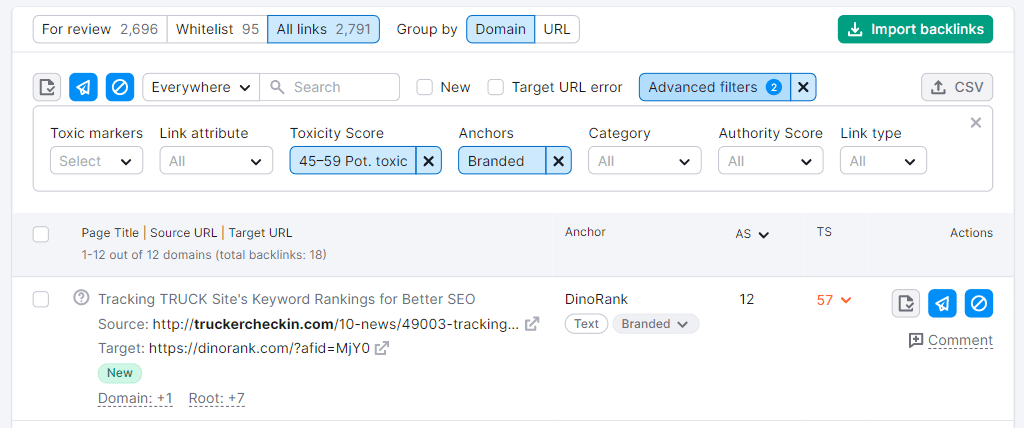 On one hand, there's a button that allows you to send an email to the owner of the website linking to you, requesting them to remove the link from their pages.
On the other hand, you can create a .txt file containing a list of links you'd like to disavow, ready to be submitted to Google's Disavow tool.
The Link Building Tool
This tool provides you with fresh ideas for building links, saving you a lot of the competitive analysis work.
Based on a list of relevant keywords for your project or the competitors you've chosen, Semrush offers a set of opportunities for creating relevant backlinks for your website.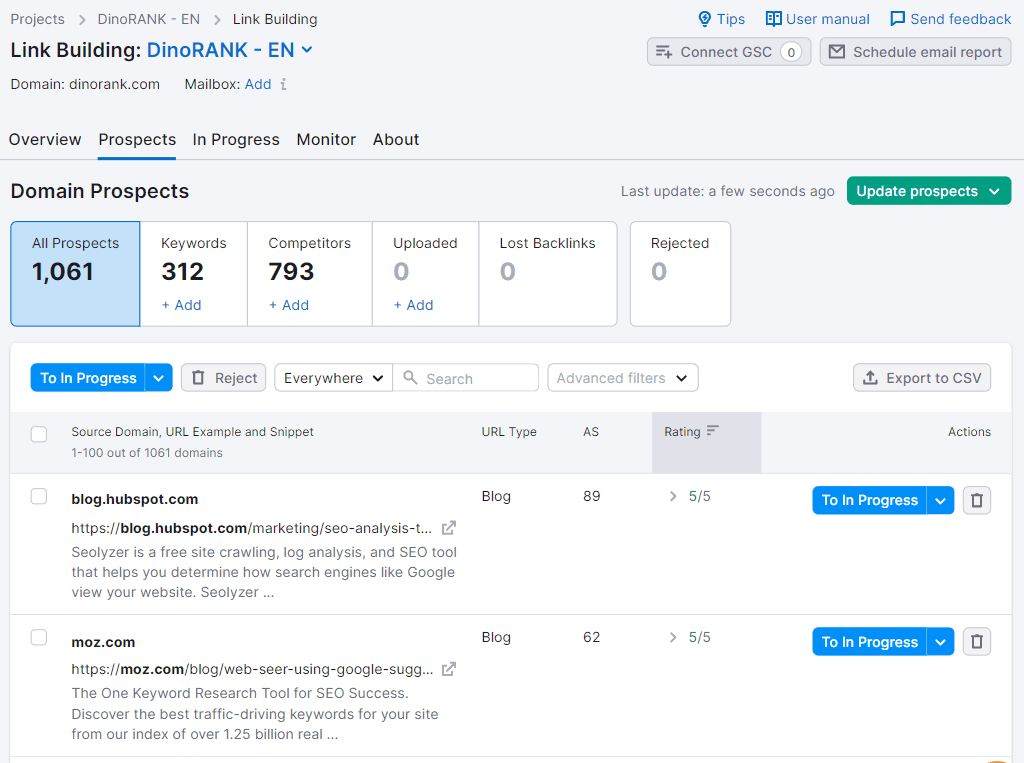 Of course, as with all automated recommendations from any software, you should always conduct further research to decide whether the link makes sense or not.
But there's no doubt that this tool saves you a good chunk of the work.
If you decide to create any of the backlinks it suggests, you can move it to the 'In Progress' tab and from there, monitor its status, from reaching out to the website owner to its acceptance or rejection.
Lastly, if any of the requested links are accepted, you can send them to the 'Monitoring' tab to keep track of them.
Group Analysis
This feature provides you with the capability to analyze multiple domains simultaneously.
To do this, input a list of URLs into the text box, and Semrush will provide you with a set of general metrics about their backlink profiles.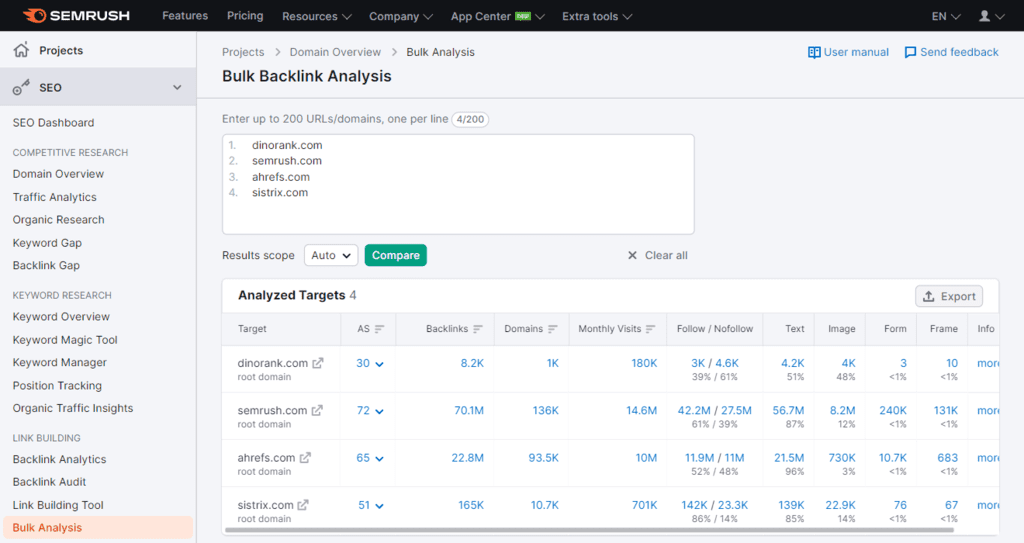 On-Page & Tech SEO
SEO isn't just about conducting thorough keyword research or establishing proper internal linking. It's also crucial for your website to function well and not have any performance or structural issues.
Semrush recognizes this aspect and provides you with a comprehensive set of tools to analyze your site from the perspectives of on-page SEO and technical SEO.
Let's take a closer look at them
Site Audit
Here, you can conduct an SEO audit of your website. Semrush will analyze your pages for potential issues and improvement suggestions, providing you with a health score for your site.
What's intriguing about this metric is that it allows you to compare your score with the industry average, helping you determine whether your website is better or less optimized than that of your competitors.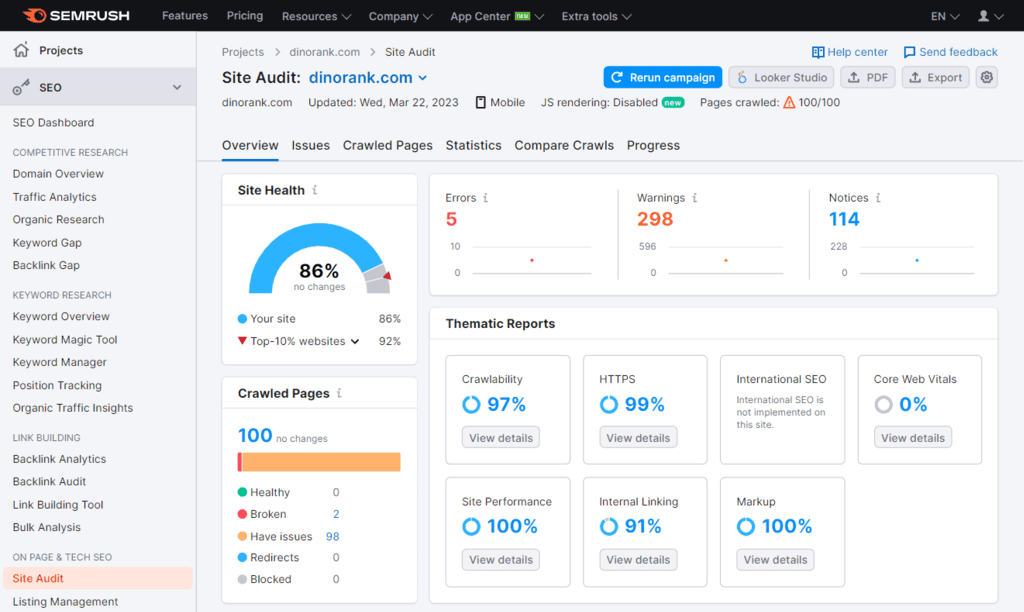 Furthermore, the report provides a breakdown of your website's health in various areas, such as performance, internal links, or crawlability.
Clicking on any of these scores gives you more detailed information about that specific aspect.
Through the 'Issues' tab, you can access the complete list of errors, warnings, and notices.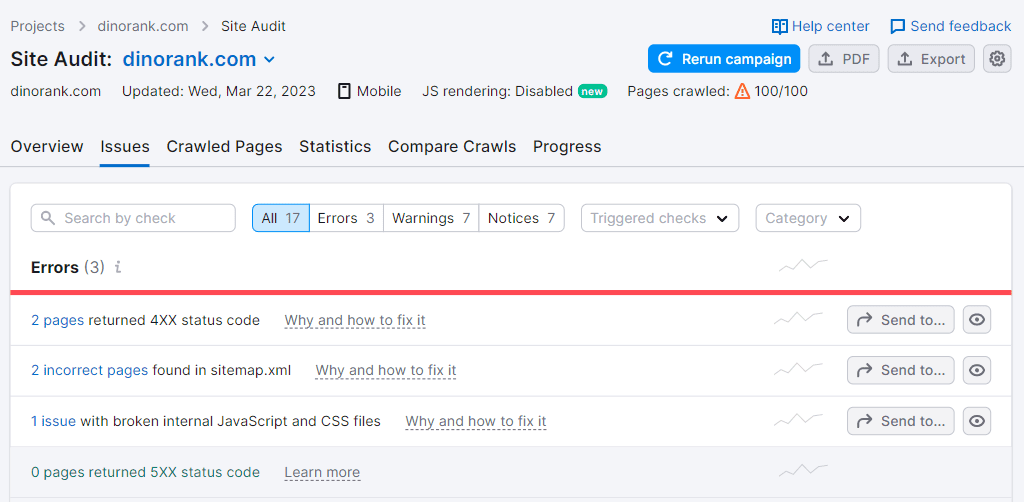 For each issue, Semrush provides a comprehensive description and a set of recommendations to address it.
Listing Management
If you want your business to appear in online directories, this option can be very useful. However, it comes with an additional cost on top of your Semrush subscription.
By entering your business information, the tool will check which directories your business is listed in, verify if the information is accurate, and suggest new options to expand your visibility.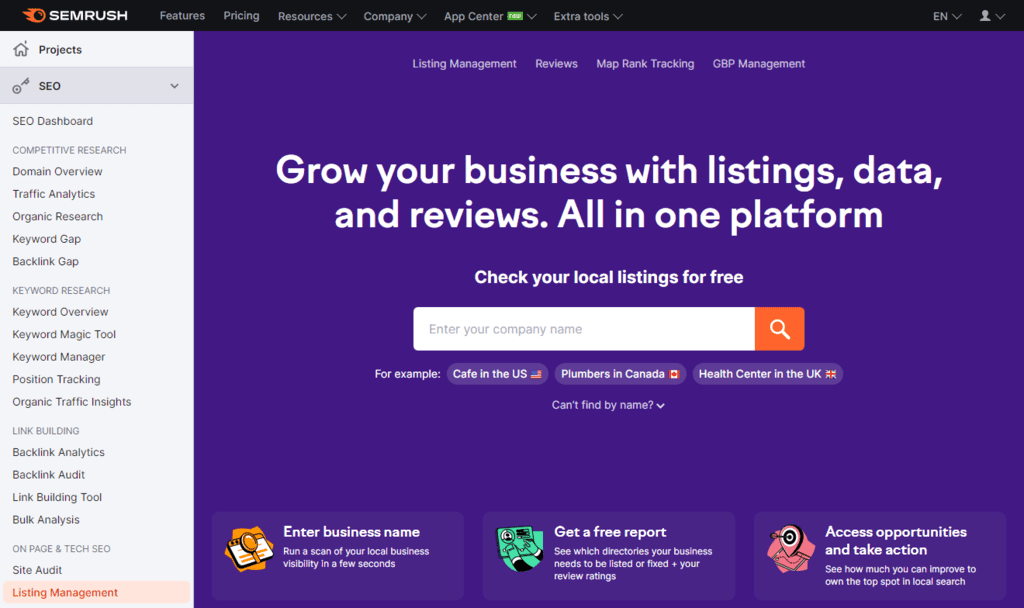 Additionally, it will check if your information is on Google Maps and Google Business and give you the option to update your details.
SEO Content Template
The first step you should take when writing new content for your blog isn't opening a blank page and starting to think.
No, it's not. If you want your new post to have a chance of ranking on Google, you need to analyze the search results for the relevant keywords of the article.
By doing this, you can define a meaningful structure that appeals to Google and gather ideas to include in the text.
This research, which we usually do manually, Semrush does it for us with just a few clicks.
Simply input your keywords, the device, and the country you want to target with the article, and the tool will analyze the top 10 positions on Google to provide you with ideas.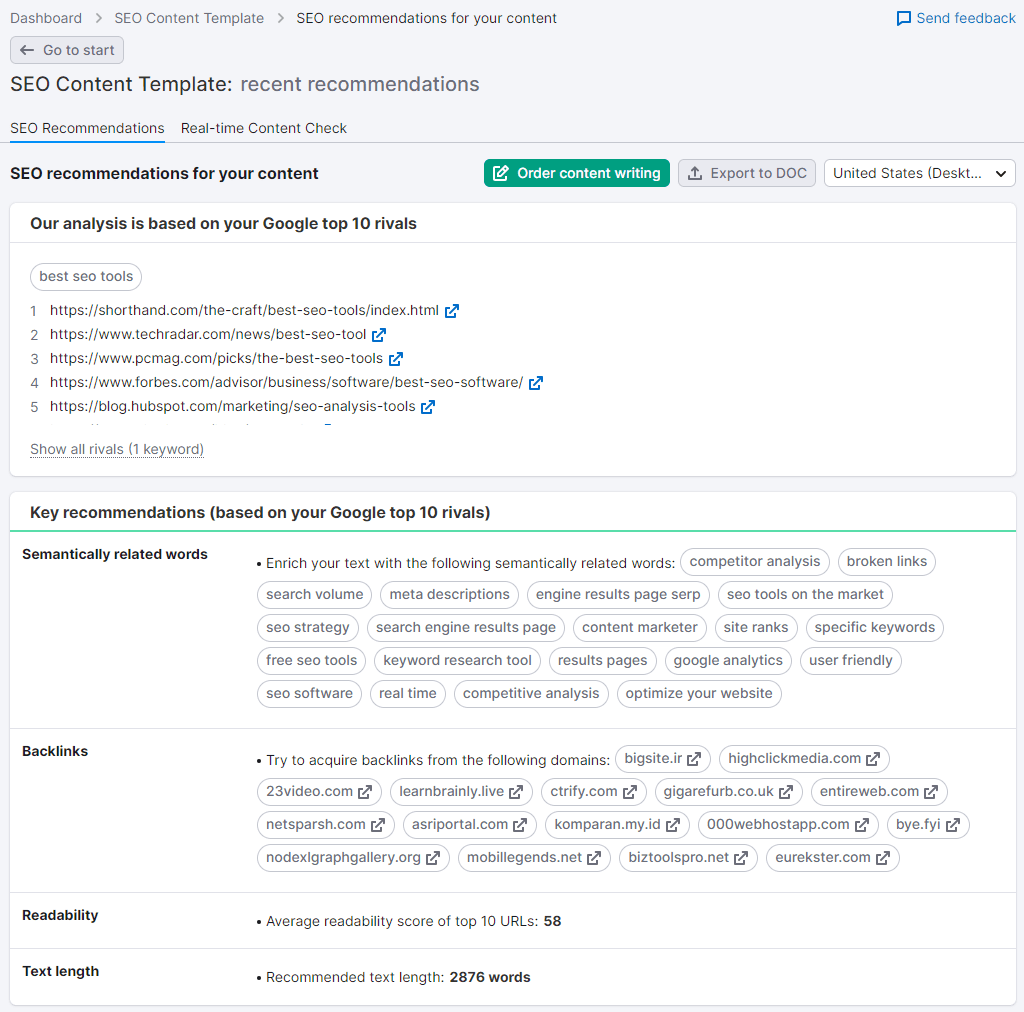 What kind of ideas are we talking about exactly?
Among other things, Semrush will provide you with:
A list of semantically related keywords.
The recommended length for the text.
Suggestions for the title.
Possible backlinks you could create.
It's clear that it doesn't take away all the work completely, as there's still some research to be done on your part. But it does save you time and simplifies things a lot by having all the information gathered in one place.
On-Page SEO Checker
This tool conducts an analysis of the individual pages on your website to provide improvement suggestions that can help enhance organic ranking.
The main screen gives us an overall view, and next to the list of analyzed URLs, you can see the number of optimization suggestions.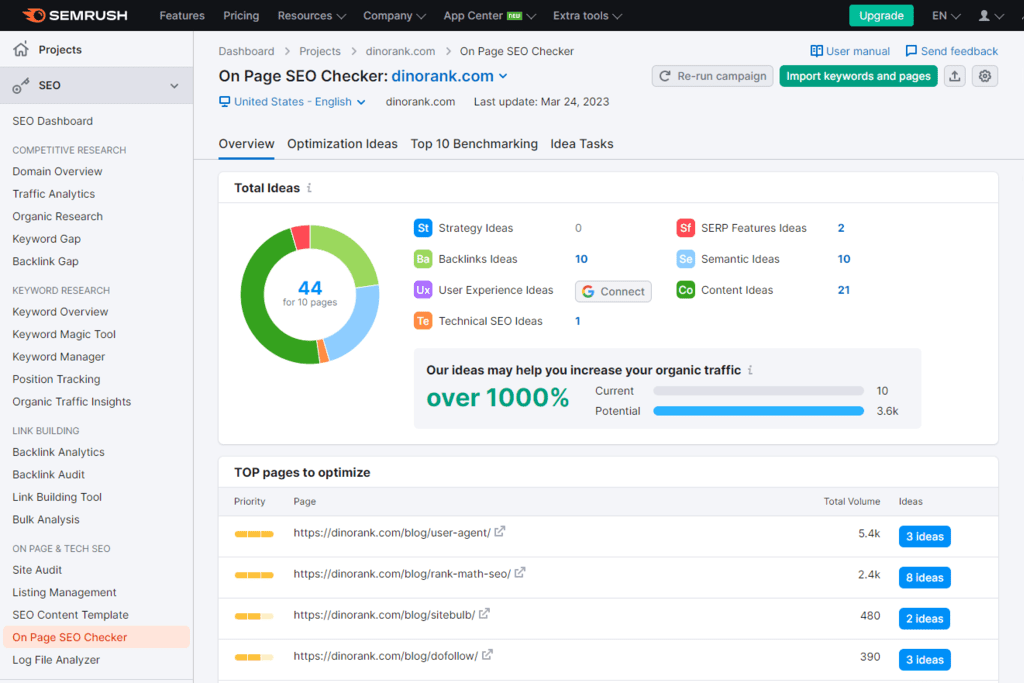 Clicking on the blue 'Ideas' button, we can view the breakdown of all Semrush's recommendations, categorized and with a fairly detailed explanation to assist you in their implementation.
Log File Analyzer
Our web server stores valuable information when it comes to analyzing the SEO of our website, information that we tend to overlook.
I'm referring to log files.
In these files, we have data about every time Google's and other search engines' robots decide to crawl through our pages.
The issue is that this information isn't easy to interpret.
Semrush, through its log file analysis tool, allows you to upload these files from your server and visually represent the information they contain.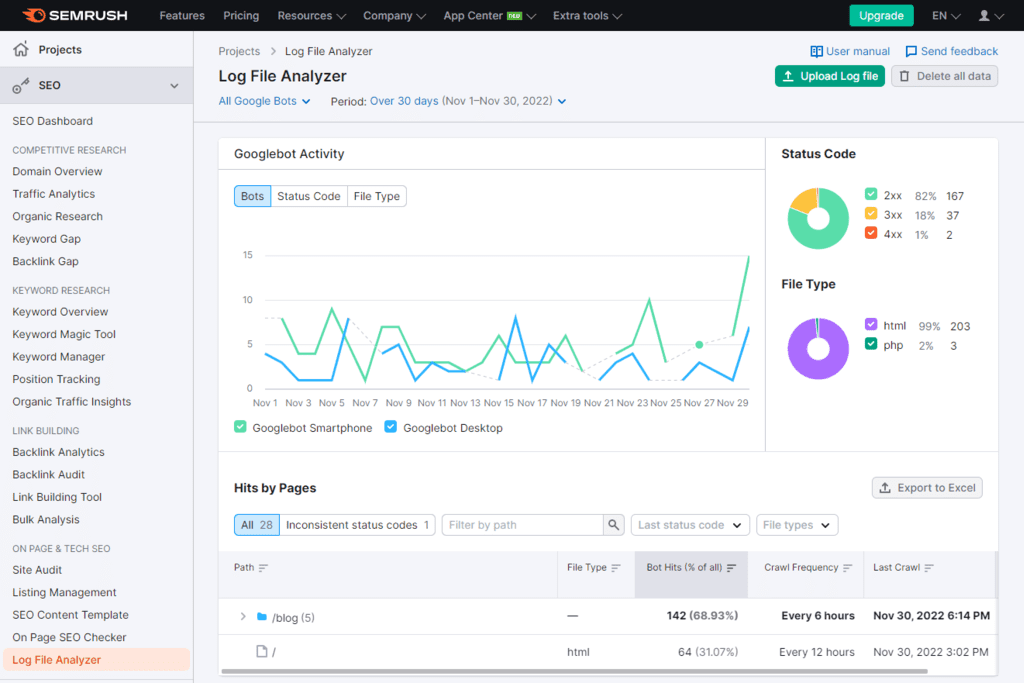 This way, you can easily find out when Google's bots access your website, which pages are the most visited, and whether they've encountered error codes.
This is very valuable information when it comes to optimizing your site's architecture and managing the so-called crawl budget.
Semrush and Local SEO
Local SEO comes with a set of implications that differentiate it from traditional SEO.
Of course, there are many aspects they share.
However, there are certain specific actions that have a very noticeable impact on a website's visibility for a particular location.
I won't go into details here, as this topic could span several posts.
These tools are:
Listing Management
Review Management
Position Tracking
Site Audit
On Page SEO Checker
The only new addition is 'Review Management'.
This is a utility that is part of the 'Listing Management' tool but has been separated to make it more accessible.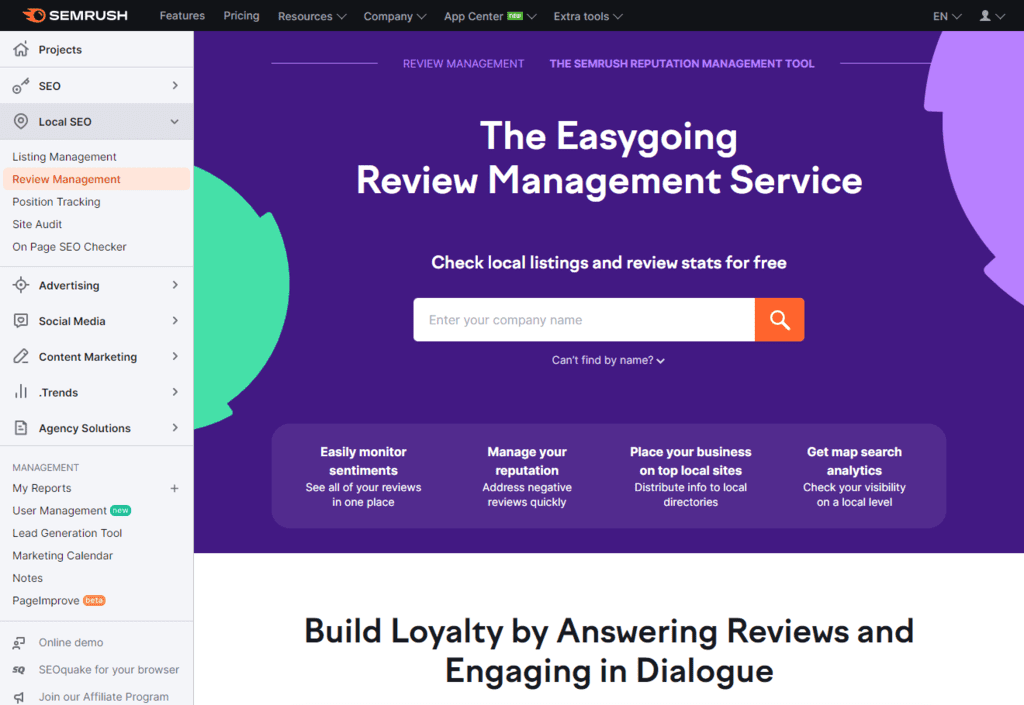 This solution makes it easier for you to manage your online reviews. It connects to over 70 review platforms like Google or Facebook and allows you to view them from a single place.
Moreover, you can respond directly to users and keep track of your brand's reputation on the internet.
Campaign Management with Semrush
So far, we've explored the functionalities mostly related to web positioning.
However, Semrush is not just an SEO tool; it defines itself as an all-in-one suite to assist you with online marketing.
And digital marketing covers a range of actions beyond SEO.
One of these actions is SEM (Search Engine Marketing), which involves advertising on search engines.
That's why, in this section, we'll review the features of Semrush to enhance your paid advertising campaigns.
Market Analysis
Semrush allows you to conduct research on the advertising efforts of any domain, which is highly valuable when you want to analyze your competitors' strategies.
In essence, this tool is quite similar to what we've covered in organic research, but it focuses on the keywords for which a specific website is displaying ads.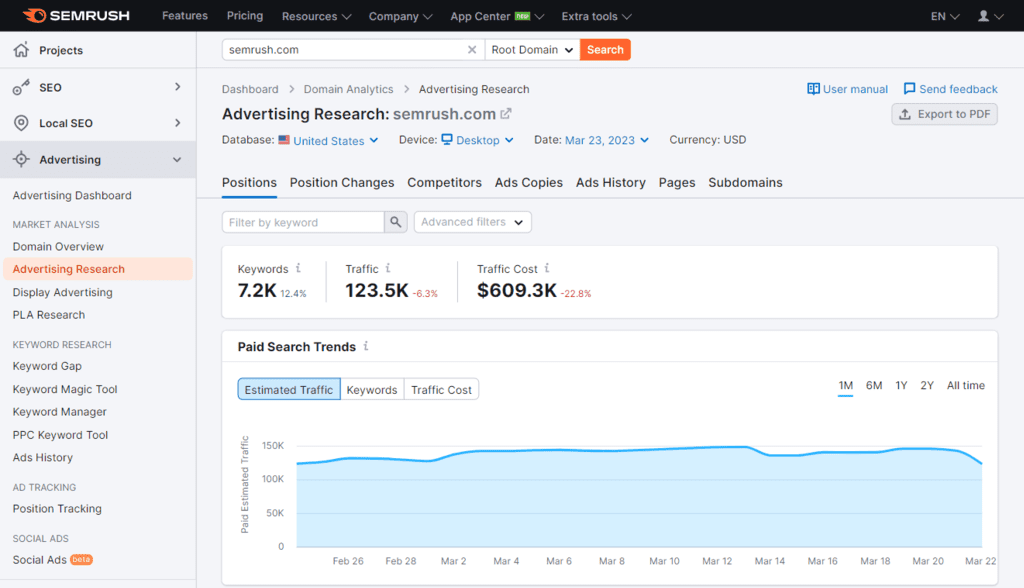 Thus, you can track position changes for various keywords, the pages being displayed, ad text, and even other websites that are bidding on those terms.
In addition to these features, Semrush also offers the ability to analyze display advertising or, if you have an ecommerce business, conduct a Product Listing Ads (PLA) investigation, which focuses on ads appearing on Google Shopping for your online store.
Keyword Research
If you want to conduct keyword research for your ad campaigns, Semrush offers several tools to help with that.
Some of these tools might sound familiar, as they are the same ones we previously discussed for organic keyword research. Semrush presents them under this section again because they are also useful for SEM purposes.
Thus, we once again see the utilities of 'Keyword Gap,' 'Keyword Magic Tool,' and 'Keyword Manager.'
But we also have two new tools.
On one hand, there's the 'PPC Keyword Tool,' which allows you to set up ad campaigns, track the keywords for each campaign, and optimize your PPC campaigns to avoid wasting your budget.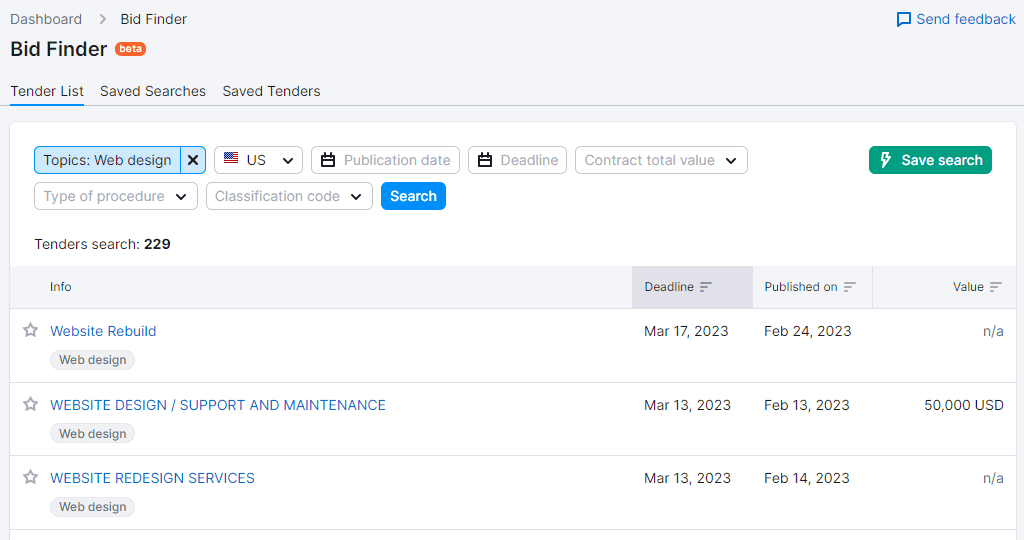 On the other hand, the 'Ad History' tool provides us with a very insightful view of our competitors' campaigns for a specific keyword in Google Ads.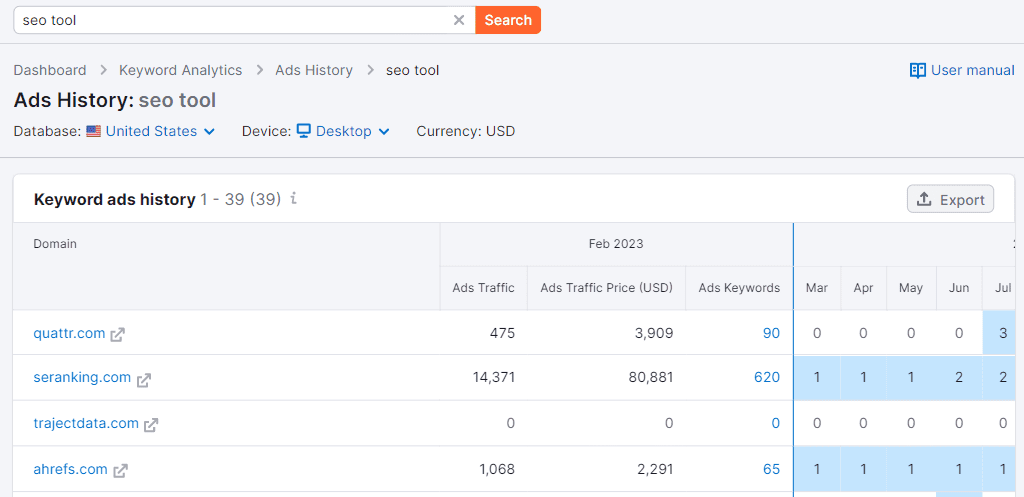 Ad Tracking
Once again, Semrush provides us with direct access to a tool that is already located in another section but also has special relevance for working toward a specific goal.
In this case, it's the position tracking tool, which we already saw in the SEO section and can also be used to check paid positions.
To do this, simply select the type of tracking in the tracker's configuration options.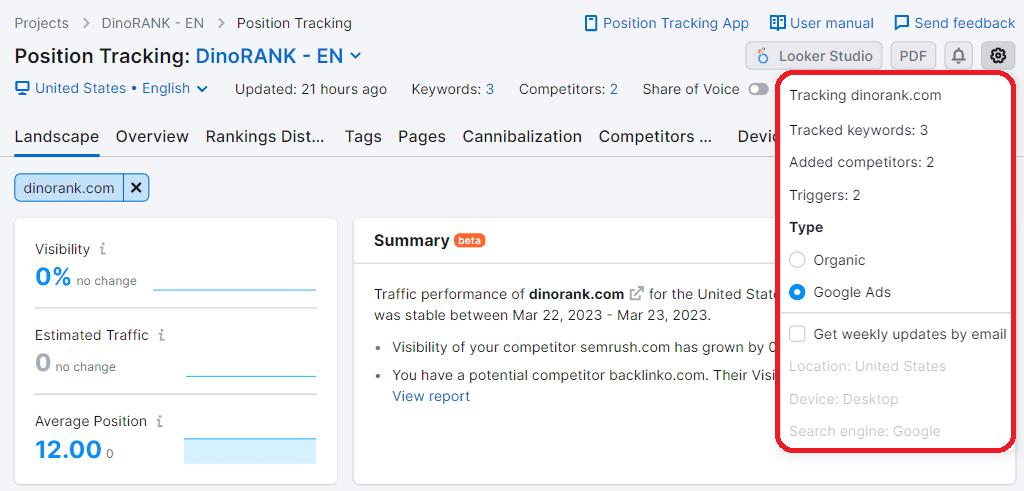 Social Ads
Lastly, Semrush doesn't forget about social media advertising.
From the 'Social Media Ads' tool, you can connect your Facebook account and easily manage your advertising campaigns on this social network or on Instagram.
Managing Social Media from Semrush
Nowadays, having a presence on social media is almost a requirement for any digital project, at least if the goal is to reach as many people as possible.
That's why Semrush has created a set of tools to help you monitor your results across different social profiles, measure your impact, and make decisions to enhance your digital marketing strategies through these channels.
In addition to 'Social Media Ads' for advertising on social networks, you also have features that can assist you with the content you publish.
I'll mention just two of them, as I consider them to be the most interesting and the ones I've personally found most valuable so far.
One of these tools is called 'Social Tracker.' It allows you to connect your accounts from Twitter, Facebook, Instagram, YouTube, LinkedIn, and Pinterest to analyze activity through various metrics.
Furthermore, you can also add your competitors' profiles, and it will display their key statistics.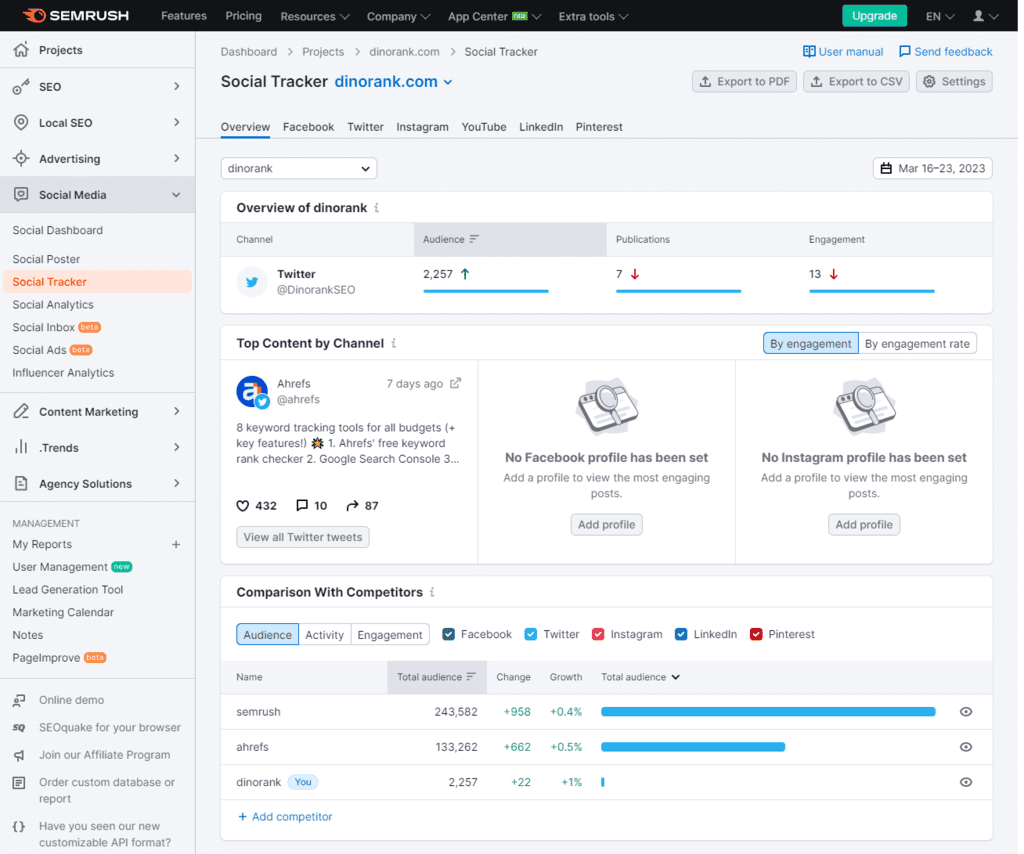 With this data, you can conduct various analyses to improve your own results. For instance:
What have your competitors posted that you could also create content about?
Which of their content pieces performed well?
What hashtags did they use?
Which other profiles did they mention?
These are just a few ideas I'm sharing, but I'm sure you can come up with many more.
In addition to 'Social Tracker,' the other feature that I find quite useful for social media management in Semrush is 'Social Poster.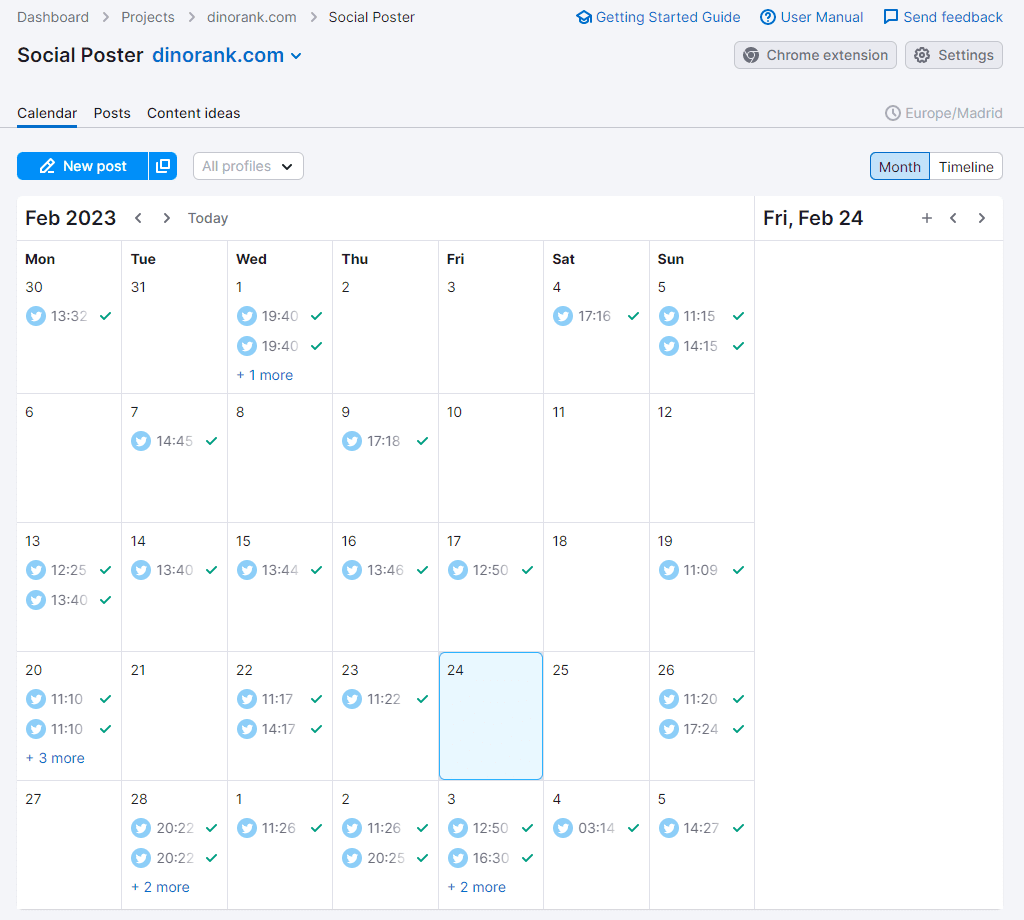 The 'Social Poster' tool is like a calendar where you can create and schedule your posts for any of your social media profiles. It's highly useful for planning your social media activity and managing all your networks from one place.
Semrush and Content Marketing
Up to this point, we've explored what Semrush offers us to promote our content, whether through SEO, paid ads, or social media.
But there's one of the most demanding tasks left. Many would even say it's the most effort-intensive one.
I'm referring, of course, to creating that content.
How many times have you sat in front of the computer without any ideas about what to write?
Do you think you structure your texts well?
Do you find it challenging to measure the impact of your content?
Semrush can assist you in these tasks through various tools.
The first of these is 'Topic Research,' a fantastic utility that generates a wealth of content ideas related to the topic you specify.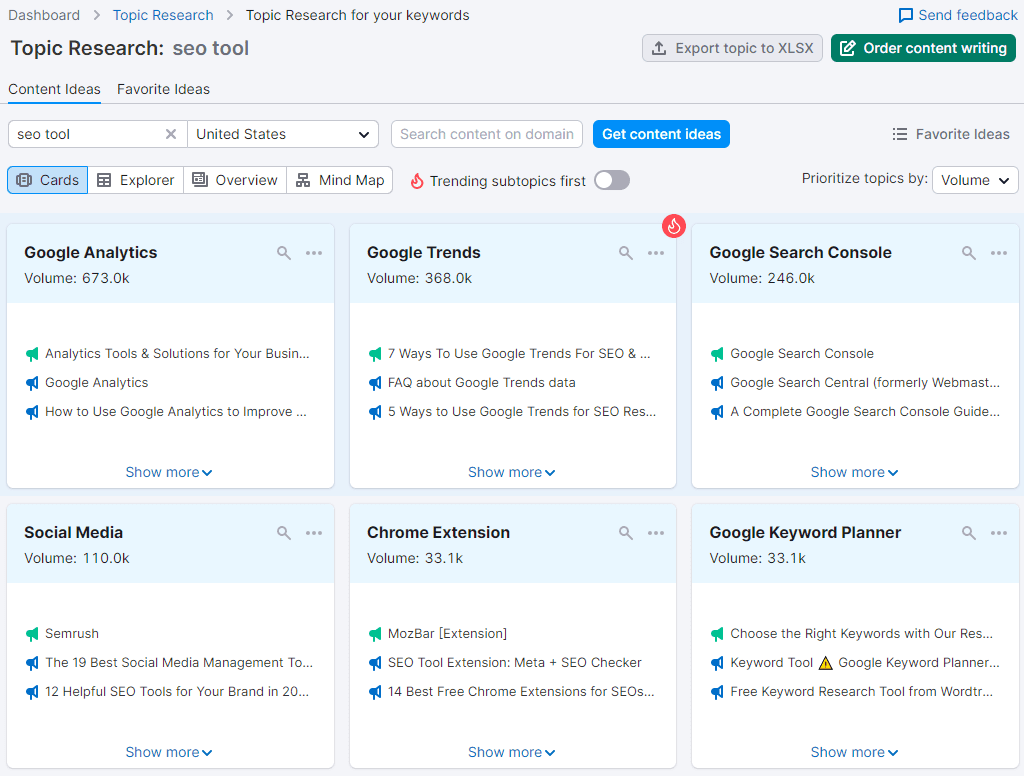 The way it presents the suggestions seems very ingenious to me. It organizes each topic on a card that displays the search volume and the titles of the top three pages ranking for that keyword (along with their respective links).
You can expand this information and get more details such as difficulty, topic efficiency, related questions, and the top 10 linked articles to read.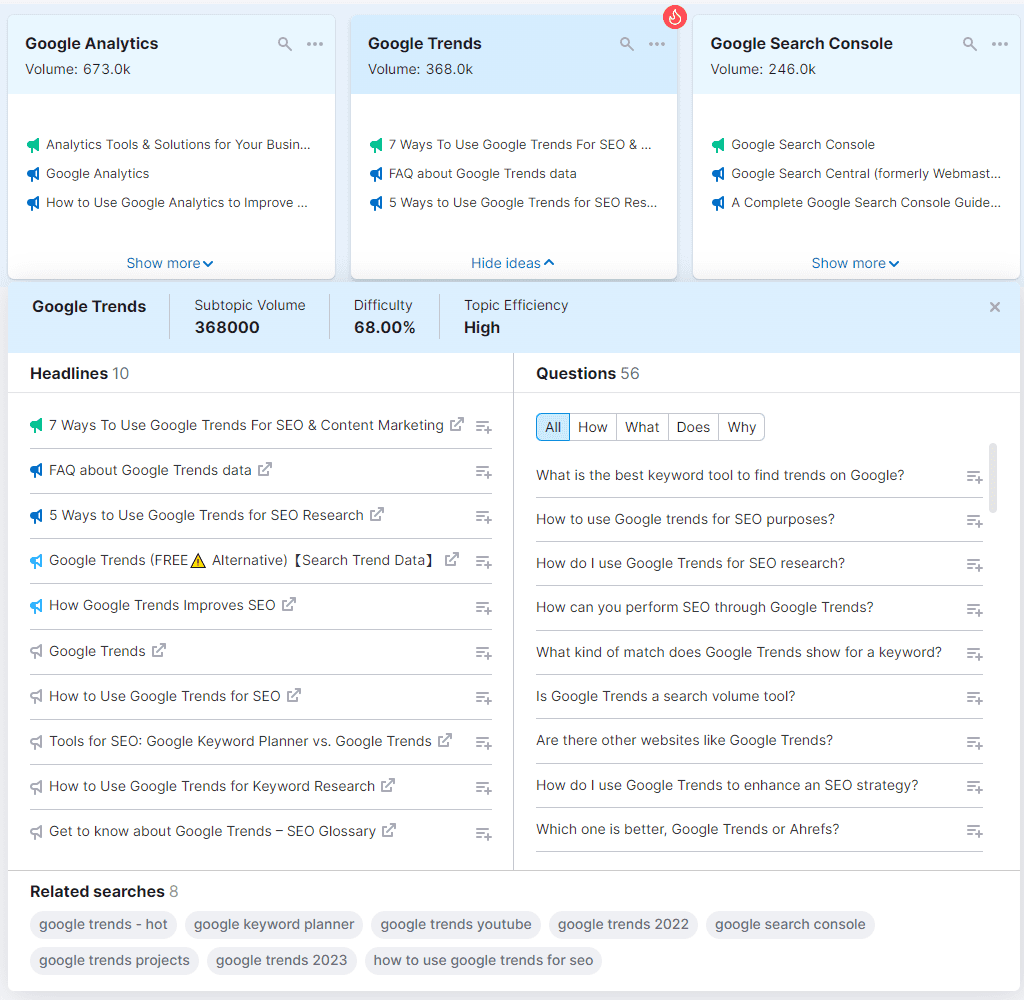 In addition to this representation, there are three more options. My favorite is the one called the mind map, where ideas are displayed in a circular format.
Clicking on each of them allows you to access their details, which are shown on the side.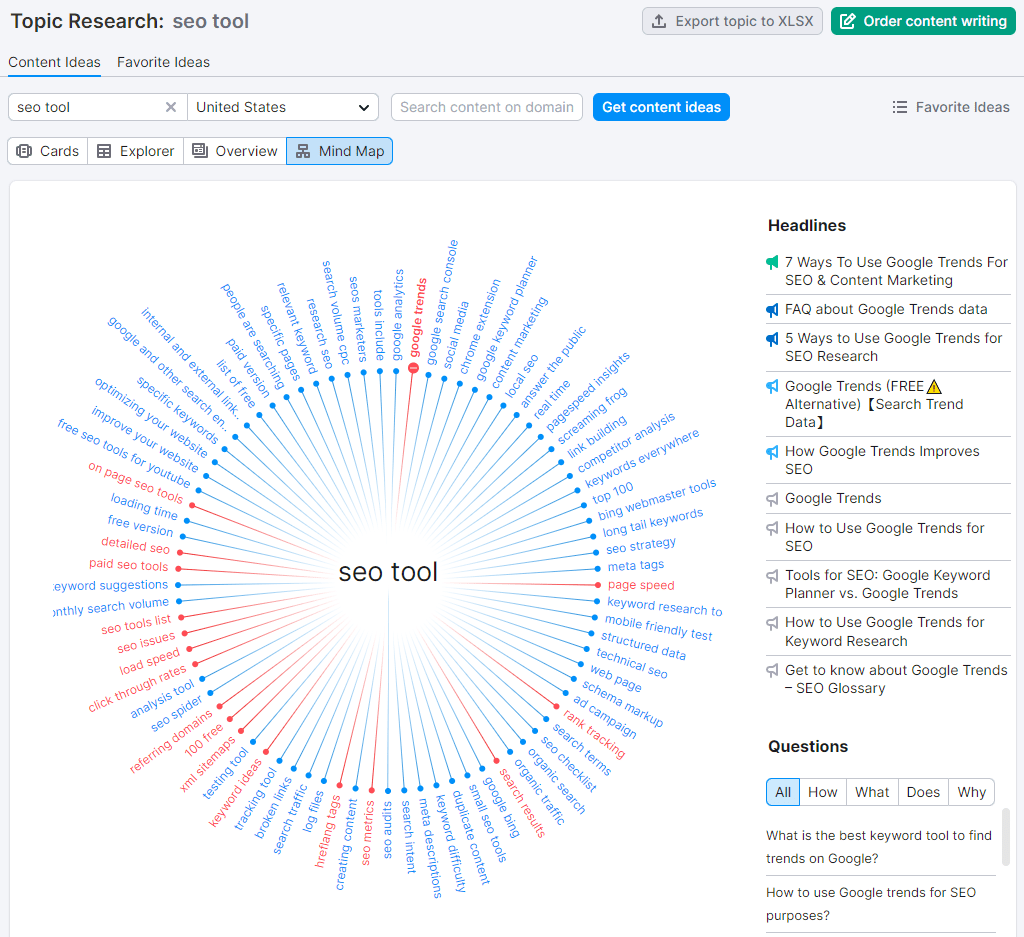 In addition to 'Topic Research,' you have the 'SEO Content Template' tool that we saw earlier, which helps you create the structure of your post to appeal to Google.
Once you've chosen your topic and the main information to organize the article, you can use the 'SEO Writing Assistant' tool to aid you in content creation.
This tool evaluates the text you're writing and suggests improvements.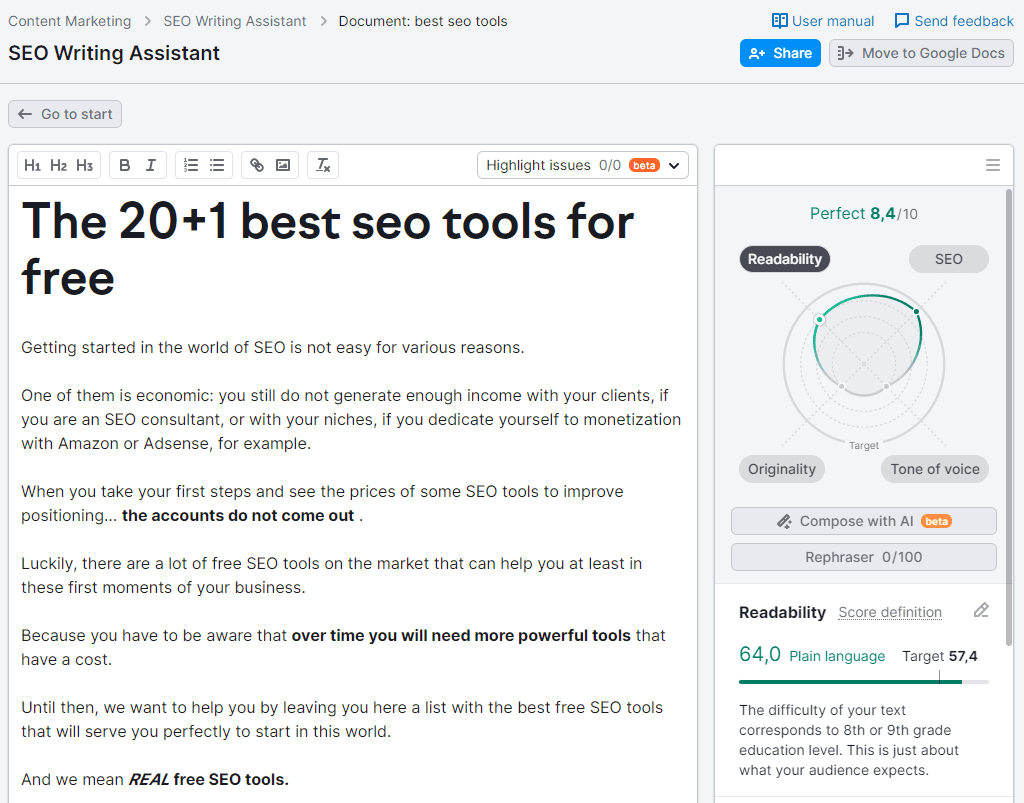 The assessment is conducted from four perspectives: readability (is it easy for the user to read?), SEO (will it rank on search engines?), originality (is the content duplicated?), and tone (does it use a formal or informal tone?).
With these four analyses, Semrush provides an evaluation to give you an idea of the quality of your text.
Furthermore, it will provide you with recommendations to help improve each score. As always, whether to implement them or not will depend on your objectives and your common sense.
Finally, once the post is created and published, we can measure its impact using the "Post Tracking" and "Content Audit" tools.
With the first one, we can observe its reach, based on the number of times it has been shared or the number of media outlets linking to the article.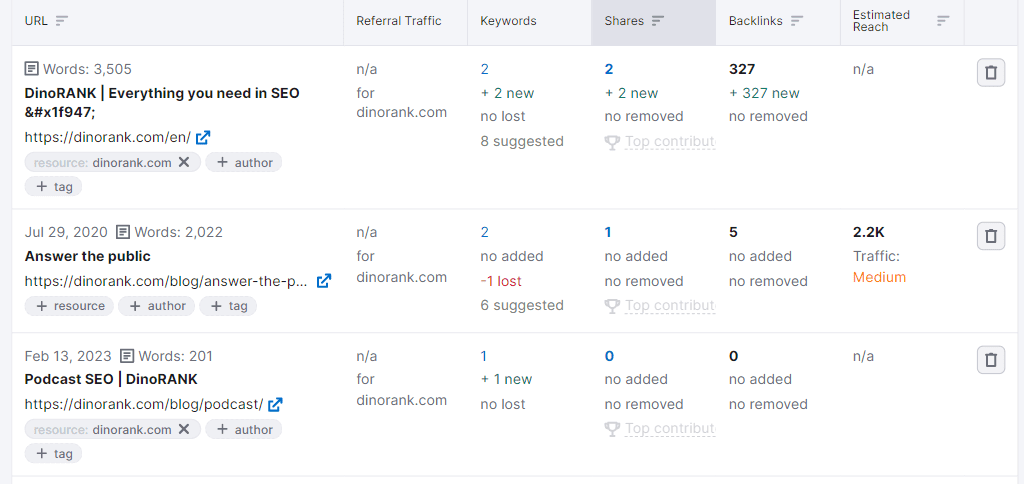 On the other hand, "Content Audit" gathers your Google Analytics and Google Search Console statistics for the pages you specify, all in one place.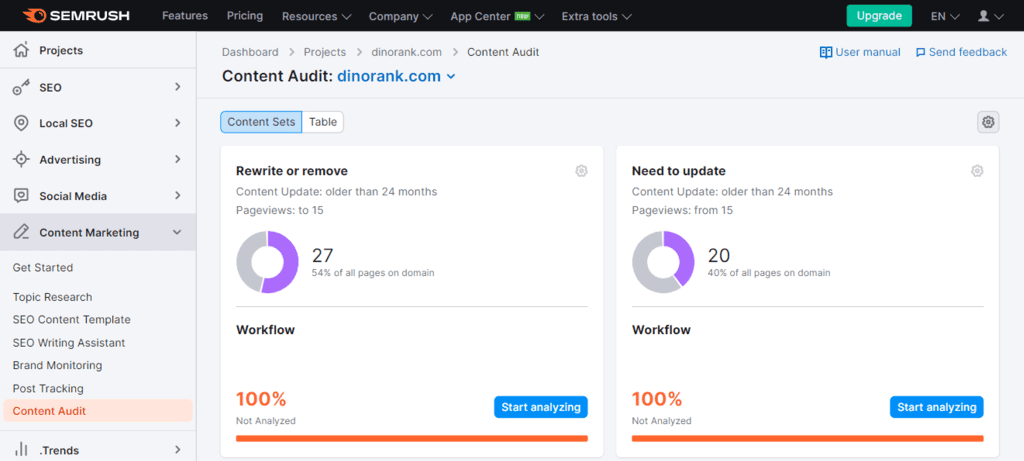 But it doesn't just display this data. It also combines them to indicate which URLs you should focus on, either because their content is weak, they're not receiving visits and could be deleted, or because they are receiving visits and could benefit from improvement to increase their impact.
The only issue is that this last analysis is only available in the Guru plan.
Other Semrush Tools
We've covered the most relevant utilities of Semrush. But we're not done yet.
There are still several tools left to discuss that provide an extra advantage to this already comprehensive marketing suite.
Let's take a look at them.
Trends
With Semrush's '.Trends' extension, you can track market trends and discover new opportunities within your niche or industry.
However, it's worth noting that this extension comes at an additional cost on top of your Semrush subscription. And the cost is not low, by the way. Currently, it's an extra $200 per month that you'll need to pay if you want access to this information.
Is it worth it?
Well, that depends on your needs. I'll tell you what it includes, and the decision is up to you, okay?
On one hand, it unlocks various tabs within the 'Traffic Analytics' tool. This way, you get a much broader view of the traffic generated by your competitors.
On the other hand, it provides full access to the 'Market Explorer' tool, which gives you more specific sector data for a domain, including key competitors, audience characteristics, or trending searches.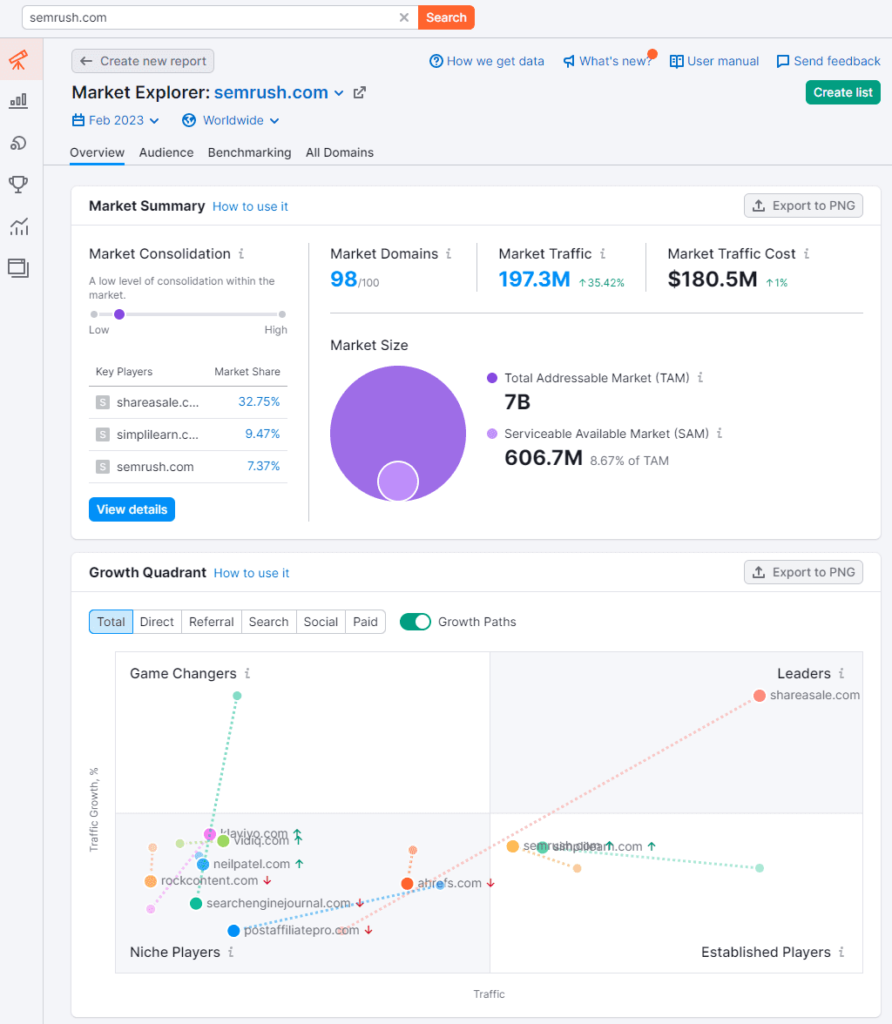 Finally, with 'EyeOn' and 'One2Target,' you can monitor your competitors. You can track their publications, ad campaigns, as well as gather demographic and socioeconomic data about their audience.
Agency Solutions
If you run an agency, Semrush also provides tools to assist in your business growth.
All for an additional monthly cost.
By subscribing to this package, you'll have a set of tools to receive notifications about contract or bid opportunities, acquire new leads, or set up a specific portal for exchanging information with your clients.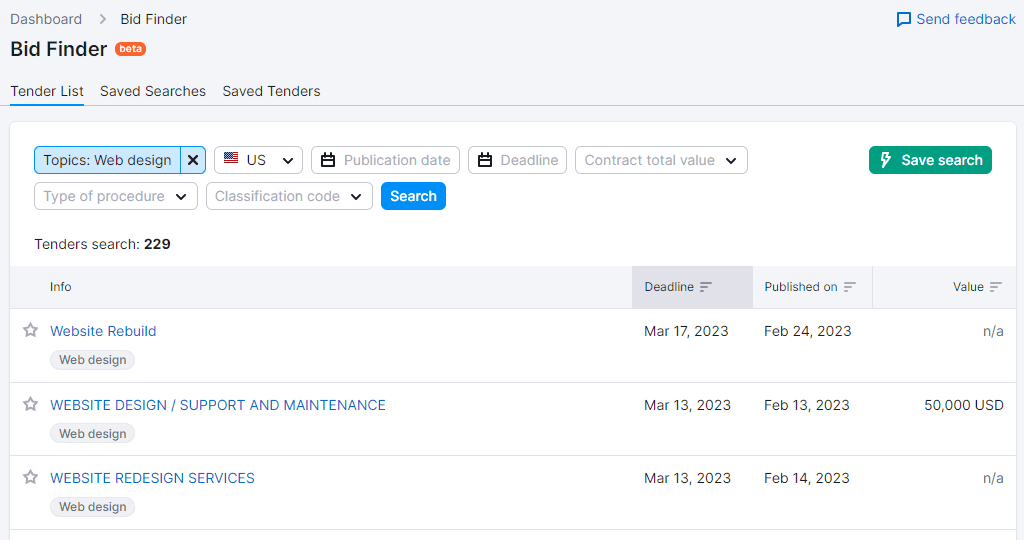 Additionally, Semrush offers a CRM to manage all your client interactions. While it may not be as feature-rich as dedicated CRM software, it can be more than sufficient for many companies, especially small ones.
Reporting
Generating reports is also a feature in this tool.
Semrush has a comprehensive report editor that allows you to create customized documents using data from your projects.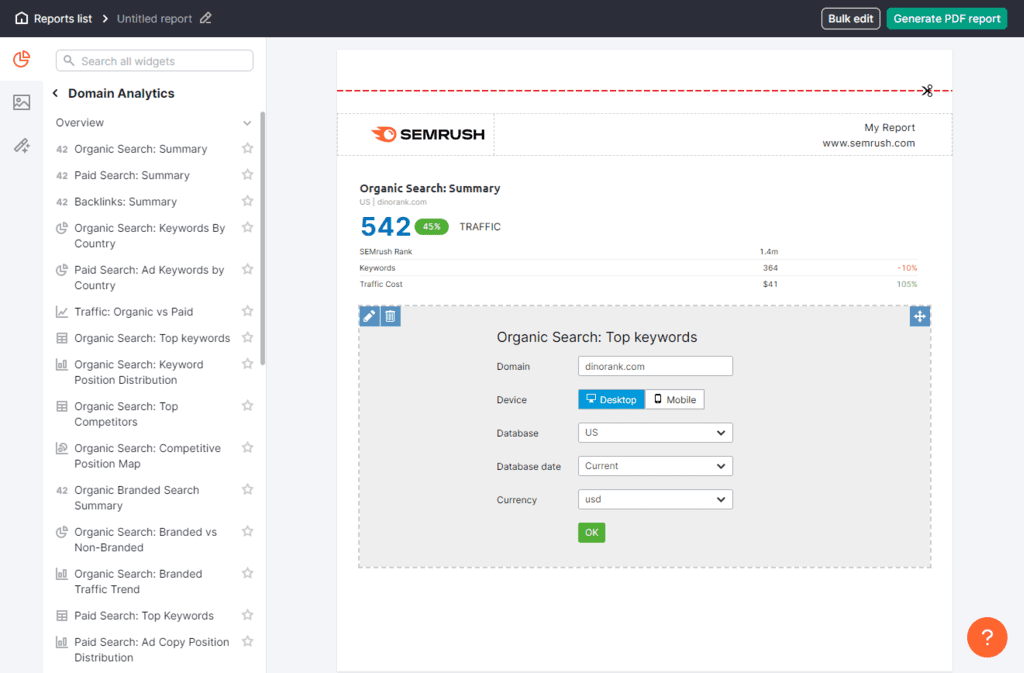 You can configure your reports with your own branding, include the sections that are most relevant to you, and even schedule automatic generation of reports or send them via email to stakeholders.
API
If you enjoy programming or have a specialized development team for creating applications, Semrush offers access to its API.
This way, you can integrate the vast amount of data generated by this SEO suite into your own tools.
However, this comes at a price. The Semrush API is only available in the Business plan, making it primarily intended for larger companies.
Sensor
Semrush also monitors SERPs and Google's algorithm so that you can stay up-to-date on the factors affecting your project's ranking.
From this option, you can see the score that Semrush assigns for each day, both for overall categories and specific categories.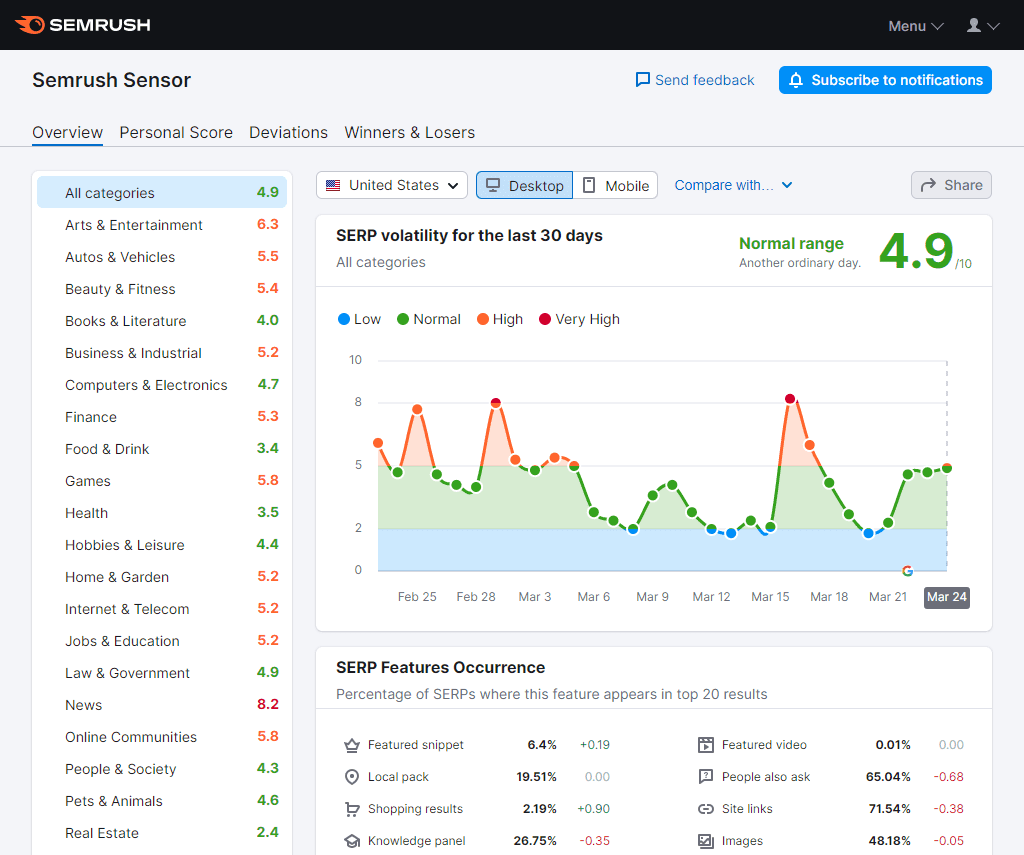 In the left column, you can see the different categories and their scores for that day, and clicking on them will provide more details.
The lower the Semrush Sensor score, the less likely algorithm changes will affect you.
Below the score, you'll find a graph where you can check the days when the SERPs have been more unstable. This way, if you've noticed changes in your traffic or positioning that align with those dates, you'll know the reasons behind them.
Then, you can see a list of which features have been affected by these changes and whether the effects have been positive or negative.
Checking these changes and fluctuations can help you seize new positioning opportunities by identifying trends.
Is DinoRANK an alternative to Semrush?
Semrush is a fantastic marketing tool. There's no doubt about that.
However, the financial investment it requires is a clear obstacle for many entrepreneurs, especially those who are just starting out or those who manage multiple websites.
Because it's not only the price that presents a challenge. The set of limitations in some of their plans is also a hindrance.
That's why I believe DinoRANK can be a viable alternative to Semrush nowadays.
Not for all its functions, but for many of them. Perhaps the most interesting ones.
Specifically, with DinoRANK, you can do all of the following:
Position tracking. Honestly, DinoRANK has one of the cleanest, most intuitive, and comprehensive keyword tracking dashboards I know of. A panel that keeps improving with each tool update and is one of its main strengths.
TF*IDF analysis. Direct recommendations on the keywords you should include in your texts based on Google's Top 10 for a specific search intent. While Semrush provides similar information through various tools, I think DinoRANK presents it in a more direct and applicable way.
Keyword research. With DinoRANK, you can also conduct your keyword research.
Content Gap. Similar to Semrush's keyword gap feature, this functionality suggests new keywords you could work on for your website based on your competitors' actions.
On-page SEO audit. An analysis of your website from various perspectives to enhance its positioning. Additionally, you can download a PDF document and use it as a foundation to create a professional report.
PageRank and internal linking. While Semrush includes options to check internal links and website structure, the graphical representation you obtain with DinoRANK is, in my opinion, much more useful.
Organic traffic. In DinoRANK, you can view your website's traffic data and receive recommendations to enhance your pages' positioning for specific keywords.
Detection of cannibalizations and thin content. These are two issues that can impact the performance of your pages, and DinoRANK alerts you to them so you can address them.
Management of external linking and link building. Similar to Semrush, DinoRANK enables you to monitor changes in your external links.
Competitor analysis and link building. DinoRANK lets you discover the keywords for which your competitors' web pages are ranked and obtain the list of backlinks for any domain of interest.
As you can see, DinoRANK offers many features that are a clear alternative to those of Semrush.
Sometimes they are simpler, but in other cases, they provide you with more practical and comprehensive information.
However, it's clear that Semrush is a much larger tool, and so is its price, and there are certain things that DinoRANK may not offer you. At least, not yet.
Some of these functions include:
Analyzing the traffic of any domain.
Personalized recommendations for backlink opportunities for your site.
Analysis of ad campaigns.
Social media management.
Enhancing content marketing.
Market trend analysis.
However, apart from specific features, one of the aspects you should consider when comparing these tools is the limitations they impose on their plans.
For instance, for me, managing a maximum of 5 projects with Semrush's Pro plan is clearly insufficient.
With DinoRANK, the number of domains is unlimited in all of its plans.
However, keep in mind that while you can create as many projects as you want, the number of keywords to track is limited.
In particular, in its most basic plan, DinoRANK allows you to track 400 keywords, compared to the 500 in Semrush's Pro plan.
However, comparing these plans doesn't make sense either, as their prices are very different.
In fact, DinoRANK's most expensive plan allows you to track 1,500 keywords and yet is still much cheaper than Semrush's most basic plan.
In conclusion, it's important to consider everything as a whole and have a clear understanding of what we need for our projects and what is accessory.
Just because a tool offers more features doesn't necessarily mean it will be much more useful.
Final Thoughts on Semrush
We've reached the end of this extensive guide, and if you've had the patience to read through all that I've shared, I believe you'll agree with me that Semrush is one of the best SEO tools available in the market.
Is it worth paying for a Semrush subscription, then?
Well, yes and no. Let me explain.
If you're a small entrepreneur looking to track the progress of your projects, I think Semrush can be a bit expensive, especially considering the limitations of the basic plan.
In my opinion, for this profile, the features for analyzing your competition might be more useful than those focused on tracking your own websites.
However, if you're a large agency where the budget for tools is not significant compared to the revenue, Semrush's Business plan offers valuable tools that you can likely benefit from.
In any case, it's best for you to try the tool yourself and draw your own conclusions. Especially since you can do so for free, as I mentioned at the beginning of the post.
The benefits of Semrush for enhancing digital marketing strategies are clear. However, only you can decide whether you want to include it as part of yours.