Getting started in the world of SEO is not easy for various reasons.
One of them is financial: you may not yet be generating enough income from your clients, if you are an SEO consultant, or from your niches, if you specialize in monetization with Amazon or Adsense, for example.
When you take your first steps and see the prices of some SEO tools to improve your ranking… the numbers don't add up.
Fortunately, there are plenty of free SEO tools available in the market that can help you, at least in these early stages of your business.
Because you have to be aware that over time you will need more powerful tools that come with a cost. Until then, we want to help you by providing a list of the best free SEO tools that will serve you perfectly to get started in this world.
And we mean TRULY free SEO tools.
These are not free trial tools that you can only use without paying for a few days and that's it.
We are talking about paid tools that have a limited free version that can be useful for working on organic SEO ranking in your first steps in this world.
Let's take a look at them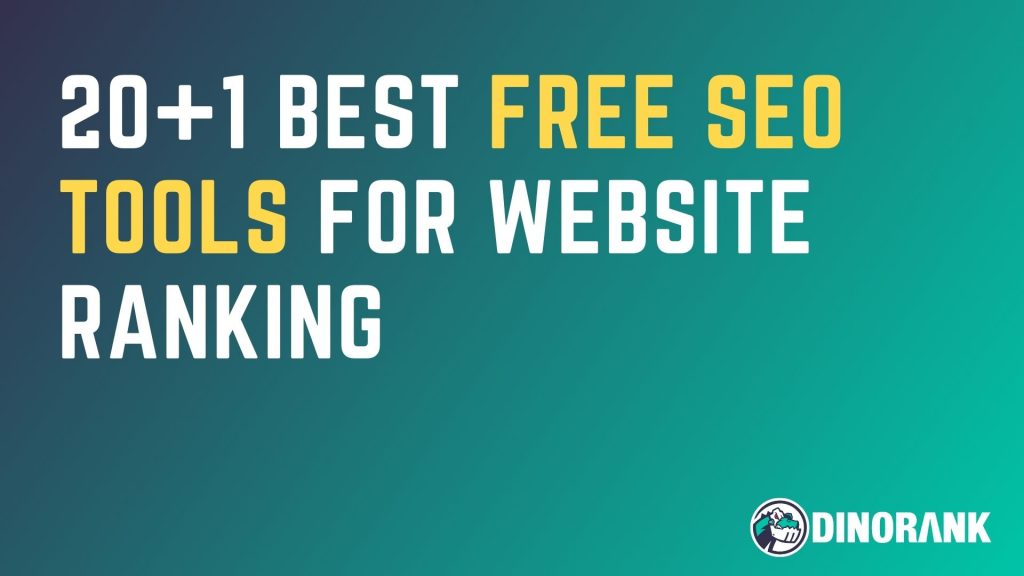 Free All-in-One SEO Tools
All-in-One SEO Tools are those that combine different functions related to website ranking. They are very useful as they help you work on SEO from multiple perspectives.
The ones we offer below provide general data about any website you're browsing to know where to take action.
These free versions with time limits may fall short, so it will be time to scale up to the paid subscription or look for another alternative, free or not.
MozBar

MozBar is an extension that you can add to Google Chrome to quickly analyze and optimize any website. To use it, you will have to register with Moz, which is free of cost.
Thanks to MozBar, you can see the famous PA (Page Authority) and DA (Domain Authority) scores, benchmarks that many SEOs use to determine the quality of a website.
In addition, you can also see the follow, nofollow, internal and outgoing links, spam percentage, as well as the meta description, title, and H1 and H2 of the specific URL you're analyzing with MozBar.
Other data provided by MozBar includes metarobots or schema of the website (if it has one), so in a few clicks, you can check how well a website is optimized, at least in the most basic aspects.
To access data on backlinks and content optimization percentage, you will need to subscribe to the Premium option.
SEOQuake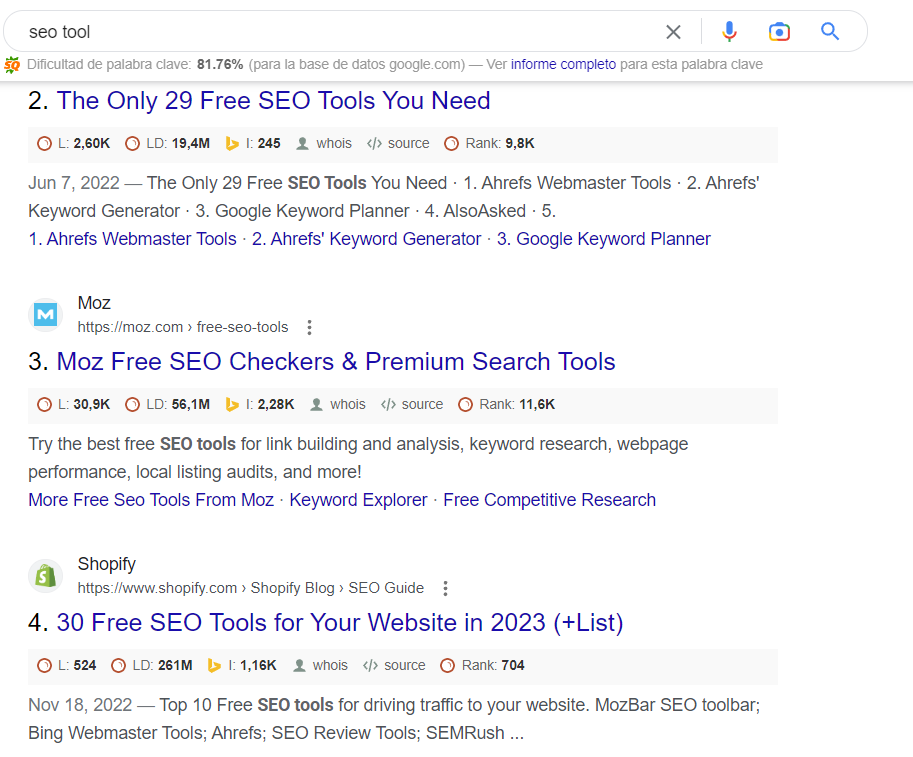 SEOQuake is another Google Chrome extension that contains various free SEO functions and tools to work on various aspects of a website. It is simple and lightweight, so many SEOs have it installed even if it is just for quick data reference, which they then work on in paid tools.
SEOQuake is a discreet bar that provides you with data such as:
How many URLs Google has indexed
How many URLs Bing has indexed
Backlinks detected in SEMRush
Interactions on Facebook and Pinterest
Ranking in SEMRush
Moreover, it features a Diagnosis button that conducts an SEO audit in mere seconds, providing you with insights on website errors and warnings about certain details to consider.
It also offers functionality related to content through the Density button, which displays the prominence of your keywords, as well as internal and external links.
Lastly, all this data can be seen beneath each Google search result, giving you an idea of the health of each URL.
To access more in-depth data, you will need to have a SEMRush account.
Free SEO tools for keyword research
SEO should always start with good keyword research, so you will definitely need a free or paid SEO tool that performs this function.
You can find many free keyword research tools, although they usually have certain limitations in terms of the information they provide.
It is logical to think that they will only show all the information in the database in the paid version, but even so, they can help you create your initial SEO strategy. Here are some of them.
Ubersuggest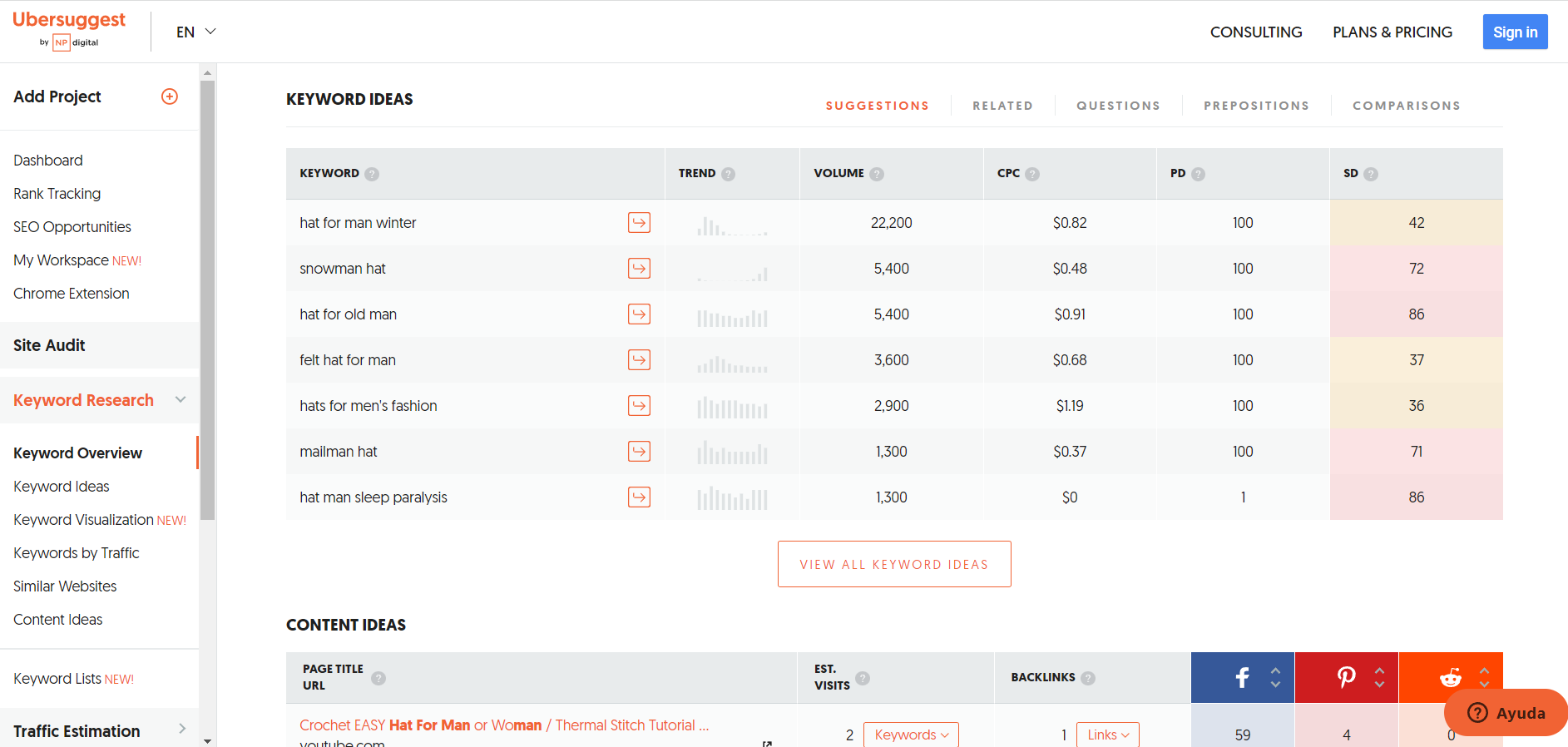 As you can see in the screenshot, you can find related keywords with data such as search volume or CPC, as well as content ideas that are ranking in the SERPs for that keyword.
However, this free version of Ubersuggest has some limitations. For example, you can only see a certain number of related keywords. In the example in the screenshot, it says it has obtained 163 related keywords, but "only" shows us 30.
In addition, you can only make 3 queries per day in the Keyword Research module.
In addition to keyword research, you can also see what questions users ask about your keyword, which can give you some ideas for generating content that can potentially attract organic traffic.
Answer the public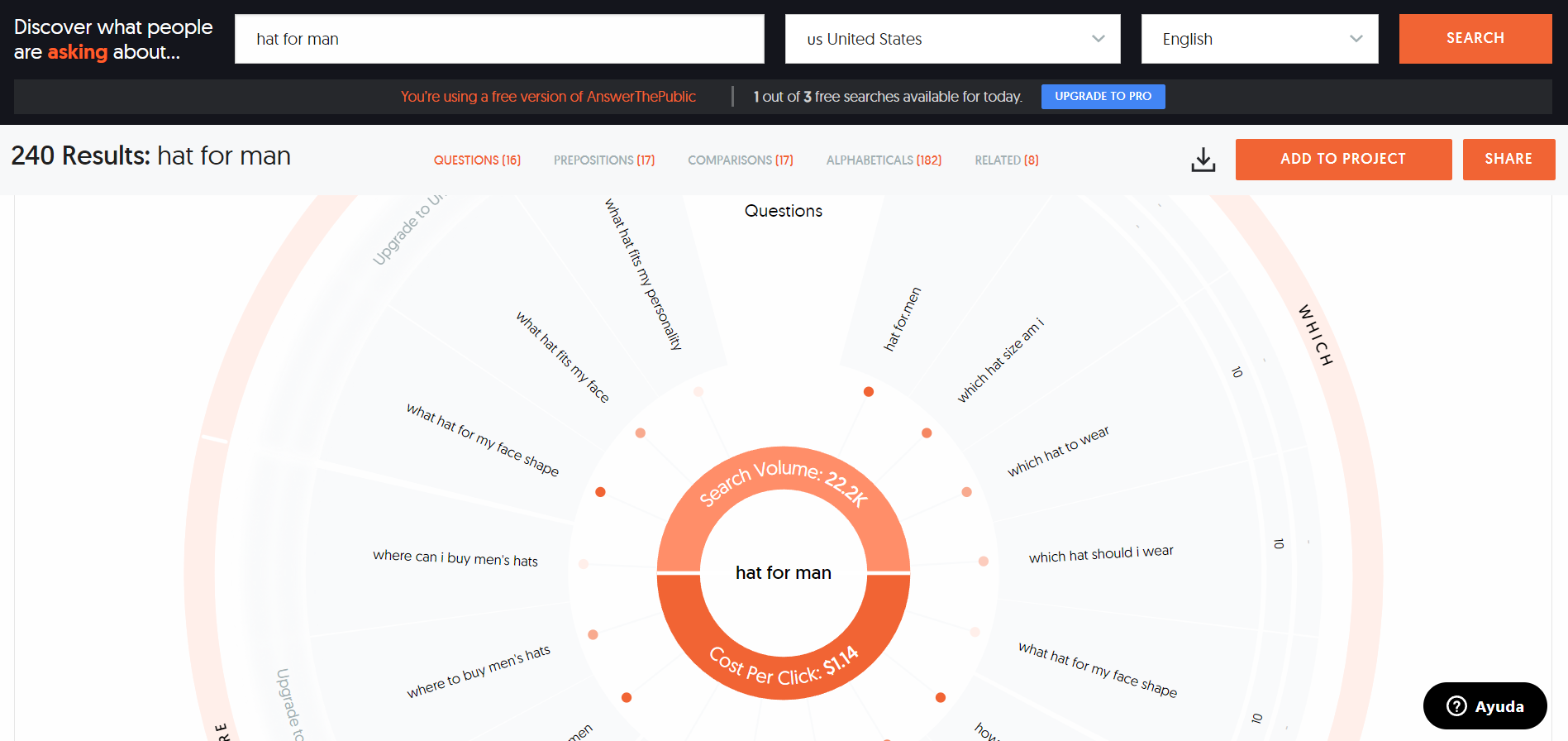 "Answer The Public" is another classic among free SEO tools related to keywords, although in this case, it is not so much for keyword research but as an idea generator for writing content.
As you can see in the example image, searching for "men's hat" has given us dozens of ideas for writing derived from the queries that users make on Google.
However, not all suggestions will be valid for your website, as you will have to choose those that fit your usual content or those that resonate with your audience.
In addition to questions, it also provides you with phrases with prepositions plus the keyword, comparisons, and a list of related keywords in alphabetical order. However, without any additional information such as search volume or estimated traffic.
Therefore, many users use this tool as a quick way to find something to write about.
You can download all the information from Answer The Public both in image and excel format with the data in list form.
Today it only allows two searches per day (three if you register) and the information is limited, but for specific cases of lack of inspiration it is easy to use and can be really helpful.
AlsoAsked.com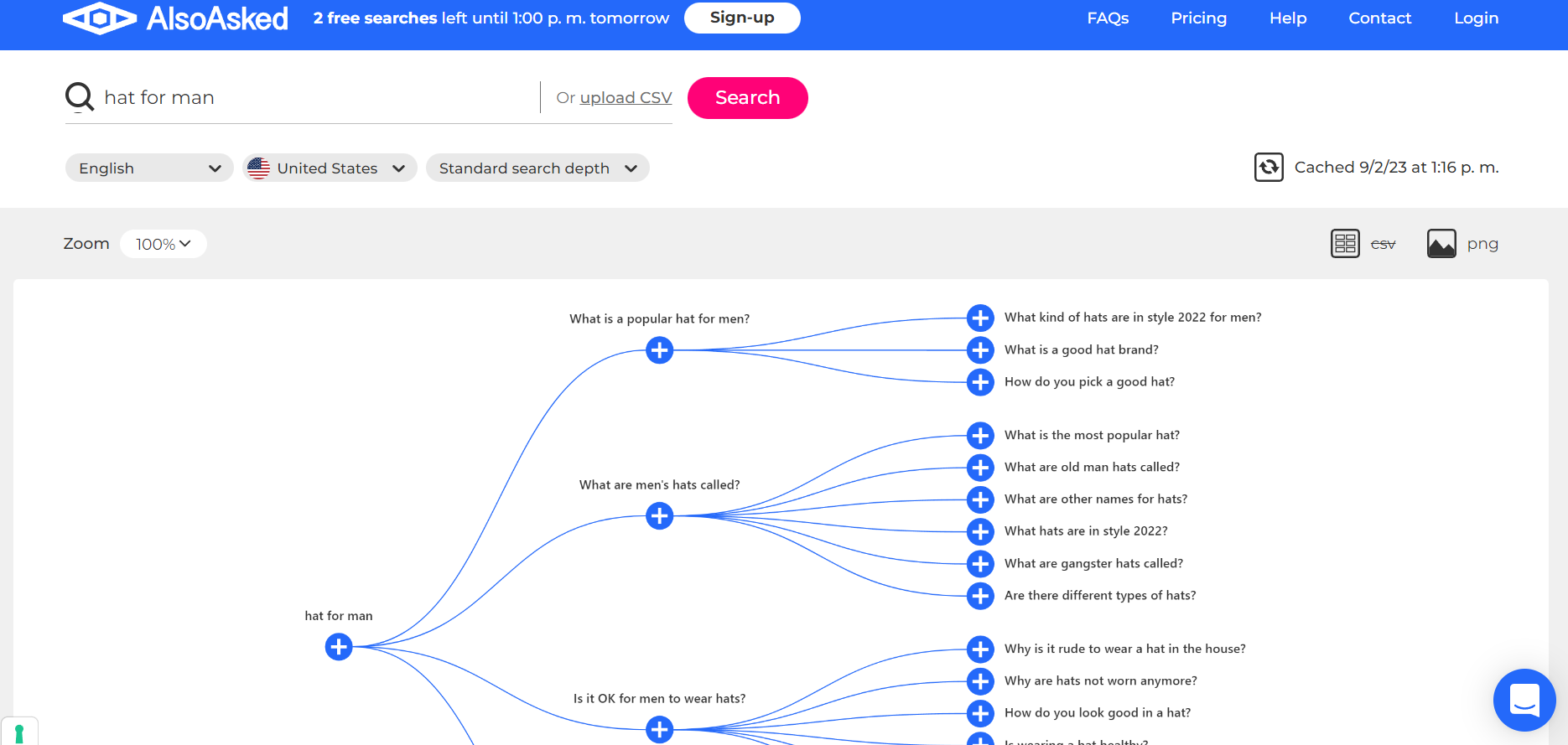 And if you like Answer The Public, you'll also like AlsoAsked. Based on a keyword, this tool will show you related questions that users ask, which can serve as ideas for creating content.
However, the free version is quite strict as it only allows you to make three queries per month. If you want more queries to find words, you'll have to access a paid plan.
That's why you can use it for keywords that are relevant to your website's SEO strategy or in specific moments when you don't find inspiration or ideas to generate content.
Keyword Surfer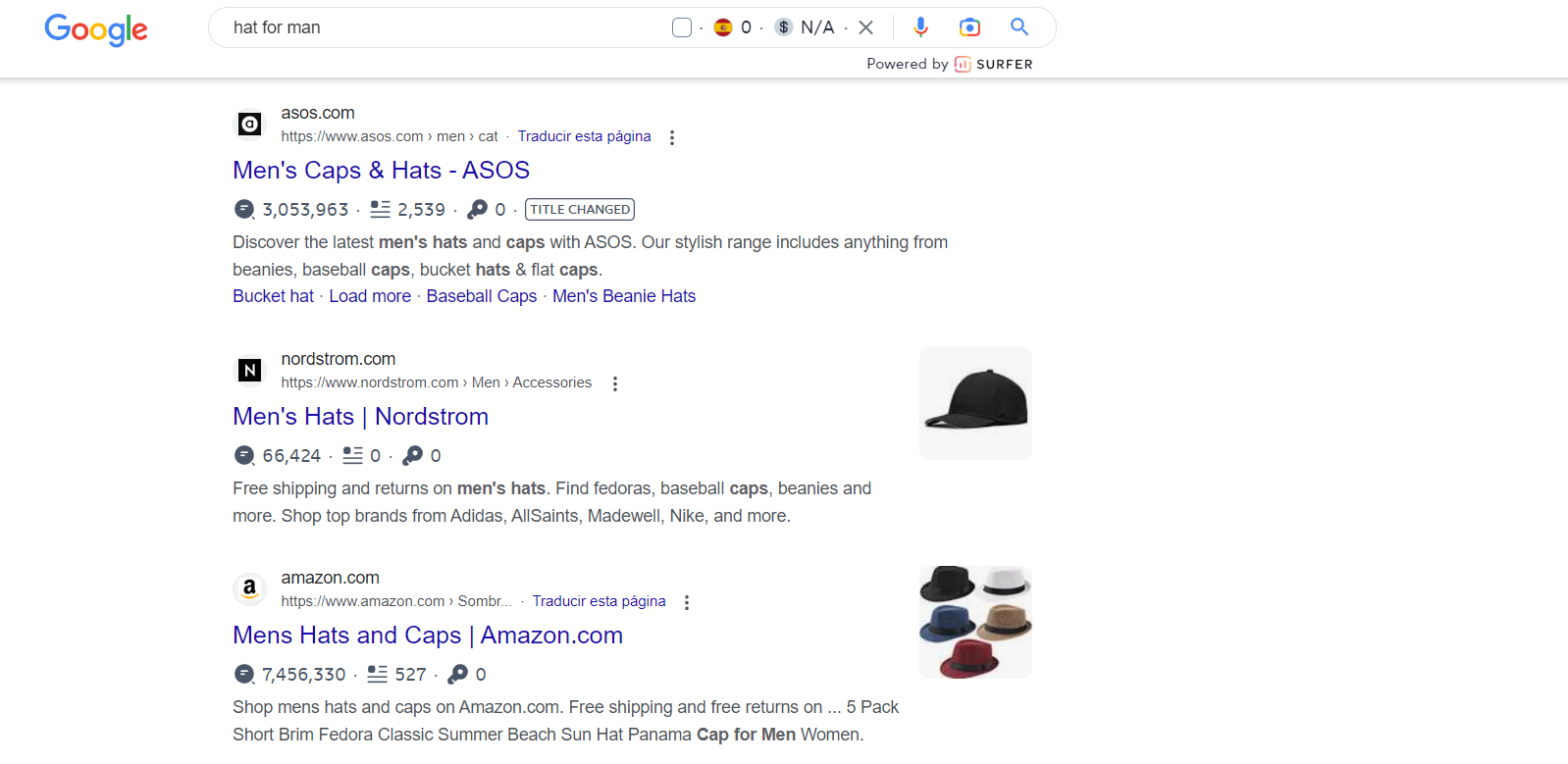 We continue with another favorite among SEOs not only because it's free but also because it's very easy to use and provides very useful information.
Keyword Surfer is a Chrome extension that shows you information about the search volume of the query you enter into the Google search engine.
In addition, below each URL that appears in the SERPs, Keyword Surfer will show you the estimated monthly traffic for the country from which you are making the query, the number of words, and the number of times the keyword appears in its content.
This way you can assess how interesting it can be to work on that keyword while you are checking the SERPs for it.
However, it will not give you the same amount of related keywords as a paid tool.
Keyword Sheeter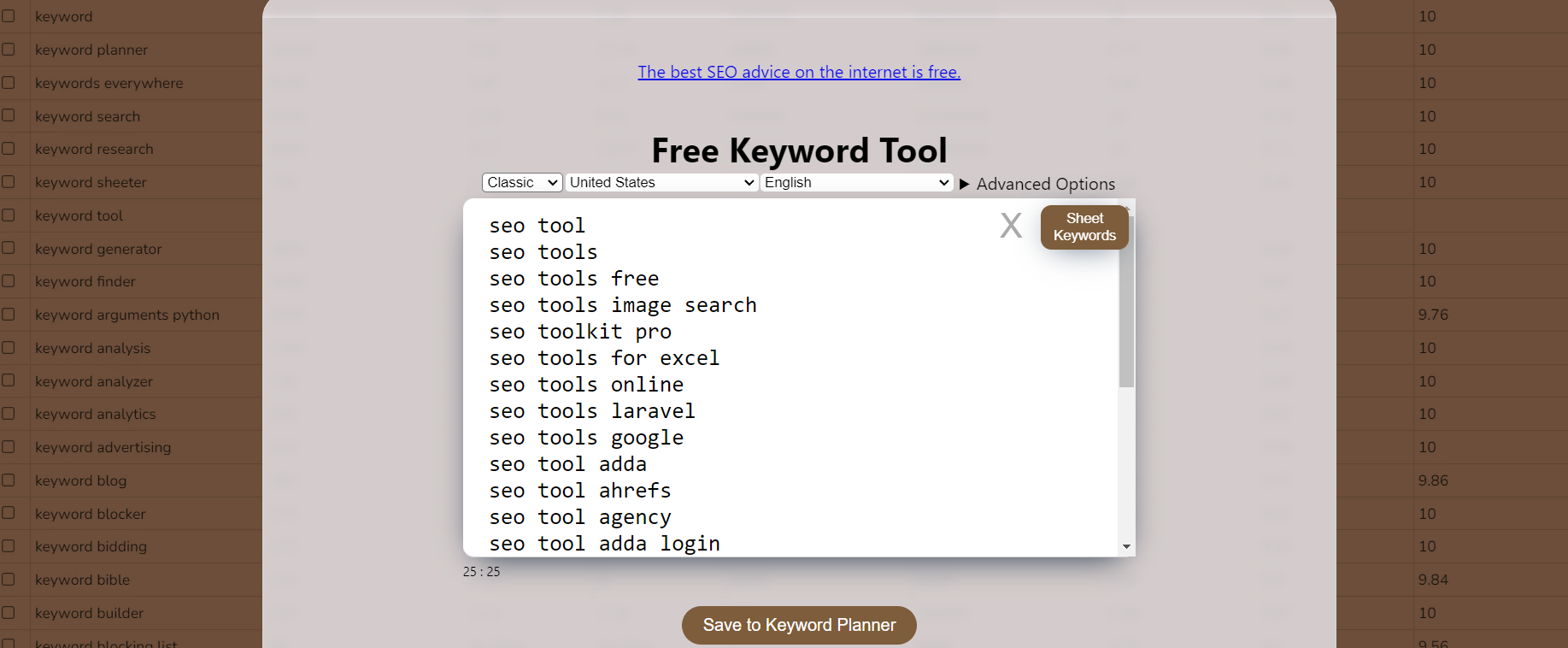 Keyword Sheeter is the rebranding of the well-known Keyword Shitter, a free tool perfect for getting a bunch of related keywords in seconds.
Additionally, it has come back improved, as now you can select whether your search is "classic," i.e., for Google, or for YouTube, products, news, images, or books.
As you can see in the image, this tool does not provide many additional free data about these keywords, but it is useful for locating keywords you can work on or finding quick ideas.
If you want information such as CPC, exact results, SERP information, or backlink reports, for example, you have to pay separately.
KeywordTool.io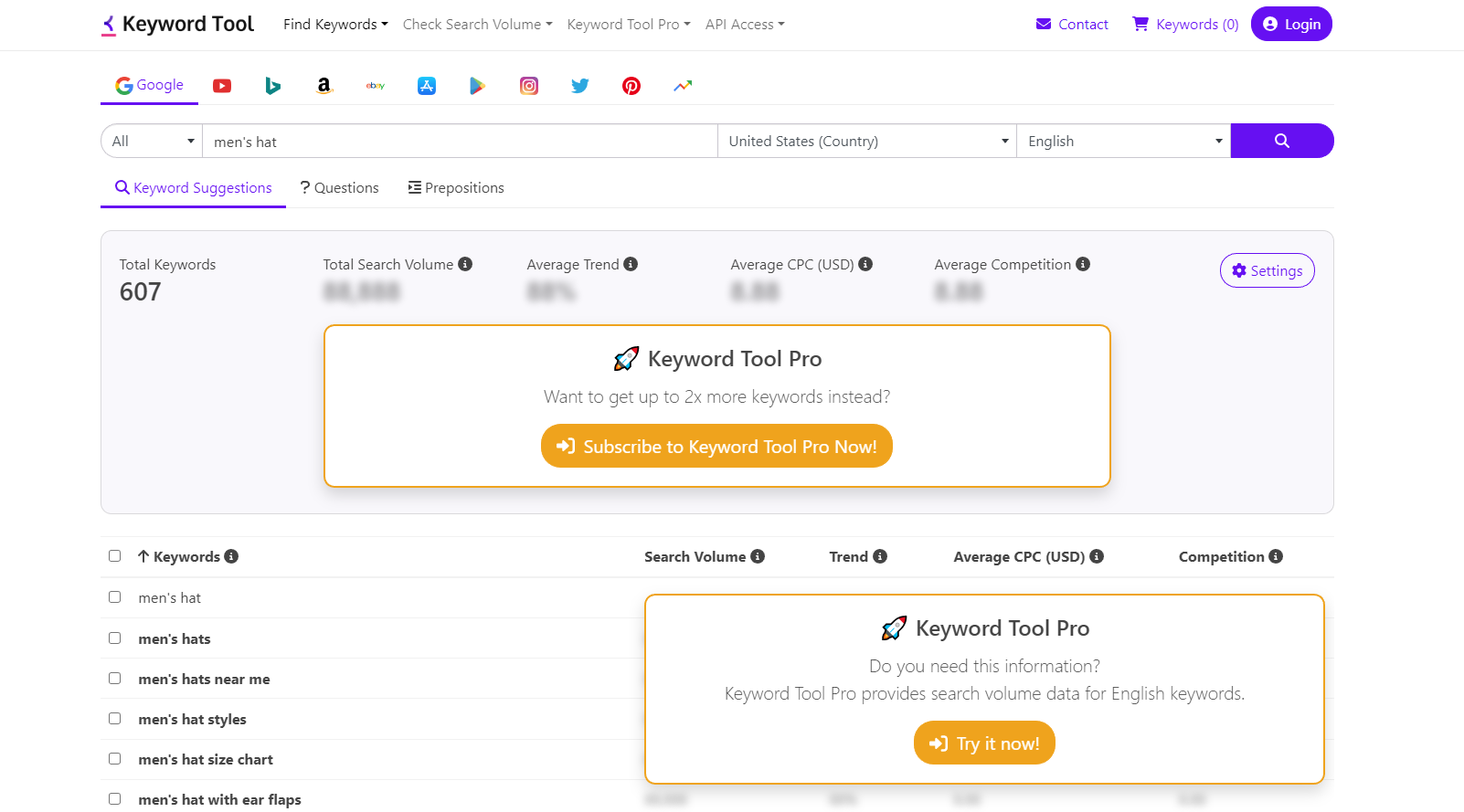 KeywordTool.io is a classic among keyword research tools as it has proven to be quite powerful despite the fact that the free version has some limitations.
To top it off, KeywordTool.io has the ability to search for keywords in more specific contexts such as other search engines (Bing), social media platforms (Instagram, Twitter, and Pinterest), apps (Google Play and App Store), and ecommerce (Amazon and eBay).
This ability to search in other environments makes Keywordtool.io a free SEO tool that is used in various facets of digital marketing such as Social Media, app monetization, or affiliate niches.
Although the free version does not provide any data on the keywords and shows only a limited number of them (up to 100), this tool is still very useful for finding long-tail keywords and content ideas to quickly rank.
Tools for performing a free SEO audit.
Tools for conducting a free SEO audit.
An SEO audit is used to identify potential errors on our website that may be hindering our organic ranking improvement. That's why performing audits is the first step that an SEO consultant takes before starting to work on a website.
If you're just starting out in the world of SEO consulting, here are some free tools that can be very useful in these early stages.
Screaming Frog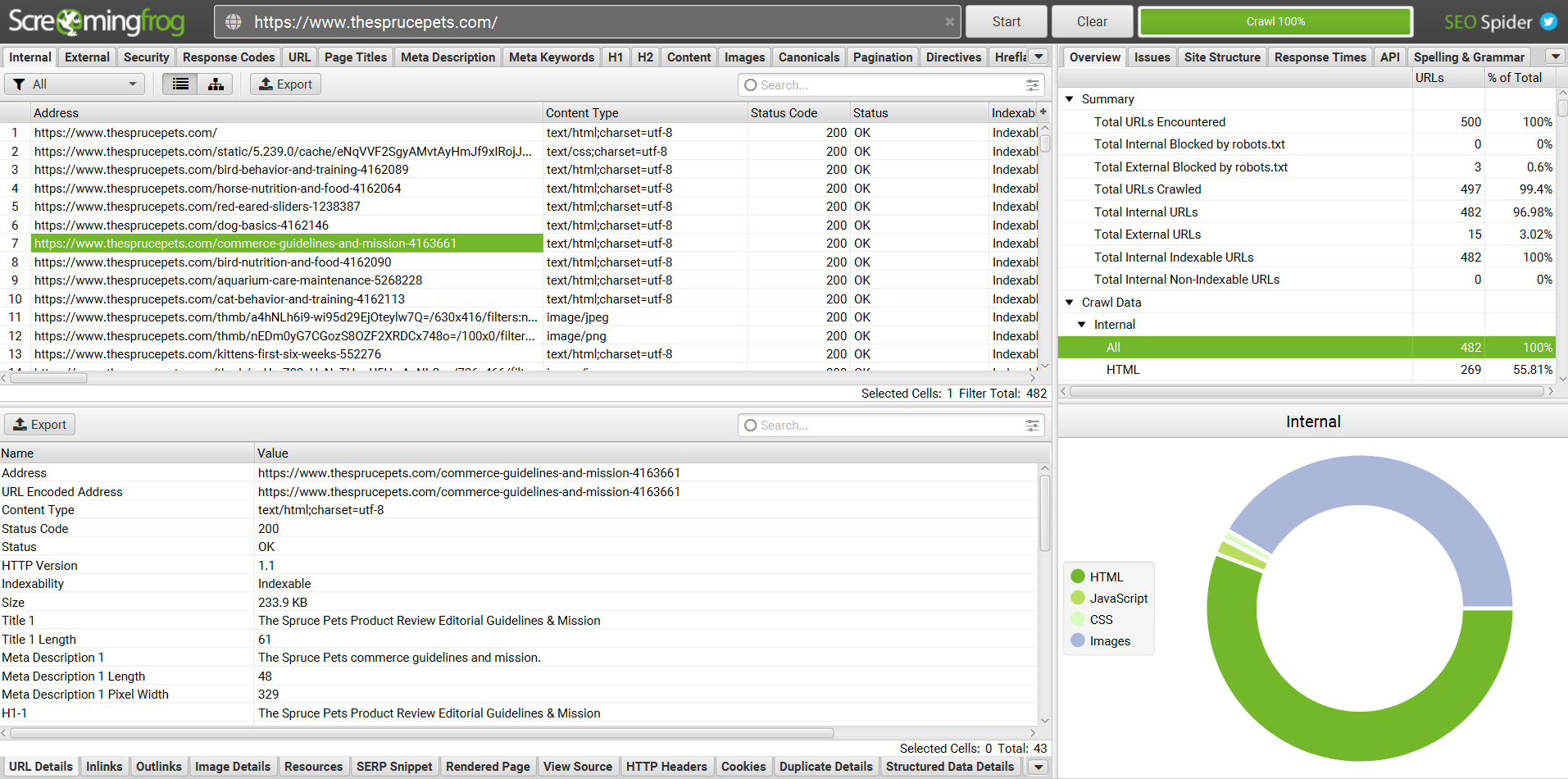 Screaming Frog is the most popular free tool for performing SEO audits among consultants. In fact, many who started working with it in the free version end up upgrading to the paid version when they need more power.
However, it is not as intuitive as other tools and certainly its interface is not as attractive, so you may need a little more time to start handling it and understand how it works.
We assure you, however, that when you start getting the hang of it, you'll be amazed at all the information it can offer you about a website. Just take a look at the screenshot and notice every tab and section…
Broken links, headers, image optimization, response time, security…
The free version crawls up to 500 URLs, so it will be useful for small and medium-sized websites.
It is a separate software that you will have to install on your computer, so it is not an online platform like other tools.
Of course, like most of these tools, Screaming Frog allows you to download everything in CSV files that will allow you to work and manage all this information more easily.
Sitechecker
SiteChecker is a paid tool for quickly performing SEO audits on any website, but it also has a free Google Chrome extension that shows you important data about the website you are browsing.
Title and meta description

H tags

Keyword density

Internal, inbound, and outbound links

Indexing

Open Graph
After performing the analysis, SiteChecker doesn't go into much depth, but the data provided is enough to quickly check for any errors that need to be fixed. This tool is not only useful for your own website, but also for finding potential clients if you're an SEO consultant or for understanding your competitors' strategies.
To get a complete report, you'll need to create a free trial account. This report consists of a list of the website's URLs with the corresponding errors that need to be addressed for each of them.
Seorch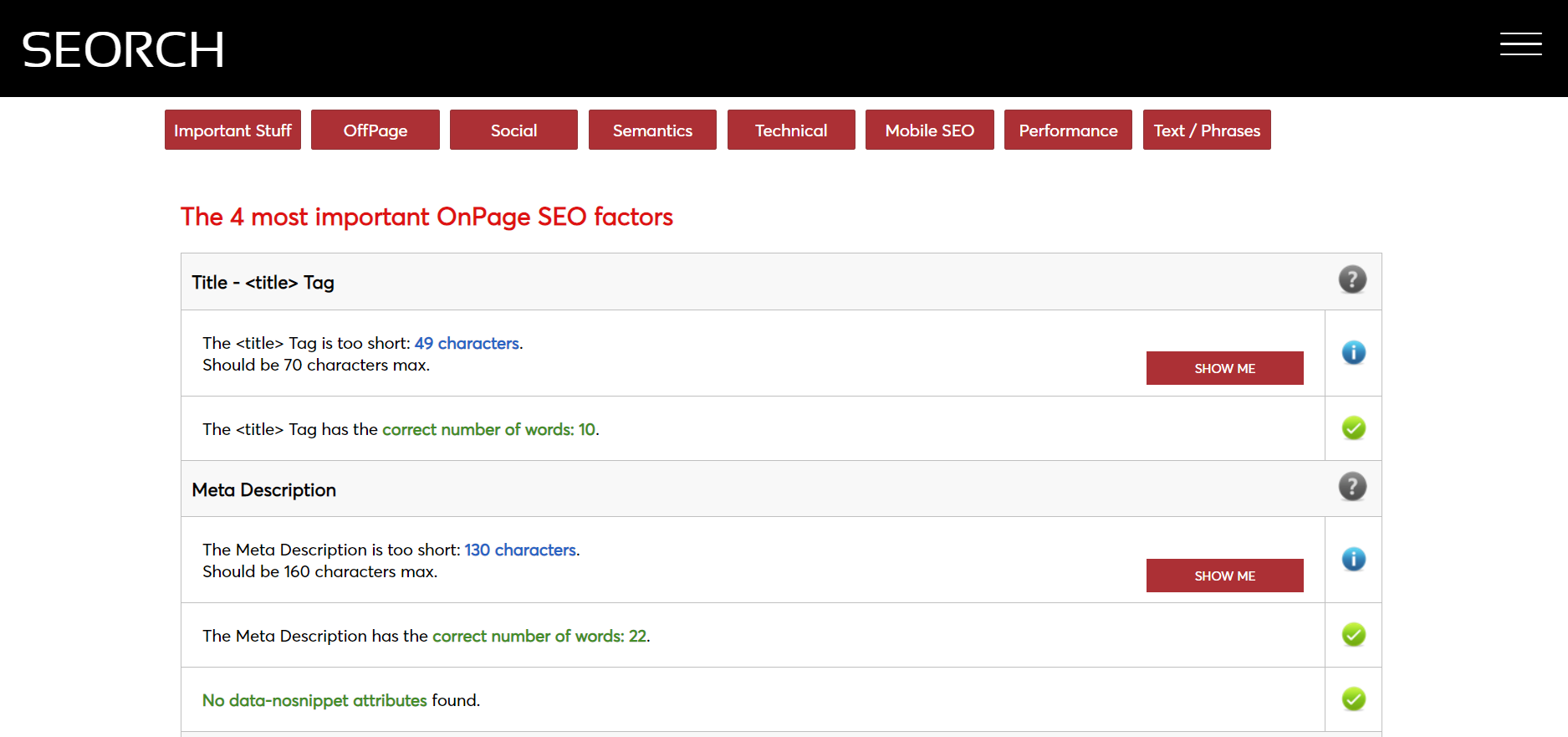 This tool performs a free SEO analysis on any website you enter in its search bar. As you can see in the screenshot, it covers everything from basic data such as title, meta descriptions, and headers to semantic density, technical details, mobile adaptability, links, and more.
It has a text-based system that uses green for correct details and red for errors that need to be fixed, so a quick scroll will help you determine the overall state of the website in seconds.
In addition, you can download all the information in a PDF and even get a permalink for the analysis from the tool, which you can save or share with your client.
Free SEO tools to track rankings
The ultimate goal of SEO is to climb positions in Google's SERPs until reaching the top, in fact, ideally, the first position is sought.
Therefore, all the SEO actions you take on a website will show their effectiveness in the SERPs, and a good way to monitor what happens is by using a position tracking tool.
Here are some free trackers you can use to see how your work is evolving.
Serprobot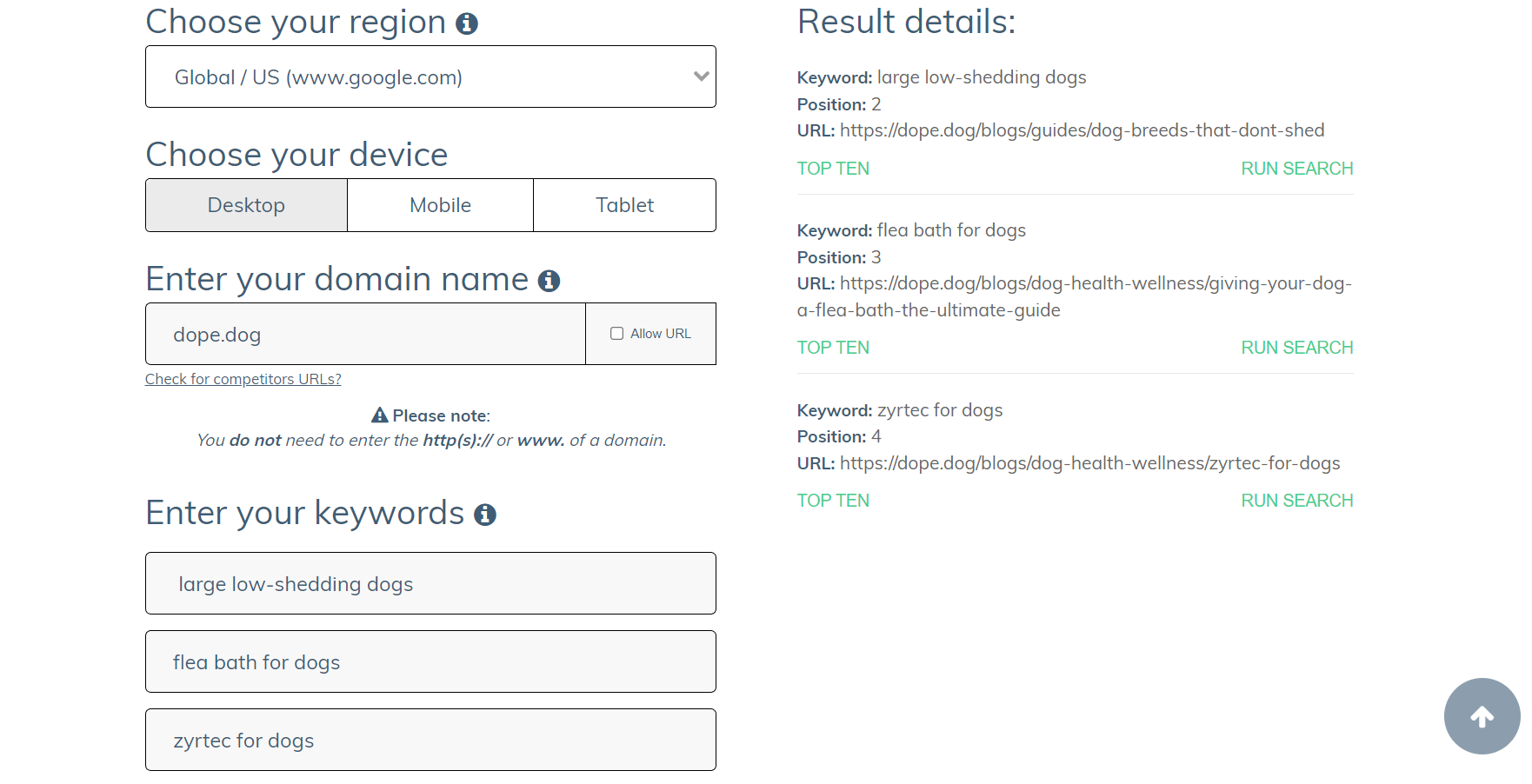 Serprobot is a rank tracking tool that helps you see how your keywords (and your competitors' keywords) are evolving in Google search results.
It has a Free SERP Checker, a free service that allows you to quickly see in just two clicks what positions a URL holds for the keywords you specify, up to a maximum of 5.
There's no more or less. Since this is a free feature, it doesn't save progress, so if you want to use this tool to track keyword evolution over time, you won't be able to do so unless you manually log the data in an Excel or other document.
It's perfect for quickly checking how specific keywords are ranking for both you and any other website.
FatRank Keyword Checker

Fatrank is a Google Chrome extension that tells you which URLs of the website are ranking for the keyword and country you indicate and in which position they are.
Many SEOs use it to make quick and specific checks when they do not want to open their usual paid SEO tool since, otherwise, it does not offer extra information such as evolution over time or competitors, for example.
Fatrank only checks the first 100 positions of Google, so if your keywords are below that, the extension will not show you any results.
Free SEO tools to analyze content on your website
When you work on the SEO of a website, you cannot neglect the content as it is what you have to work on to meet the search intent by which you want to reach your users.
There are more things in a website's text than keywords and headings, and here we are going to give you a list of tools that will help you with your content marketing.
Siteliner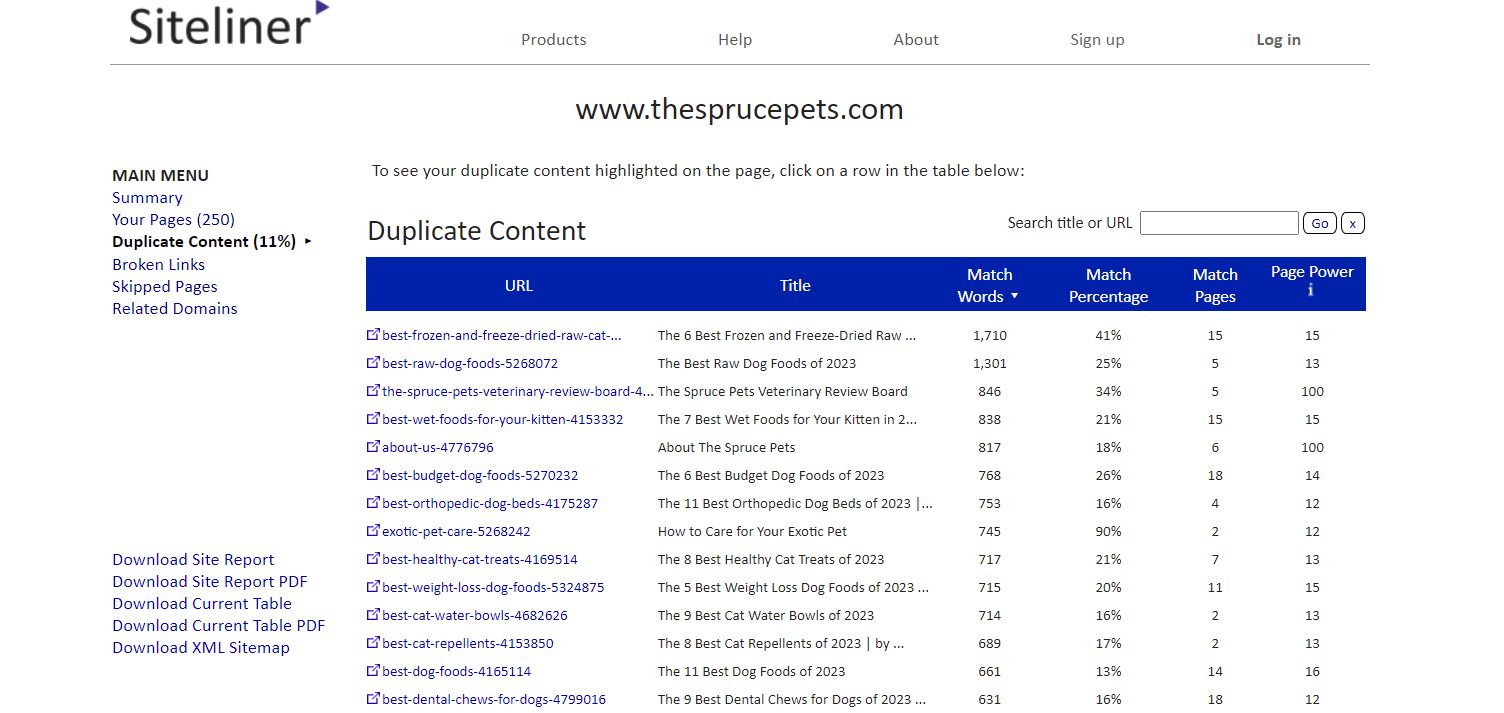 Siteliner is mainly used to detect if you have duplicate content on your website, not only regarding external websites but also within the site itself, which is common especially in e-commerce.
Siteliner is limited to 250 URLs per website.
Although it provides other data such as internal links and backlinks, its strong point is duplicate content since it not only tells you the percentage but also makes a list of the URLs that have duplicate content.
By clicking on each URL, you can access it to see the duplicated text highlighted and where it appears on another website.
However, do not be alarmed when you see a long list of URLs since the tool sometimes detects duplicate content that is not actually so but rather a set of three repeated words, for example.
SERPSim or Google SERP Snippet Optimization Tool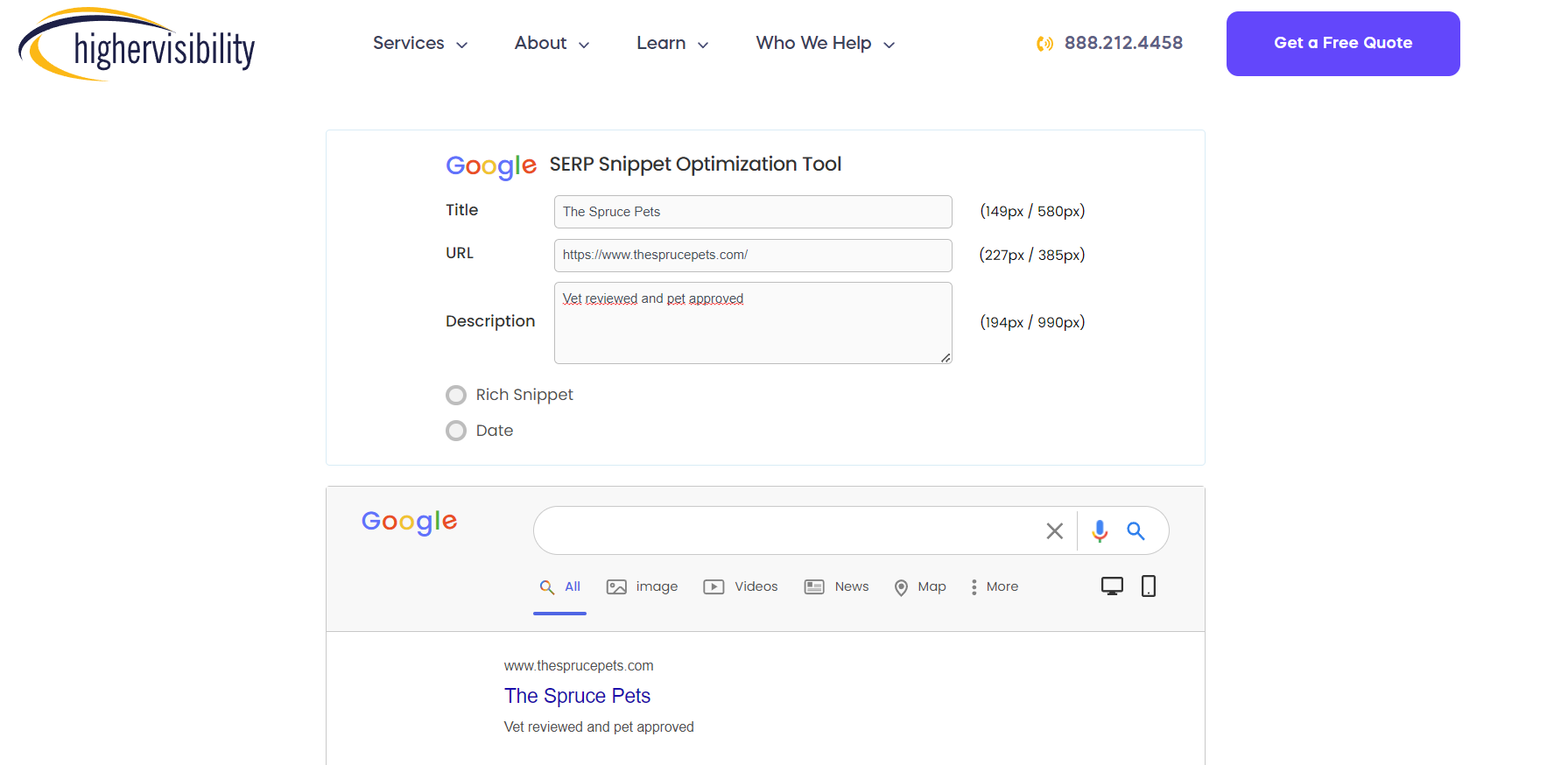 The content is not only the body of text that the user reads but also the title and description that you put to that content and which will appear on Google. Therefore, it is very important not only to make sure it's complete but also to entice the user to click.
One way to check how it looks is by using free SEO plugins like All in One, Yoast SEO, or Rank Math. You can also search directly on Google to see how it looks.
And there is another way, which is by using the Google SERPs simulator, SERPSim or SERP Snippet Optimization Tool.
Its use is very simple: enter the title, description, and URL, and see in real-time how it appears in the SERPs. This way, you can publish it directly without having to make changes later.
Google Rich Results Test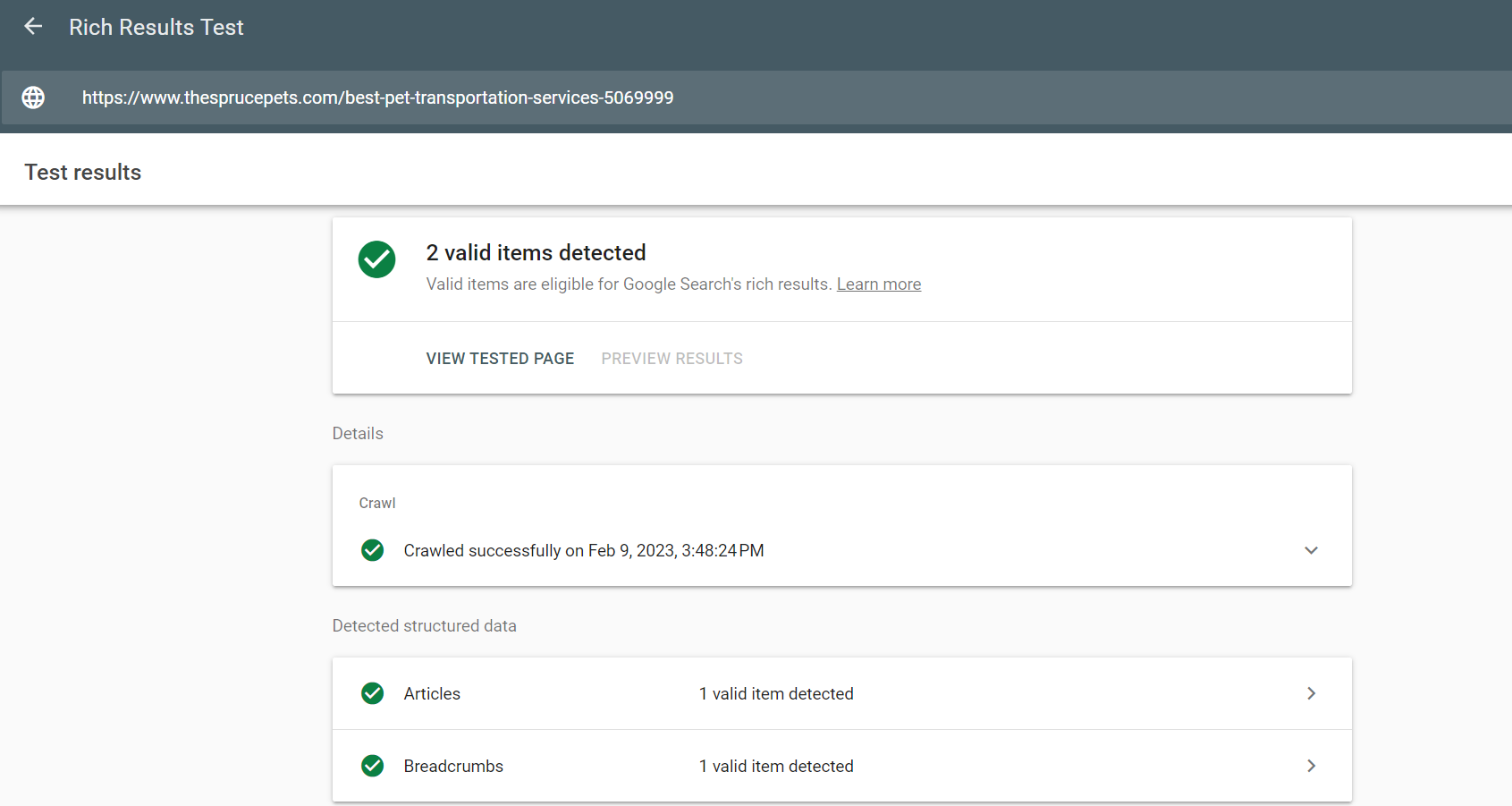 And continuing with the SERP preview, we bring you another free Google tool that allows you to check if your website is eligible for rich results.
And what are rich snippets? All those elements that can appear in the SERPs and that are not just a URL: listings, image carousels, product cards… All of them very likely to receive clicks.
To do this, simply enter the URL into Google's tool, and if the result is positive, it will tell you what type of elements it has identified.
However, keep in mind that it does not guarantee that they will always be shown.
Free technical SEO tools
There are some SEOs who don't pay much attention to the technical part of SEO positioning, largely because it requires other more specific knowledge that not everyone has and that is not easy to acquire.
If you are one of those who are passionate about technical SEO or intend to work in this area, here are some tools that will help you communicate better with search engines.
Scraper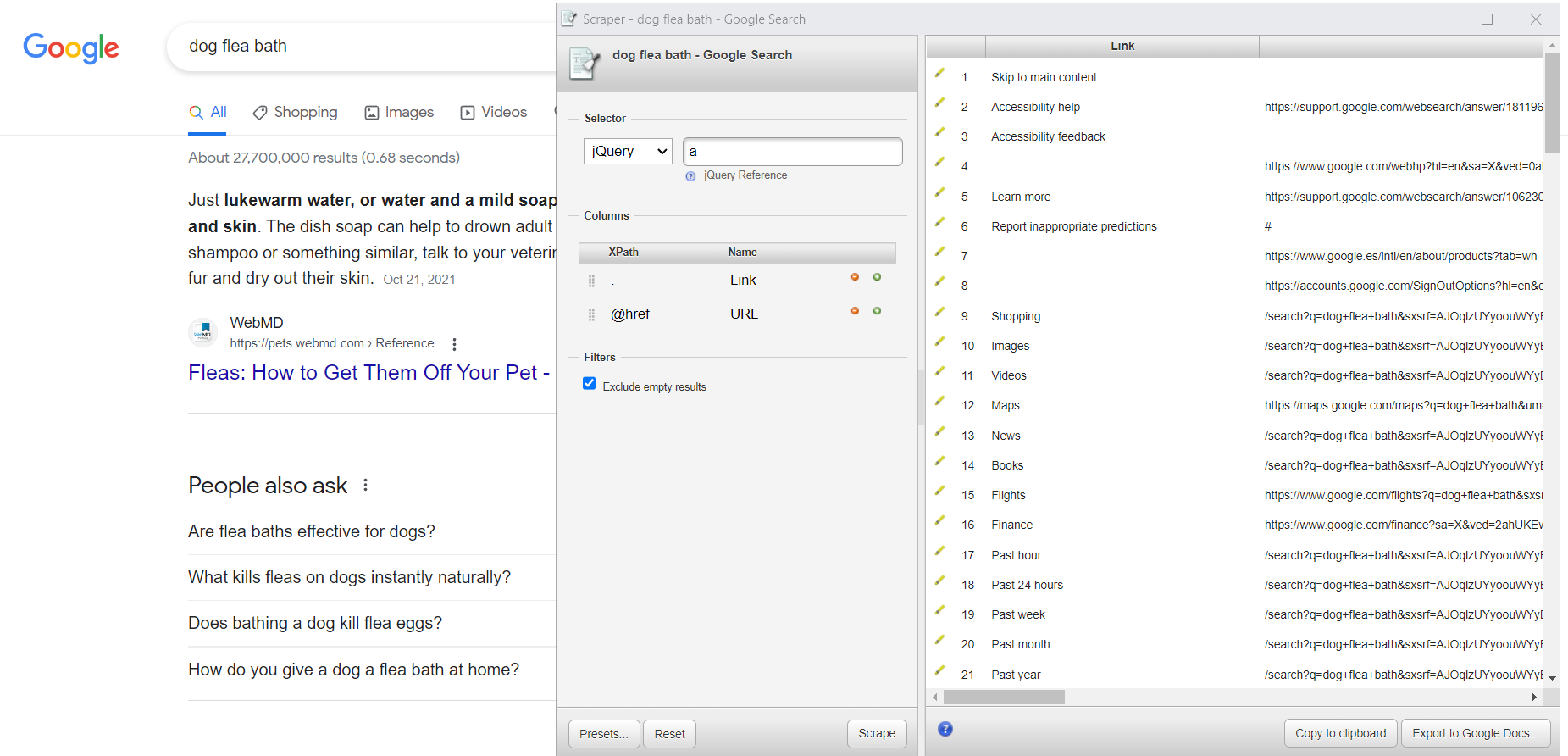 To handle Scraper, you need to have certain knowledge of XPath, the system used to handle information within XML documents. If this is not a problem for you, you can download this Google Chrome extension.
What does this tool do? It extracts all the information from the URLs that appear in the SERPs and takes it to an XML document that you can work with directly or even import into other tools like Screaming Frog.
In just two clicks, you can have the URLs of your competitors in the SERPs to analyze and see how to surpass them through your SEO strategy.
GTmetrix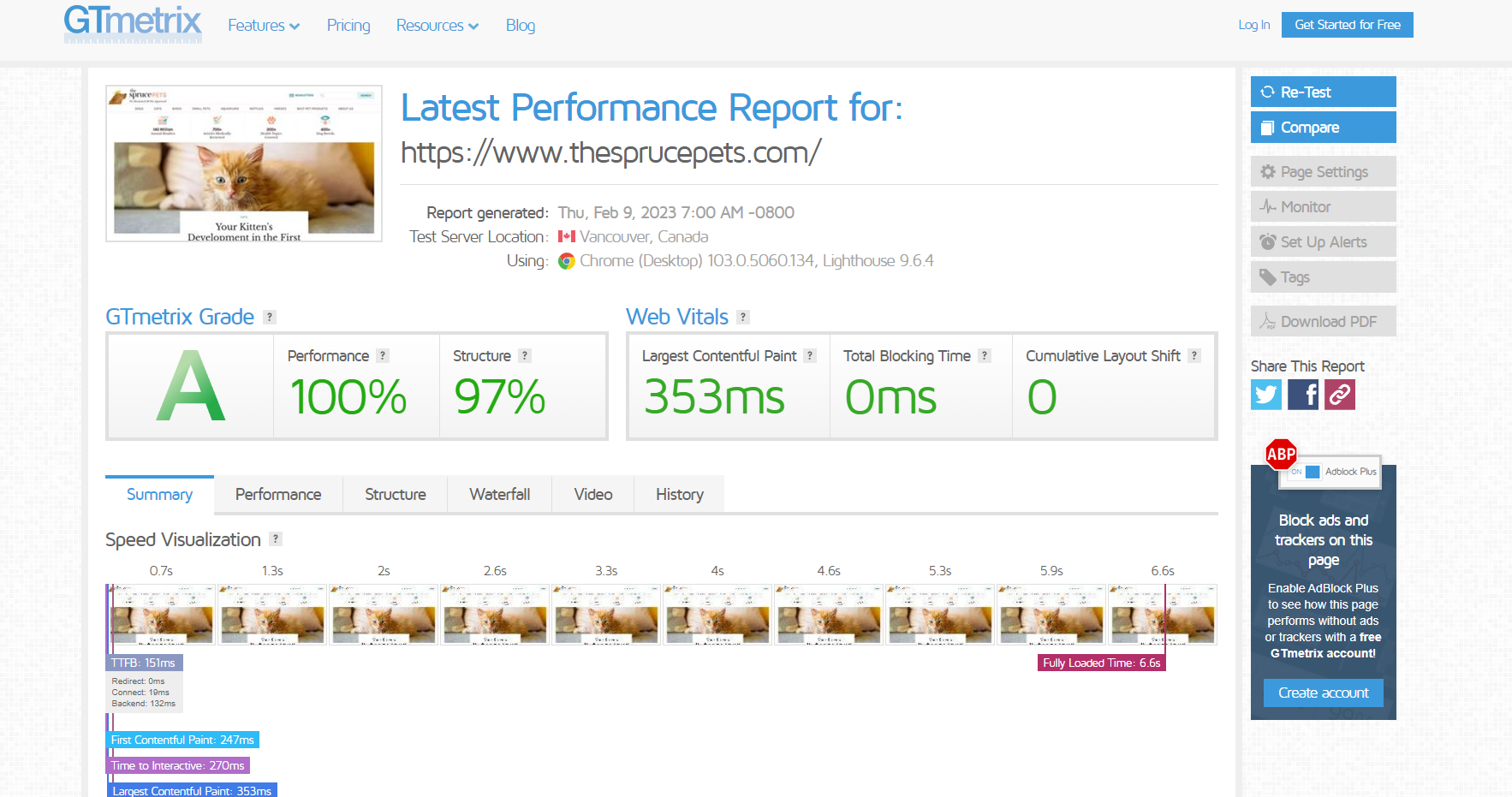 GTMetrix is not just a free tool to measure the loading speed of your website, it's much more than that. In addition to rating your website based on this data, it provides you with a lot more information and advice on how to improve this feature and, therefore, improve the user experience.
Remember that loading speed has a lot to do with user experience. No matter what's on your website, if it takes too long to load, the user will leave for another site.
GTMetrix gives you detailed information on how your website loads so that you can identify the exact elements that increase or decrease the speed.
It also shows you the Core Web Vitals score, technical data obtained from Lighthouse Performance, and even a chart with historical data about your website's loading time.
All you have to do is register on their website for free.
HEADMasterSEO

If you have to work with a large number of URLs (for example, if you're a niche site owner or a consultant with a client that manages many websites), this tool will help you save a lot of time.
HEADMasterSEO is a software that you install on your PC and it allows you to obtain bulk data from different URLs: robots.txt, response code, loading time… You can copy and paste, import from a CSV file, from an XML document…
With the free version, you can analyze up to 500 URLs in bulk. If you want to increase the quantity, you need to access a paid plan.
Once you obtain the results, you can export them to a CSV file to handle them as you wish and speed up the SEO actions that you need to execute.
Free link building tools
Link building is an SEO Off Page strategy that must be done carefully to avoid harming website positioning.
The foundation of good link building is having well-controlled knowledge of which web pages point to ours and their quality.
Therefore, there are free link building tools that detect which websites link to you, so you can monitor the backlinks that arrive at your URLs and help you find the appropriate sites to obtain them.
Link Assistant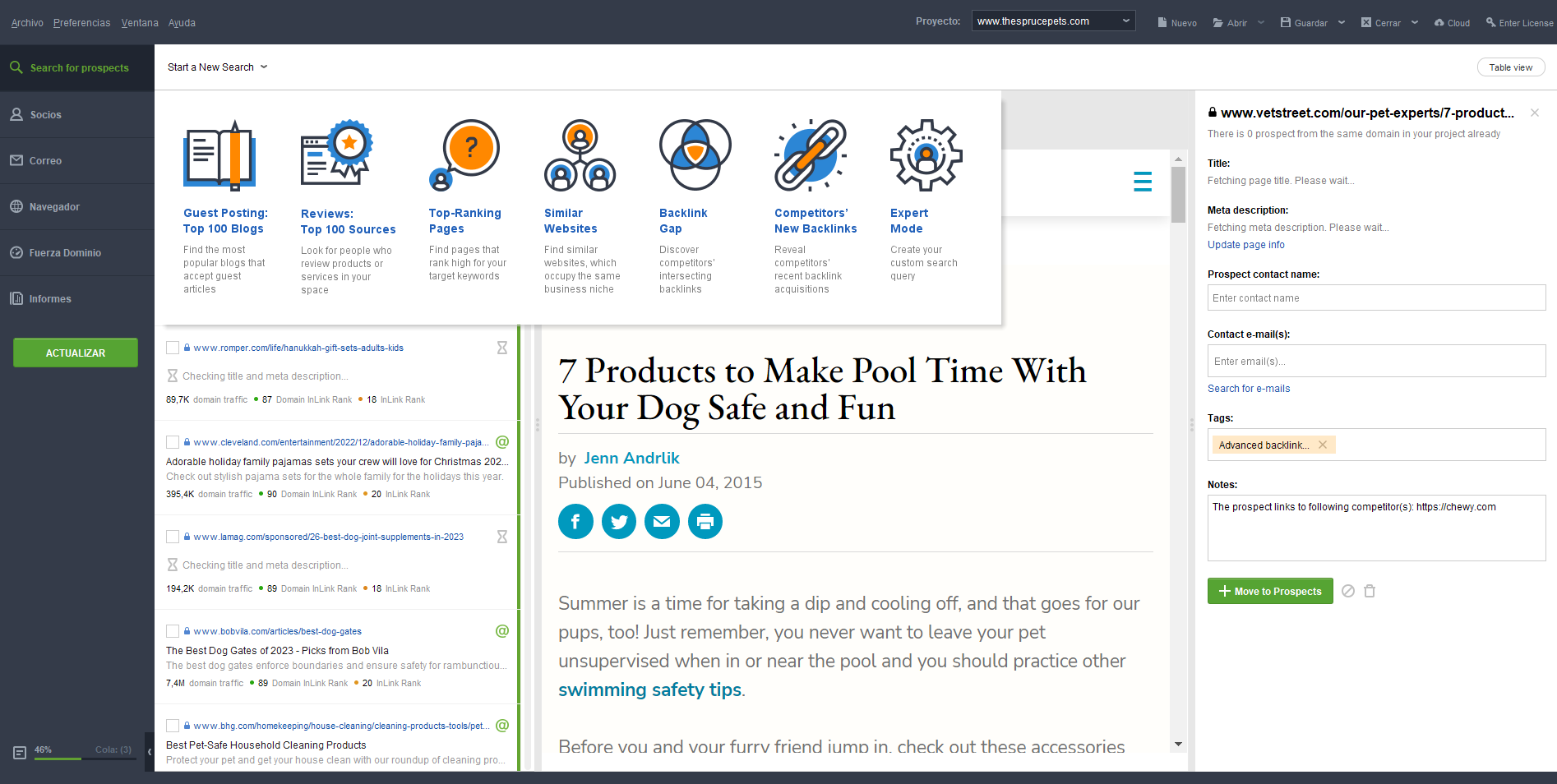 Link Assistant is part of the SEO Powersuite toolset. It is a software that you can download to your computer for free by providing your email address.
Once you have installed it, you just have to add your project and start searching for similar websites, blogs related to your niche, review sites that might interest you… You can even add your competitors' URLs and Link Assistant will tell you which backlinks they are acquiring.
As you can see in the example screenshot, Link Assistant not only shows you the websites where you could get backlinks, but also provides useful information such as the contact email so that you can reach out to the site owner to negotiate.
It also shows you which websites their links are pointing to, so you can keep detecting more opportunities for link building. If you find a website that interests you, you can add it to your list of candidates for acquiring backlinks.
What is the downside of the free version of Link Assistant? To save all this work, you need a paid subscription.
Majestic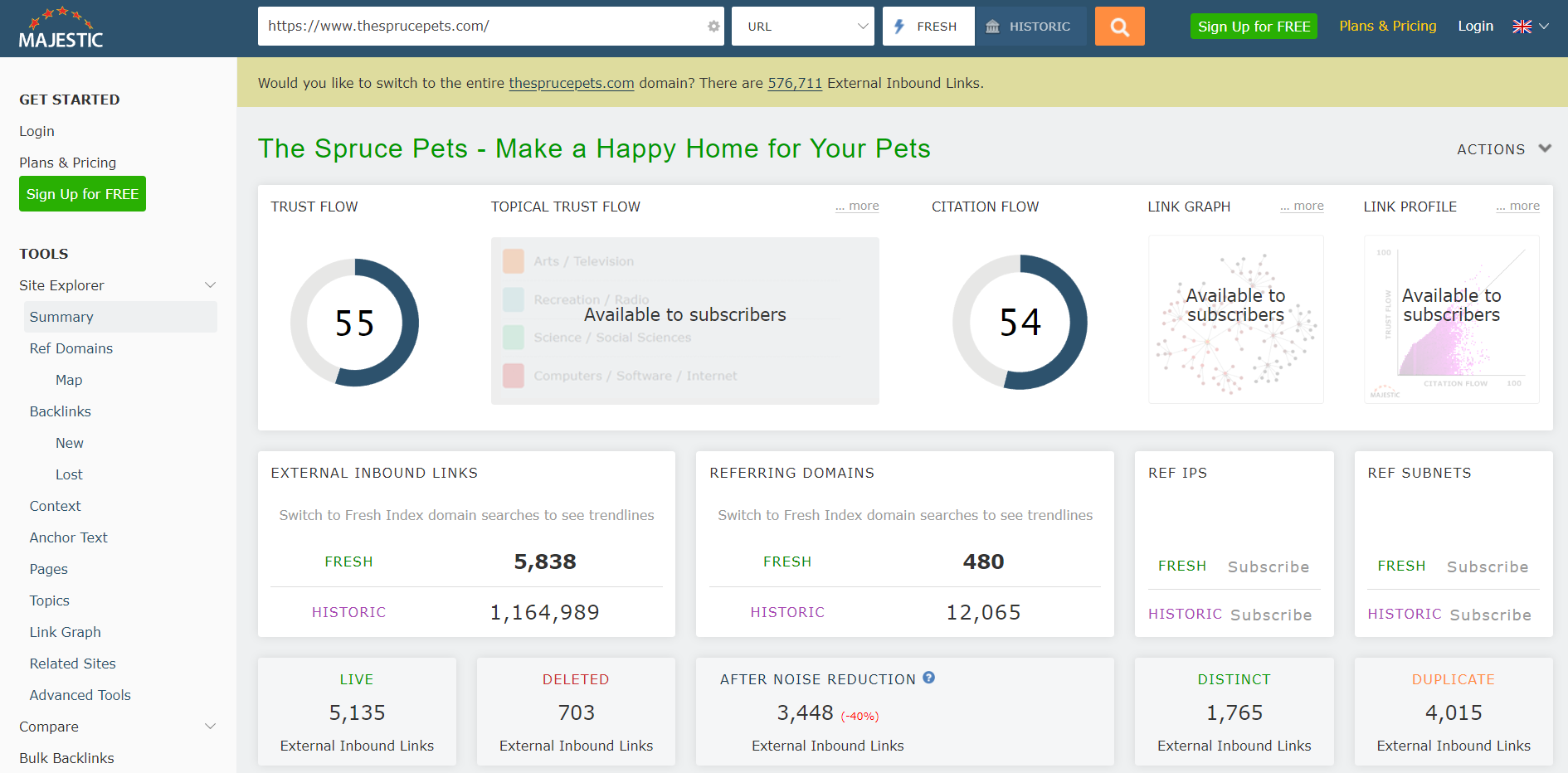 Majestic is a paid tool dedicated to link analysis and everything related to them. You can register for free and access some of its features, while others, as you can see in the screenshot, are only available to paying users.
Majestic SEO is the creator of two metrics that many SEOs consider important: TF (Trust Flow) and CF (Citation Flow), which you can see in the free option of the tool.
The free version of Majestic SEO allows you to see interesting data, such as the percentages of the languages of the websites that link to your URL. If you start receiving too many links from languages that are not yours, you may have a problem…
Other data about backlinks that you can see in Majestic SEO include:
Graph with the history of your backlinks
Percentage of links from text or images
Duplicate backlinks analysis
Anchor text analysis
The free information provided by Majestic SEO about backlinks is quite revealing, but if you are dedicated to link building, it is likely that you will eventually want to expand the functions and access the paid version to have more data.
Google SEO Tools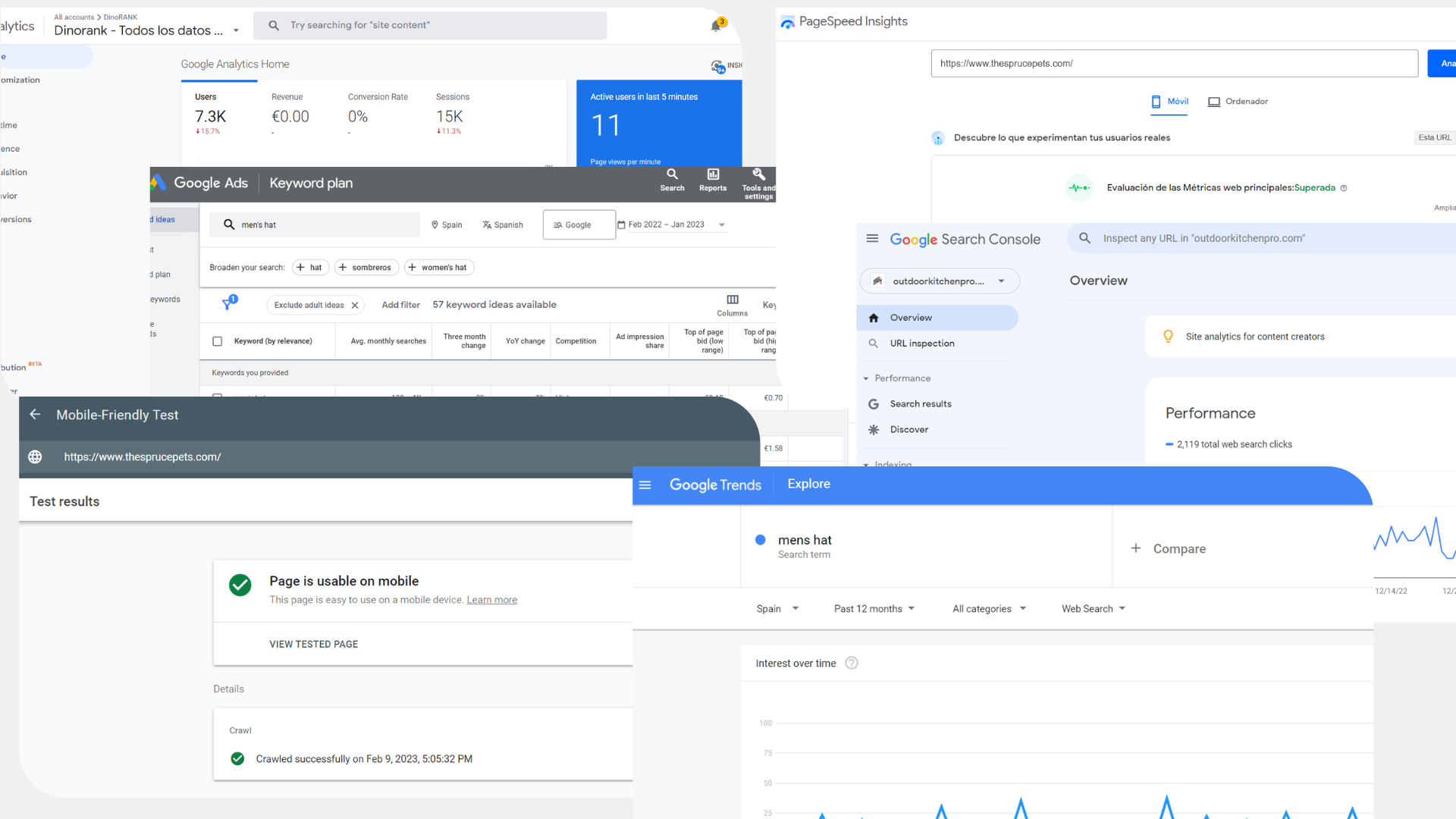 Finally, although we know that most of these SEO tools are well-known by practically anyone who does some SEO, we don't want to leave them out of this list.
Our recommendation is to at least have accounts on Analytics and Search Console even if you never access them, as there are many SEO tools that require synchronization with them to provide you with data.
Google Analytics. Although most people only use it to see how many visits their website receives, it has a large number of segmentations that allow you to analyze traffic in detail to understand the users you attract. It also serves for SEO and SEM.
Google Search Console. It tells you how many impressions and clicks your URLs receive, alerts you to any technical issues your website may be experiencing, allows you to submit sitemaps, and check indexing status… This tool is almost like talking to Google about how your page is doing.
Google Keyword Planner. This tool is within Google Adsense and can be used even if you are not going to create an advertising campaign. The data on search volume is somewhat diffuse, but it can be useful for getting a list of related keyword suggestions.
Google Trends. It allows you to analyze the latest search trends to create up-to-date content. Among other things, you can also compare these trends between various keywords or topics and even see segmentation by geographical regions, etc.
Google Page Speed. Through this tool, you can see the loading time of any website on both PC and mobile devices. Additionally, you will receive advice to improve it based on elements that may be slowing it down.
Google Mobile-Friendly Test. You know that more than half of users access the Internet through their mobile devices, so this tool tells you if your website looks good on these devices so that users don't leave because they cannot see it properly.
Conclusions about free SEO tools
These free SEO tools will be your greatest allies in your first steps as an SEO, but some of them can also accompany you later on when you have more experience, to quickly check data without having to access your usual paid tool.
In this regard, Google Chrome extensions are the most popular as they save a lot of time when you are reviewing websites or taking a look at the SERPs.
Some of the ones you see on this list can become your habitual tools if you find them useful for your way of working and your projects.
Which ones are better? All the tools are free, some don't even require registration, so try them out without any risk and decide which ones are most useful for your work.
Finding a good tool involves a trial and error period.