Clearly, regarding SEO, Google is the best reference since it is where you want to position. Therefore, the free tools offered are completely reliable and should be the first option such as Google Search Console and Google Analytics.
However, despite their reliability, they can sometimes fall short of the needs that SEOs have to work on the positioning of a website.
This is the case with Google Keyword Planner, Google's keyword search engine. Let's analyze it and see what some of the alternatives might be.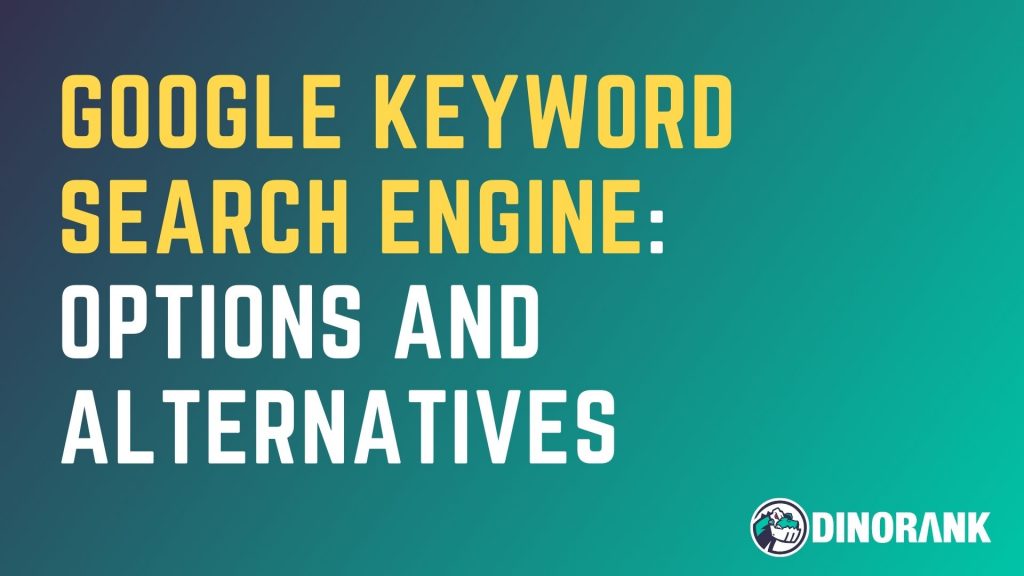 Keyword Planner, Google's keyword search engine
The first thing you should know is that Google's keyword planner is focused on finding the best keywords for your Google Ads campaigns.
This doesn't mean that you can't take advantage of the tool to work on the positioning of a website. In fact, Keyword Planner can do all of these:
Suggests keywords related to your website or your business
Offers you estimated search volumes for each keyword
It tells you the campaign's average cost
Organizes keywords into categories appropriate for your business
Helps you create keyword-based campaigns
You don't have to use the keyword planner just to run a campaign. In fact, you can simulate that you are going to create one to access the tool, as is usually done.
To do this, use your Google AdWords account in expert mode and complete the configuration including the billing data, even if you are not going to pay anything.
Now you can access Keyword Planner and choose one of these two options: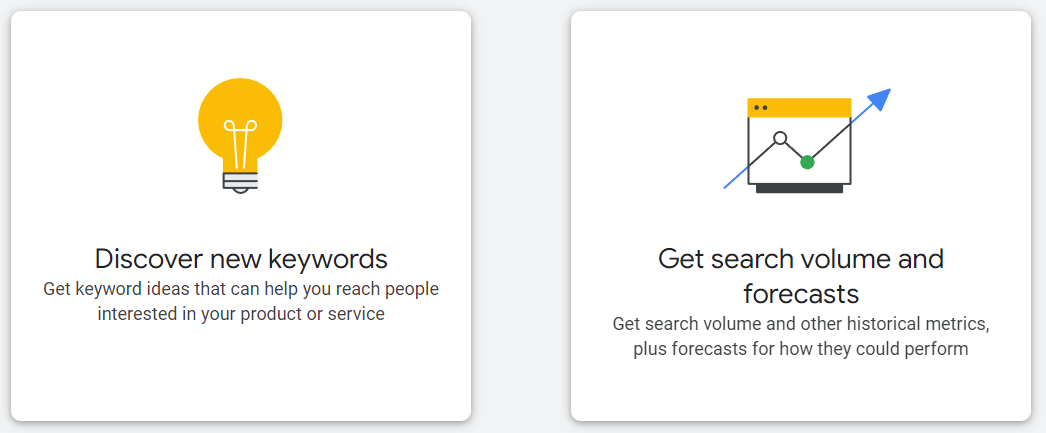 Find keywords with Keyword Planner
The first option gives you two ways to find keywords.
From a seed keyword, just as you would do in any keyword research tool
From a specific website or URL
By using the first option with the seed keyword "SEO tools", one of the main shortcomings of the Keyword Planner is already seen: it provides too wide a range of search volumes to draw more or less accurate conclusions:

And the same happens when searching from a web page, which will help the tool detect keywords related to your products or services.
Although it has this drawback, Google's keyword planner is still useful to get related keyword listings at no cost, especially long tail keywords that rank better.

Check search volume
This option allows you to enter a list of keywords to bulk analyze their search volumes, metrics forecast and bid estimates.
The question of the wide range remains the same, although in this option as in the previous one, there is an interesting fact in the column "Change in three months" that marks the search trend.
That is, you can find out if the number of monthly searches for that keyword has increased, whatever the specific amount.
This is what you can achieve with the Google Keyword Planner regarding keyword research, as it is the initial step before creating a Google Ads campaign.
You can also see a forecast of the necessary advertising budget, which is not of interest to us in this case.
But let's see what else Google offers you to search for keywords.
Google Trends, another Google tool for keywords
Google Trend is less for keyword research and more for trends, although it can also provide you with keyword ideas for creating topical content.
For example, this appears under the search trend graph if you enter "women's shoes" as a search term.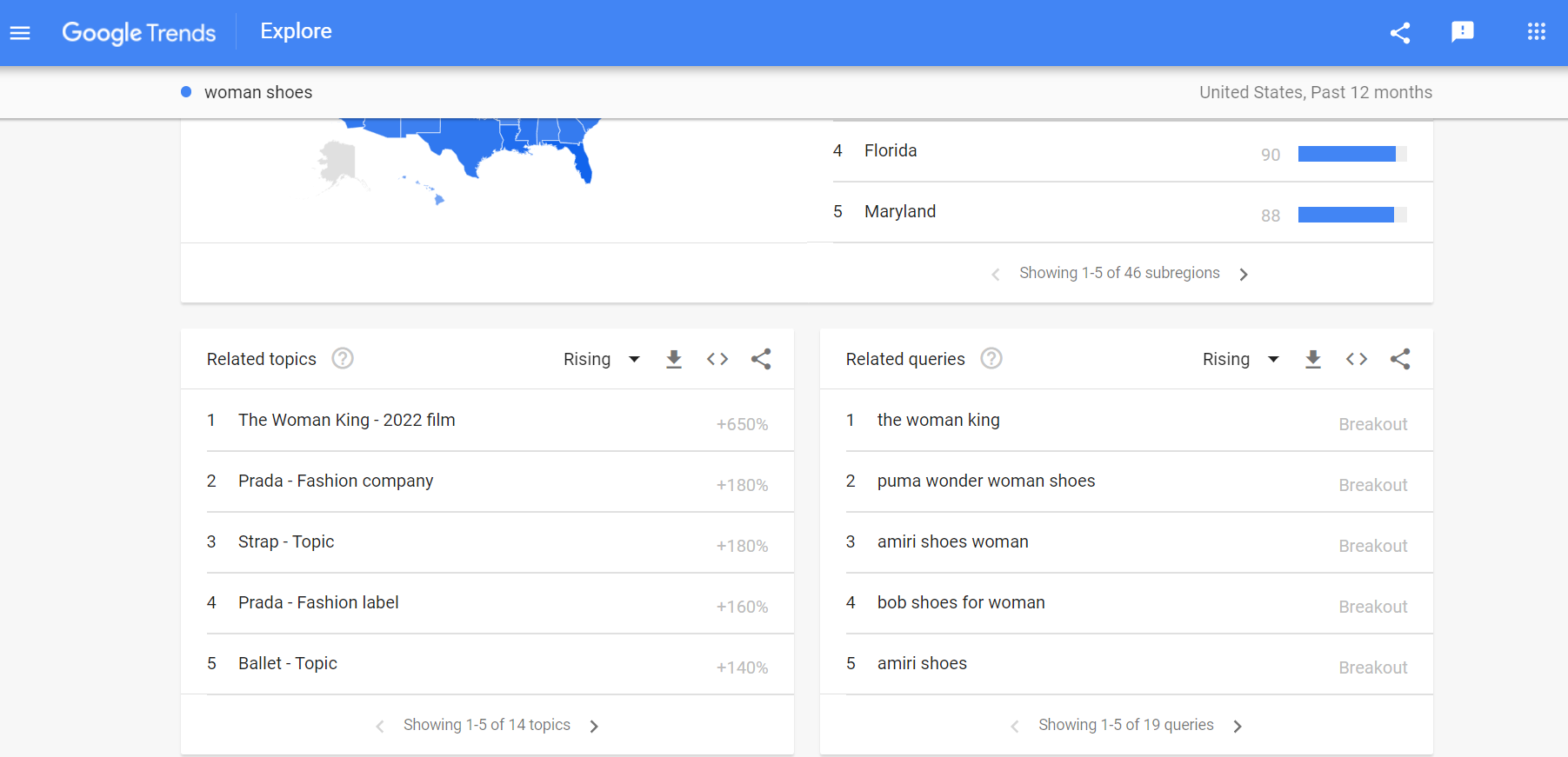 The left column shows related topics, and the right column shows related queries, that is, keywords that have to do with the keyword you have entered and that show an increase in the search trend.
Just as you would in a keyword research tool, you can take the list of related words you are interested in and do a new search to find more.
In this case, Google Trends works as a keyword search engine but doesn't provide you with information, so you will need a specific tool if you want to expand it.
Alternatives to Google's keyword search engine
You have already seen that both Google Keyword Planner and Google Trends help you get keyword ideas at no cost.
However, depending on the way you work or the type of project you are working on, it is more than likely that these tools will fall short, especially if you want to do a deeper keyword analysis.
At some point, you will need to resort to a more complete software, so we propose some free and paid (but affordable) SEO tools for you to use in your keyword research.
Keywordtool.io

This tool presents itself as "the best alternative to Google's keyword planner" as it can be used in its free version without signing up and provides many keywords from Google's autocomplete feature.
However, when you use the free version, you find this:
This is, you have the same information that Google's Keyword Planner gives you: find new keywords. If you want to see the information on each keyword, you should subscribe to the payment plan.
In short, in its free version, Google's keyword search engine and Keywordtool.io offer you basically the same thing.
The Basic plan costs $69 per month but doesn't include the CPC; for this, you would have to upgrade to the Plus plan for $79 per month.
Keyword Surfer: SEO extension for Google Chrome

Another interesting tool is Keyword Surfer, a free extension for Google Chrome. It only takes a minute to install it in your browser, and you will see the results directly in the Google search results, as you can see in the screenshot.
You can see the search volume and related keywords in the box on the right. You can select the interested ones and download them in a CSV file to work with them.
In the results, you can see under each result the traffic that each URL brings for the keyword you have searched for, which helps you to detect to what extent it can be interesting to use it.
This extension seems a good alternative to Google's keyword planner as it provides further useful information for your keyword research.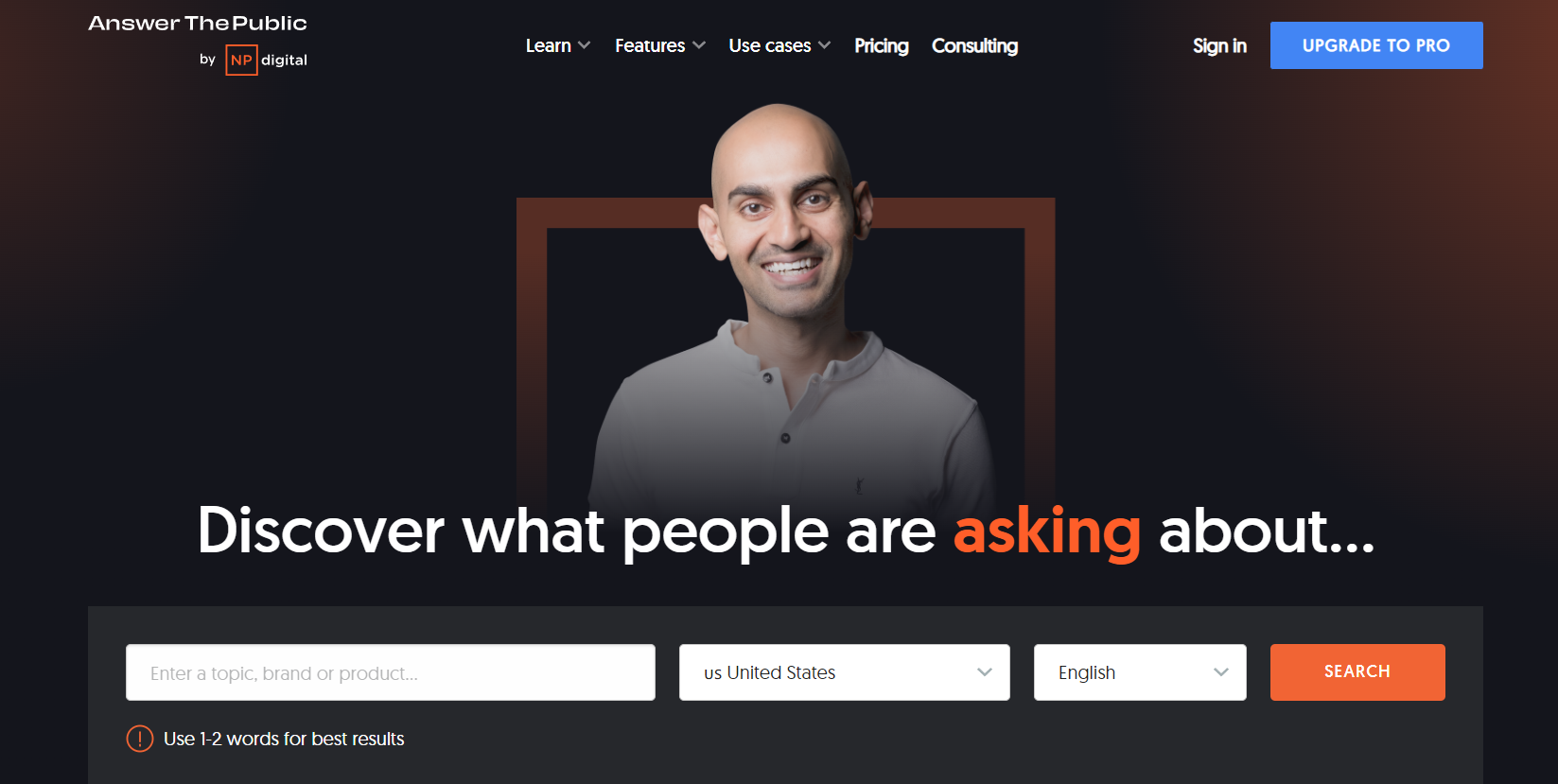 Answer The Public has long been one of the favorites when working with keywords, especially because it displays the results as graphs with arrows.
Besides, as you can see in the screenshot, it not only tells you keyword suggestions related to your seed keyword but also questions, combinations with prepositions, comparisons…
This way, you get a lot of content ideas in just one minute. Finally, you can download the entire keywords list in a CSV file.
However, Answer The Public has recently restricted its free options and only allows one daily search without registration and three searches if you create a free account.
That's why it is less of a tool to work with on a regular basis and more of a tool to be used occasionally, especially if you have run out of ideas for creating content.
Pricing plans have also risen sharply from the annual plan that costs $79 a month.
DinoRANK: all-in-one SEO tool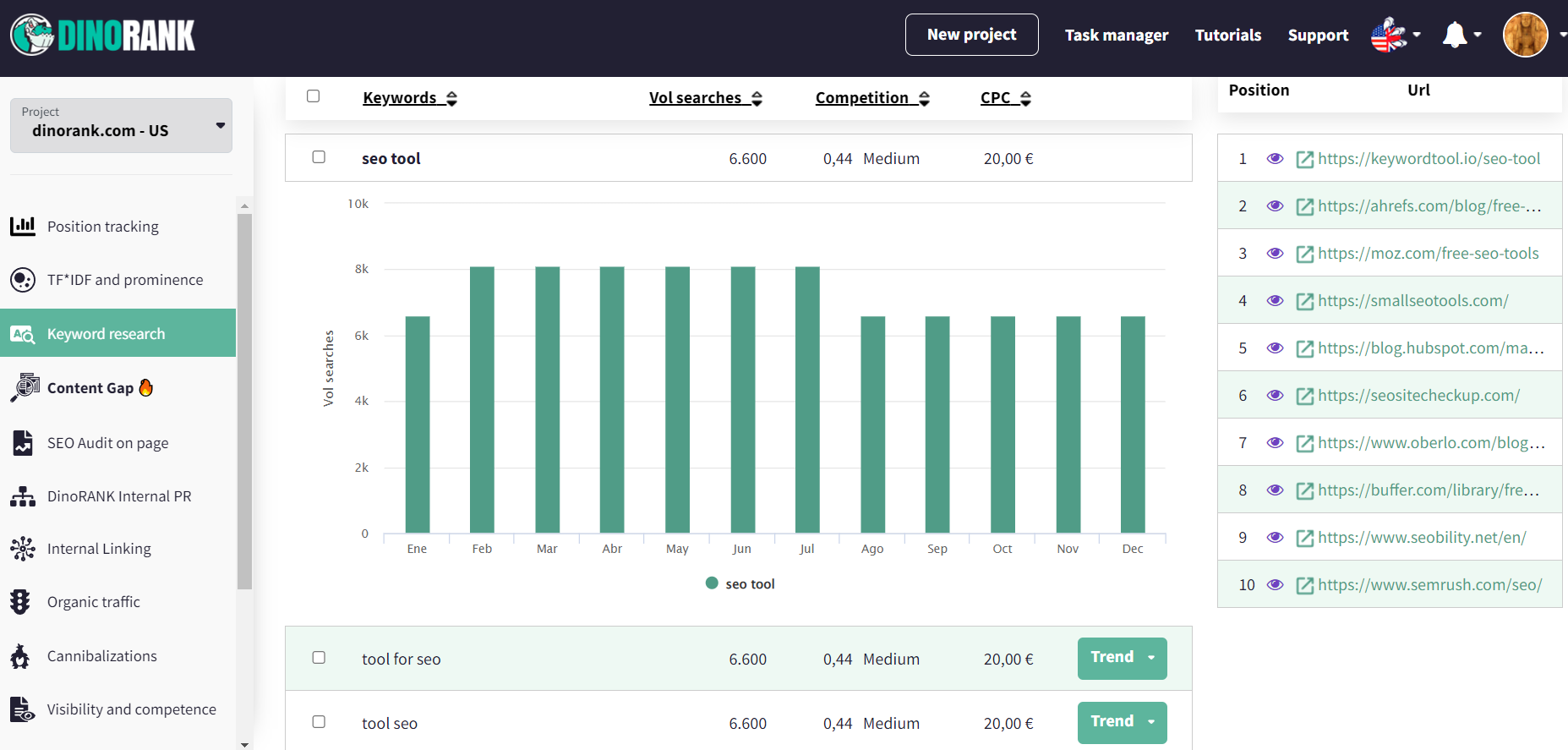 DinoRANK is not a free tool, but it neither boasts prices like those we have just seen from keywordtool.io or Answer The Public.
Its keyword research module shows data like the ones you see on the screen, including a search trend graph to detect possible seasonality.
What is the upside of DinoRANK?
For a lower price than other keyword research tools, you have this feature and others that allow you to manage all the SEO of a website from a single platform.
You will find modules for link building, SEO audit, internal linking, semantic prominence, cannibalizations… among these stands out the DinoRANK position tracking, undoubtedly the tool's best feature of the tool that allows you to make an exhaustive follow-up of all the keywords of your interest.
In fact, the keyword research module connects to the tracking so that you can add keywords with just a few clicks.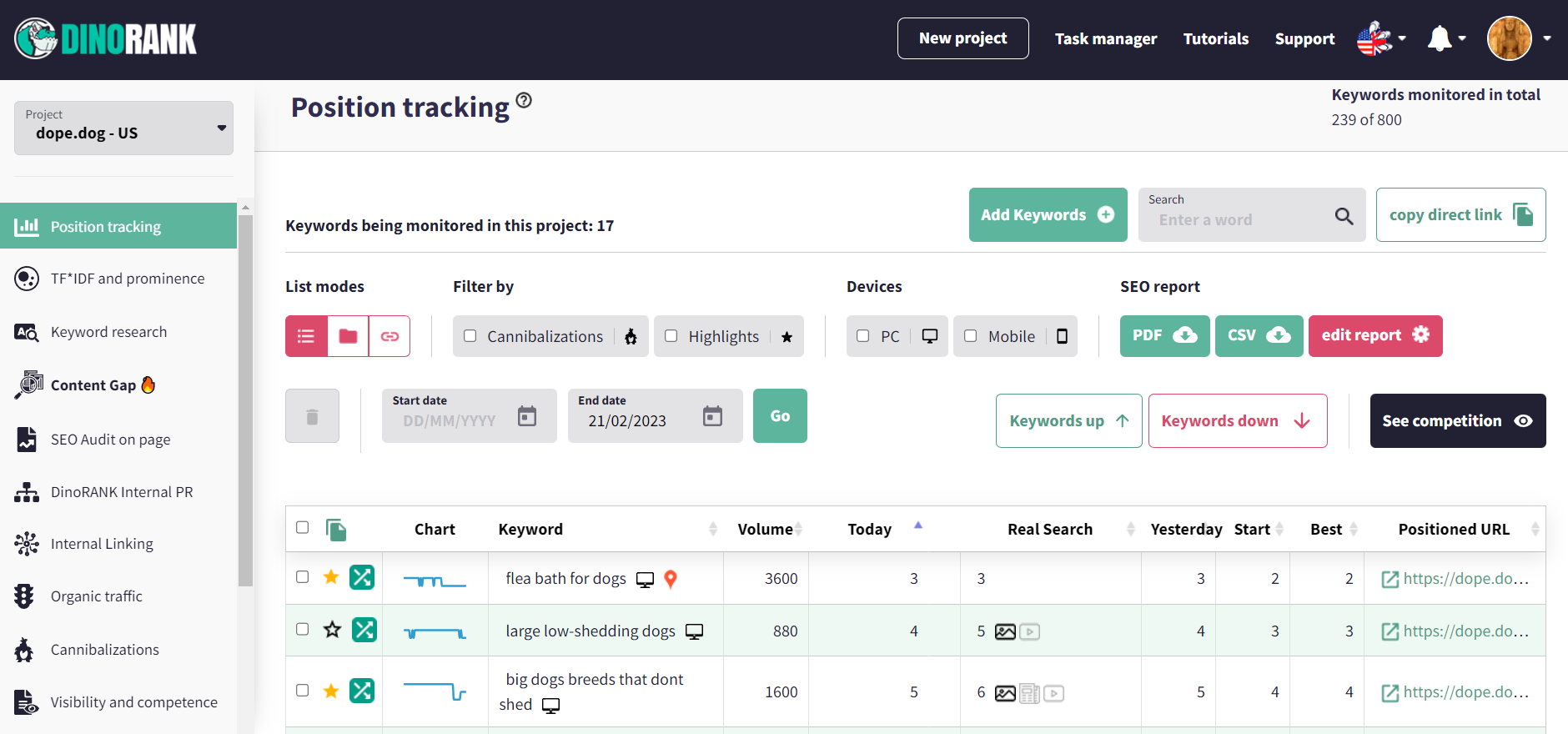 Conclusion: Using Google's keyword search engine, yes or no?
Although we have seen that Google Keyword Planner has some shortcomings, it is still another source of information that comes directly from the Google search engine.
Therefore, you can continue to use it to obtain keywords, but be aware that if you need more data, you will have to resort to another keyword analysis tool.
As always, using one or another SEO tool will depend on your needs and your way of working SEO to rank in Google or other search engines.
Try, experiment, and decide what's best for you.